Tuesday, November 7th, 2017
---
8:51 pm
- Comic News Insider 816 - Harakiri Kane with Dean Haspiel & Stoya
5:17 pm
- Brick Underground: interviews Dean Haspiel


Mimi O'Connor interviewed me for Brick Underground. The article is titled "Comic book artist Dean Haspiel talks gentrification in Gowanus, his rural art colony fantasy, and more" and here are some excerpts:

Where are you from? Can you talk about growing up there and how the neighborhood has changed?

I was born in New York Hospital and grew up at 230 West 79th St. and Broadway, where I got to enjoy the culinary delights of H&H Bagels, Zabar's, La Caridad, Big Nick's, and Flor De Mayo. There used to more diners and newsstands where I'd pick up my weekly comic books and chocolate malted milk shakes.

At age 15, I got my first part-time job working as a clerk selling candy and bus tickets to The Sands casino in Atlantic City while working the lotto machine at a cigar store around the corner from my home. It was owned by a sweet Jewish man named Saul Slotnick. I met my first cartoonist there, a Japanese-American letterer named Ben Oda. I noticed he carried an art portfolio and I asked him what was in there, and he pulled out original art for the comic strip DONDI and other work. I knew then and there that I had to become a cartoonist.

My parents split up when I was 15 and my mother moved to Brooklyn, then the Catskills, and now she's in Florida. My father finally had to give up our home and now he lives in East Hampton. But, I sometimes visit the Upper West Side to go to the Museum of Natural History, eat at La Caridad, and ogle the Hudson River via the Boat Basin. The few occasions I go up there, it's interesting to recognize some familiar faces who never left and aged gracefully while wondering who can afford to live in that neighborhood now.

How many apartments have you lived in in New York?

I've lived in only four apartments in NYC. The Upper West Side with my family at 79th and Broadway where I went to PS 87, IS 44, and LaGuardia High School of Music & Art and Performing Arts. After that, I went to SUNY Purchase to study art and film for a few years, and then lived in SoHo on Thompson Street between Spring and Broome with a couple of friends.

It was originally the apartment of comic book writer/editor Denny O'Neil, famous for his runs on Batman, Green Lantern/Green Arrow, Iron Man, and The Question. While trying to make it as a freelance artist in Soho I made money as a waiter at Nick & Eddie restaurant, and the co-creator/chef, Eric Bromberg opened the first of many Blue Ribbon restaurants with his brother, Bruce. Later, I moved in with my then-girlfriend, who lived in a one-room apartment in Alphabet City on 14th Street between avenues B and C. When she broke up with me, I moved to Carroll Street in Carroll Gardens, Brooklyn, where I've been living for over 20 years.

I'd only visited Brooklyn a handful of times when some of my college pals got a place on Bergen Street with a rooftop where they had parties. Moving to Brooklyn felt like moving to the country. Luckily, another college pal knew of an apartment opening up in Carroll Gardens, and I snagged that with my singer-songwriter pal. When he split, I had some more roommates, including a couple of cartoonists, Nick Bertozzi, and then Michel Fiffe, before living solo a few years. My girlfriend, a fine artist/teacher, lives with me now.

How is living and working in Brooklyn different from Manhattan?

Brooklyn feels more neighborly than Manhattan, but with a spaghetti Western vibe. Despite gentrification, some areas are less-charted than others where lines are drawn. When I first moved to Carroll Gardens, it was much more Italian. I felt like an outsider for a while until I somehow passed some kind of quiet initiation that allowed me to get the occasional nod.

Manhattan is much more bustling. You can literally walk down Broadway naked with a knife in your back and no one will notice. In Brooklyn, neighbors keep an eye out for each other. But, sometimes you've got to warn the kids across the street to quit throwing water balloons at you because you know where they live. See, you should not mess with your neighbors across the street. You've got to go around the corner and mess with the other neighbors on another block, don'tcha know? In Brooklyn it feels like a maze of mini-borders, kinda like the movie The Warriors, but instead of gangs it's tribes.

How has the city changed in terms of where artists live and work? Can you talk about different neighborhoods/scenes over the years?

Artists spaces have shrunk and become more expensive. And, will probably continue to do so, sparking even more of an artists exodus to upstate New York, the Catskills, New Jersey, and Philadelphia. Some folks are just cold splitting for Hollywood baby, and I don't blame them. Good luck in Los Feliz, y'all.

I get it. What I used to be able to afford a year ago costs almost double, for less space in Brooklyn. When we lost our space at 112 Second Ave., I had to move half my studio home, which is no longer a home. It's a disheveled storage unit now. A hoarder's wet dream. I can't even think about what I need to do. What I need to donate or toss in order to carve out a small space to eat a meal and watch a late night movie? Entertain friends? A thing of the past. You have to drive to the Catskills to host a group barbecue.

In 2006, I was excited to co-found a physical studio with five other artists when Gowanus was less desirable, [when it was] a place you traversed to get from Carroll Gardens to Park Slope and Prospect Park. But, like what happened to Soho in Manhattan and across the river in Dumbo, to Williamsburg, Gowanus and, next Bushwick, where artists gather in funky industrial wastelands, make it cool with the energy of their unbridled diversity, creating a geographical synergy between art and commerce, we eventually got the proverbial boot because the kind of currency we truck in isn't necessarily cash money dollar bills. And, not to suggest we're a bunch of scabs who can't pay the bills—we pay our bills—but when will the rent increases plateau? How much more can you charge for an empty box?

Traditionally, artists forfeit a lot of "normal" life and amenities in order to create work that skates the peripheries of experimentation with social commentary and commercial latitude. Nobody put a gun to our heads, making us do what we do but we often sacrifice 401k plans, health insurance, and the concept of a second home (much less a first home) for secondhand couches and converted factories so we can incubate, express and, hopefully, communicate our ideas beyond friends and family.

I fantasize about owning a large retreat in the mountains where other artists create and socialize but I'm tethered to the streets of NYC and I need to learn to let that go so I can realize a space that makes sense for my economy and mental health. I'm too burnt out to let anxiety be my friend anymore.

New York clearly has a big influence on your work. What about it inspires you?

NYC is in my blood. It's known to be the greatest city on earth. Talented geniuses and savants are drawn to NYC like magnets. I will never know what it's like to visit NYC for the first time because I am NYC and NYC is me. If I'm going to write and draw people, places and things, it's inherently going to be about NYC. I thought I was escaping NYC when I split Manhattan only to discover that Brooklyn, like quicksand, only took a stronger hold of me. Despite my public grumblings about NYC, how expensive it's become, how real estate developers don't care about authenticity, I will always be a diehard New Yorker.

Is there a part, area, or aspect of New York that is of particular interest to you right now?

I've always been fond of Red Hook, specifically the Ice House where you can still grab a beer and a shot of whiskey for six bucks while waxing stories about The Butthole Surfers with Gibby Haynes, or Sunny's Bar (RIP Sunny) where the Saturday night bluegrass music provides soul-mollifying spirituality. I cherish the art scene over there: Kentler International Drawing Space, and Pioneer Works.

I love the waterfront. A few years ago I discovered the Mermaid Spa, a Russian bathhouse in Sea Gate, and I was happy to rediscover Rubulad, an art/music party space planted deep in Brooklyn for those in the know. Smith Street in Carroll Gardens still has a lot to recommend itself, as does, I'm sure Williamsburg and any number of the hip 'hoods that are happening. But I just turned 50 in late May and I'm starting to feel less inclined to keep up with the underwritten.

You can read the entire interview/article here: https://www.brickunderground.com/live/dean-haspiel-interview




Photos of Dean Haspiel in his studio by Jason Goungor.
Monday, November 6th, 2017
---
5:49 pm
- HiLobrow reviews HARAKIRI KANE
Thanks, Adam McGovern, for the great review of my play, HARAKIRI KANE.

"It's not how you live your life, it's how you outlive it, or live it down. Comic writer/artist Dean Haspiel (full disclosure, a collaborator and crony of mine) has lived several artistic existences, without once yet falling on his face in-between. In his second incarnation as a playwright, Harakiri Kane (the first was Switch to Kill, in 2014), Haspiel contemplates lives lived poorly, or well enough alone. It's parenthetically subtitled Die! Die, Again!, but the Russ Meyer hysteria and hardboiled melodrama promised by that title (and delivered, epicureanly, by Haspiel's previous play) is a lifetime ago. This is pop-philosophy with no pretension yet unimpeachable insight; a dive-bar Wings of Desire.

The above and below are both accounted for, however. Though most of Harakiri Kane takes place in the shadows (bars, boxing rings, industrial wastelands, funeral homes), it begins in the sky. We're in the Himalayas, where an explorer named Orlagh is climbing a mountain to enact an ever upward aspiration after receiving a diagnosis of imminent death. She's on a tower that will fall short of heaven, talking to lost and burdensome lovers and then to a long-frozen corpse, forced to stage entire conversations on her own (a performance of desolate tenderness by the always heartbreaking or electrifying Alyssa Simon).

Having only yourself to remember your story to is tragic, but more so if you don't even know how it goes. Harry "Harakiri" Kane, an ex-boxer who starts shambling through the narrative when we cut from mountaintop to alleyway, takes a while to even recover his own name. He's the kind of tabula rasa through which fate can get itself written (in the tradition of mysterious or amnesiac champions from The Man With No Name to Demon With a Glass Hand). We come to learn that he is one of many forgotten men and women, walking a path between existence and oblivion and roaming the land of the living, visiting strangers near to the moment of their death. Haspiel's modern metropolis is still populated by archetypes from as far back as penny dreadfuls and as farther back as mythic antiquity, like the death-worshipping, human-butchering chef Jack (played in haute dudgeon by director Ian W. Hill), and the corps of beat-walking Valkyries to which Harry now belongs.

The world feels like all of us are stepping over bodies anymore, and escape from either the danger they face or the duty it calls upon is inconceivable. For Harry, it's also not possible — trying to release himself through suicide never works. Others of his kind don't try at all, either renouncing the physical for philosophical pursuit (Nicodemus, a suave and subtly frightened portrayal by Rolls Andre), or making a pastime of testing themselves for vestiges of human feeling (the wistful, fearless storyteller Sharon, a poignant and powerful stage debut from Jessica Stoya).

As played by Alex Emanuel, Harry is in the grand tradition of poetic palookas from Wallace Beery onward, and his stubbled, square-jawed countenance and scuffed, haggard grandeur make him a Haspiel cartoon come to life, in a brutally sensitive performance that's staggering in more than one sense. His instinct is to be an angel of mercy, befriending doomed losers like the barfly and desperate bankrobber Joe (played in myriad shades of mournful, mischievous resignation by Linus Gelber), but Harry's curse is to be the one left standing.

"We only get one chance to die, and I screwed it up somehow," Harry says at one point, and his crime seems to be trying to reject his destined narrative — he's the soldier who disobeys orders, the epic warrior who has declined his role.

The script Haspiel has written for him suggests there might be a virtue he holds on to and a way to claim its reward, but nothing will be gained easily. Hill and collaborator Berit Johnson keep the guignol gore startling yet sparing, and Hill's staging and pacing are stark without austerity, brooding but never overbearing; having created painterly noir before, with his comicbook scenarist he achieves an eloquent, tensely alive sketch.

Sharon watches mortals through entire lifetimes and writes stories of her own lives unlived. Like Orlagh at the play's beginning, she alone is left to tell her tale, a holy text or mythos to fill the blank page of her past. She is the last being we see, and the end of the story is expressed beyond words…a shout in the dark, echoing the pain of birth and the feeling that connects us to the earth. Harakiri Kane sacrifices everything for its artistry, and wipes the canvas clean for any new life story to begin."

http://hilobrow.com/2017/11/06/this-the-allegories-of-the-stage/
10:21 am
- Graphic Subversions: A Live Comics Reading at KGB Bar 11/6/2017
Thursday, November 2nd, 2017
---
2:58 pm
- RiYL Episode 239 (Bonus): Stoya


From RiYL podcaster Brian Heater:

"It's a few days before the opening of her first theatrical performance, and Stoya doesn't know what to expect. It's all really new — aside from a few trivia nights here and there, she hasn't really done much in front of a live audience since some ballet classes as a youngster.

She's committed to trying new things, moving outside her comfort zone for the sake of a new experience.

Her first acting gig outside of the adult film industry came not all that long ago, when she agreed to star as an Android in a still-unreleased sci-fi film, so when cartoonist Dean Haspiel approached her to star in his new play, Harakari Kane, it seemed like the perfect opportunity to give it another go.

In this bonus episode, we discuss the adult film actress's decade in the industry, her on-again, off-again work as an advice columnist and surviving in the city as a freelancer."

Listen here: http://riylcast.tumblr.com/post/167034936225/episode-239-bonus-stoya
Friday, October 27th, 2017
---
7:46 pm
- The Comics Beat INTERVIEW: Dean Haspiel and Stoya bring sensuality to death in HARAKIRI KANE

(Stoya and Alex Emanuel rehearse HARAKIRI KANE at The Brick theater)

Edie Nugent conducted an in-depth interview with me and Stoya at The Comics Beat about my new play, HARAKIRI KANE.

You can read the entire article/interview here: http://www.comicsbeat.com/interview-dean-haspiel-and-stoya-bring-sensuality-to-death-in-harakiri-lane/

Excerpts:

Edie Nugent: You'd done some play-writing in college, and now you're mounting a full production of Harakiri Kane after work-shopping it for a bit. What draws you to express yourself in that medium, in addition to your comic work?

Dean Haspiel: My godmother was Oscar award-winning actress, Shelley Winters, who once directed my late brother Michael in a play at Lee Strasberg's Actors Studio where I witnessed the process of theater. I was barely a teenager but got to get a sneak-peek behind the curtain. As a child, I hung around talented actors the likes of Farley Granger, Robert De Niro, Al Pacino, Sally Kirkland, Michael J. Pollard, Susan Tyrrell, Steve Railsback, and Fisher Stevens. But, I was too young and didn't have the proper context to fully appreciate the people my parents knew. Thanks to my mother working at The New York State Council of the Arts, and my father's personal connection to Marilyn Monroe and writing about old Hollywood, I was prone to entertainment. My first love was comic books but I was fascinated by off-Broadway productions for its minimalism, experimentation, and low-budget innovations.

In college, at SUNY Purchase in the late-1980's, I studied art and film and befriended a bunch of young actors who I worked with; some of whom went on to become well-renowned, and we stayed in touch. In the early-90s, I took a crack at writing screenplays that never left the bottom of my desk drawer. With those stories collecting dust, I focused on making a career in comix, my first passion, while dipping occasional toes into movies and television. I was either too shy or lacked the confidence to pursue moving pictures but I've cherished all narrative mediums as far back as I can remember. Storytelling is in my soul. And, with a couple of thousand comic book pages under my belt and latter-day encouragement from playwright Crystal Skillman, and actor/director Philip Cruise, I've come to resurrect and transition some of my old works into theater with the custodianship of sir Ian W. Hill, a masterful director/producer and actor at The Brick Theater in Brooklyn, NY.

Edie Nugent: A good bit of your work draws on the neo-noir pastiche, what fascinates you about telling stories in that style and mood?

Dean Haspiel: The tenets of neo-noir share core similarities with the Silver Age comic books I enjoy; featuring morally complicated characters steeped in high stakes situations coupled with heart-shattering romance where promises are broken and time is a luxury. In my personal works: Billy Dogma, The Red Hook, Beef With Tomato, and even with the franchise stuff I've been the shepherd of, like The Fox for Archie Comics, I tend to abstract conflict and excavate the emotional truths so I can express something meaningful yet entertaining. At least, that's my goal. Harakiri Kane is next-level pulp, an existential gore noir.

Edie Nugent: The earlier play work you've done was a staging of Switch to Kill in 2014. You're working with the same producer, who also acted in that show and directs and acts in Harakiri Kane. What did you both learn through that process, which I think was your first full production, that carried over?

Dean Haspiel: With the exception of writing the script, I had no influence on the production of Switch to Kill. I had a couple of initial meetings with Ian W. Hill who read through some of the dialogue with me and I immediately felt confident in his understanding of what I was going for. See, I'm a fan of stylized dialogue, the likes of Harold Pinter, David Mamet, and Edward Albee. Tonally, Switch to Kill was like a cross between Who's Afraid of Virginia Woolf? by way of Abbott and Costello with guns. Alas, it only ran four shows as part of a bigger festival and I hope we get to revive and expand that play someday but to say I was bit by the theater bug is an understatement. My current play, Harakiri Kane, is more akin to a twisted Wim Wenders by way of the Grand Guignol.

Edie Nugent: Harakiri Kane is a story of angels and demons, as well as serial killers. What inspired you to write this particular story?

Dean Haspiel: There was a brief period of time when I was living in Soho, NY where I felt like I was a magnet for death. It seemed like every time I left my apartment, a stranger died. I remember hearing the horrific sounds of metal smashing into metal as I stepped onto the sidewalk of Thompson street and a sole hubcap came slowly rolling towards me and circled my body, settling at my feet. I traced the hubcap's journey back to its source a block away only to discover a car wrapped around a pole. People dead. Blood and glass everywhere. Policemen had just arrived. Everyone was shaking.

Naturally, I was shocked by the tragic scene but I couldn't stop thinking about that hubcap and how it had to turn a street corner and roll towards me as if it was anointing me for some kind of mission. Another ferryman to help others cross the River Styx? Stuff like this started to occur on a regular basis. A man jumping off a roof. A woman getting hit by a car. An overdosed derelict. Was I a specter of death? So, I locked myself inside my apartment in hopes it would decrease the deceased and started writing about it–which helped me think about the dying and the dead in ways I'd never considered before. I started with a character named Harry Kane, a boxer who died a year ago and doesn't know it. Thus, began Harakiri Kane.

Edie Nugent: You're working with your Heavy Metal collaborator Stoya. What did she bring to her role in Harakiri Kane that wasn't in your original workshops of the material?

Dean Haspiel: Stoya was my only choice to play Sharon in Harakiri Kane and it was immediately confirmed when she first read the character. I took notes, further developing the resurrected script. Stoya is a renaissance woman, a force of nature, who has a gift to hold hostage space and time in compelling ways. I'm honored to have her break her NYC theater cherry with my play. In fact, the entire cast and staff is an assembly of truly brilliant talent and I'm extremely lucky to have them all bring my words to life.

Edie also added:

Indeed, Stoya's varied experiences as a performer and personality led me to wonder what of those skills, which include aerial performance work, might have been helpful in approaching her role in Harakiri Kane, which is her theater debut? Her answer was straightforward. "Taking direction," Stoya told me. "Whether it's a porn set or live theater, the ability to take direction is the most useful skill I have as a performer."

Stoya also appreciated Haspiel's work ethic, citing it as one of the reasons she wanted to work with him on the show. She called Haspiel: "serious and efficient with his work," explaining these are qualities she especially appreciates. Haspiel also made sure to be aware of Stoya's comfort level in the process of staging the show. "He kind of eased me into it," she said, "first it was the reading in someone's living room just to hear the script, then the public reading and the actual play."

When I asked what was it about the story of Harakiri Kane in particular that she found compelling, Stoya simply said: "It's hard to choose between the humor and the point it makes about the will to live."
Thursday, October 26th, 2017
---
10:06 am
- Creator Talks podcast interviews Dean Haspiel
"Dean joined the show from his Brooklyn Studios late one evening while feverishly inking pages for War Cry, his sequel to The Red Hook.

We also talk about his play Harakiri Kane, coming to The Brick Theater in late October.

Dean shares his physically painful experience at The New York Comic Con and suggests a new model for large cons to alleviate the crushing crowds.

We talk about the format of comic sand their sky-rocketing price tag: could digital distribution be the ultimate fate of new comics?

What would happen to local comic shops?

All this, talk about Dean's hero Jack Kirby, and my R&R questions!"

Listen here: https://creatortalks.podbean.com/e/76-dean-haspiel-on-war-cry-harakiri-kane/
Monday, October 23rd, 2017
---
11:09 am
- Jacked Kirby podcast interviews Dean Haspiel
10:45 am
- The Brooklyn Paper: Dying on stage: Cartoonist writes play about angel of death

(Stoya and Alex Emanuel rehearse for HARAKIRI KANE)

Journalist Alexandra Simon interviewed me and Stoya about our upcoming play, HARAKIRI KANE, for The Brooklyn Paper.

Excerpts:

"One way I describe comics is there's an unlimited budget with a blank piece of paper and you can draw anything you want," he said. "But in theater it's live, and it involves a collection of people basically interpreting your words — there's a lot more talking going on in theater, but in comics there's a lot more action."

"In his encounters he realizes that people all around him are dying within five minutes of meeting him," said Haspiel. "He died a year ago and doesn't know it, and he's like this angel of death with amnesia."

"Every time I would step out the door, someone was getting hit by car or jumping off a building, and I felt so many feelings clumped together," said Haspiel. "In some ways I started to take it personal and I thought I was a magnet for death."

***

Other characters among the 14-person cast include a serial killer, a chef, and Kane's love interest Sharon, played by adult actress Stoya. Haspiel and Stoya met while working on a comic book story for Heavy Metal magazine, and she was drawn to the role because it gives her a chance to tackle a new kind of part, she said, and because she was intrigued by the plot.

"What made the role appealing to me is that it's rare that I'm offered a role that is anything other than a sex worker — this was a real role," she said. "I think any good story is a metaphor in a way, and 'Harakiri Kane' can be about mortality, or a metaphor for art and creative instincts, and that's what makes it good."

Read the entire article here: https://www.brooklynpaper.com/stories/40/42/24-dean-haspiel-die-again-theater-2017-10-20-bk.html
10:27 am
- Dinner and a Podcast interviews Dean Haspiel at NYCC 2017
Tuesday, October 17th, 2017
---
11:58 pm
- LINE Webtoon interview at New York Comicon 2017
Monday, October 9th, 2017
---
1:42 pm
- New York Comicon 2017


Despite my complaints and unsolicited advice (see what I Tweeted below), I had some great meetings in/around New York Comicon 2017. And, the LINE Webtoons party was a grand celebration cheering the future of comix.



(Me and Stoya signing at the Heavy Metal booth while promoting our upcoming play, HARAKIRI KANE)



(Art Adams, me, and Sanford Greene)



(Me, John Byrne & Walter Simonson)

MY TWEETS:

Swollen ankle & knee. Congrats: NYCC has grown too large; claustrophobic & unpleasant. I don't know that I will ever return to the Javits.

HOWEVER...it was great to see pals, peers & fans at NYCC. Big Ups to @LINEWebtoon for hosting the best party and BEING the future of comix.

NYCC BRIGHT SIDE: empirical evidence there is SO MUCH talent. Comix are expanding exponentially; losing its belt & slipping into a muumuu.

Perhaps giant comicons like SDCC & NYCC could/should adopt the Angouleme model? Probably too expensive to consider but maybe there's a way.

Too many friends & family were upset they couldn't impulsively attend NYCC. Tix sold out eons ago. Comix aren't concerts. Turn ON ~ Not OFF.

I bet NYC could host TIMES SQUARE COMICON

I should be contacting editors, art directors, publishers, collaborators & journalists after a Comicon. NOT A DOCTOR. #HelpMeNightNurse

I forgot to bring my oxygen tank + hand axe to FIRE-HAZARD CON, I mean, Artists Alley. I don't know how y'all survived.



(NYCC 2017 dinner with Dennis Calero, Reilly Brown, Chris Miskiewicz, me, Sean Von Gorman & Greg Tumbarello. Photo courtesy Hannah Means-Shannon)
Monday, October 2nd, 2017
---
8:28 pm
- ComicsDC interviews Dean Haspiel

(Dean Haspiel and Lynda Carter at Baltimore Comicon 2017)

Mike Favila interviewed me for ComicsDC. We talk about my Ringo award winning webcomic, THE RED HOOK and my upcoming sequel, WAR CRY, for LINE Webtoon. My recent graphic novel collaboration, GOD SLAP, with cartoonist David Trustman. And, my upcoming play, HARAKIRI KANE, starring Stoya, directed & produced by Ian W. Hill.

Excerpts:

"I prefer print because I'm old and I like turning pages and holding paper in my hand. I miss newsprint. But, you can't beat the immediacy of digital delivery. And, as much as I dig the limited color palette and hit-or-miss print registrations of yesteryear, the clarity of back lit art on a screen is mesmerizing. So, it really depends on what kind of reading experience you wish to furnish. I often prefer limitations, they foster interesting challenges, but you can experiment more online, between infinite landscapes and vertical scrolls and sounds and moving images, there are many more ways to show a story. Working in vertical scroll terms continues to be a challenge because of the way the reveal is always at the bottom and pacing is controlled by the readers thumb. I've had to abandon my proclivities for landscapes and inset panels. I've thought about all this stuff ever since I revamped Billy Dogma at ACT-I-VATE in 2006. And, then cascading my webcomics efforts into Zuda, Trip City, Marvel & DC, hell, even The NY Times, and now, LINE Webtoons. I've done it all except launching a Patreon, which I'm considering soon. Why not? I've been giving away my wares for free for over a decade. I think it's okay to make a few bucks from my loyal fans and peers as long as I keep the trains on time. If Mark Zuckerberg can make money off of strangers posting pictures of their lunch and latest outrage, I can earn a nickel off my comix."




"I wrote the first draft of my play HARAKIRI KANE as a screenplay called BLACK EYE in the early 1990s. And, that went nowhere. Then, I wanted to draw it as a graphic novel called DIE! DIE, AGAIN!! but got rejected by several independent publishers. A year ago, I was hanging out with my old pal/actor Philip Cruise and we got to talking about me writing something for him to direct. I dusted off HARAKIRI KANE and thought about reducing it to its essentials as a one-act play, something short, but it kept growing and evolving. Phil cast the play with a bunch of SUNY Purchase alumni, old friends who had become renowned actors, and we did some readings of it. Alas, the price of producing a play in NYC put the kibosh on that version of the production until I asked director/actor Ian W. Hill if he was interested in producing my play at The Brick theater in Williamsburg, BK/NY. Ian had produced, directed and acted in my first play, SWITCH TO KILL, in 2014 (thanks to encouragement from local playwright Crystal Skillman), and he did a phenomenal job with it. Thankfully, Ian took my new play and cast it with a bunch of actors from his Gemini CollisionWorks ensemble, including Phil and a couple of other actors from the original inception.

I met Stoya via Jeff Krelitz, CEO of Heavy Metal. He wanted us to collaborate and we hit it off. I adapted an essay she wrote into comix form and it was published in the "sex" issue of Heavy Metal #281. I got to know Stoya a little more and realized she would be perfect to perform the lead female character in my new play. Stoya is an intelligent renaissance woman who can do anything she puts her mind to."

"WAR CRY, a sequel to The Red Hook is what I'm currently working on. It's about The Red Hook's dead girlfriend who has been resurrected into a Human of Mass Destruction by way of a teenage boy. It's wild and ambitious stuff inspired by Jack Kirby's O.M.A.C., and C.C. Beck's Captain Marvel (Shazam!), with a little bit of Steve Ditko's Hawk & Dove thrown in for good measure."

Read the entire interview here: https://comicsdc.blogspot.com/2017/10/interview-with-dean-haspiel-red-hook.html
8:05 pm
- AIPT reviews Spider-Man: Daily Bugle
A Marvel story I drew 15-years ago got reprinted in a collection called "Spider-Man: Daily Bugle" this month and received this nice review from AIPT:

"Behind the Moustache is a gem that should make all comic readers curse Zeb Wells' success on Robot Chicken. In it we get some classic JJJ self-delusion and an insight into what might actually make him hate Spider-Man so much. There are some neat visual flourishes from artist Dean Haspiel, too, especially when Jonah turns the emotional tables on his therapist, and Steve Buccellato's colors compliment the more light-hearted story well."

http://www.adventuresinpoortaste.com/2017/10/02/spider-man-the-daily-bugle-review-a-varied-insightful-look-at-marvel-journalism/
Friday, September 29th, 2017
---
10:52 am
- Dean Haspiel wins Ringo Award for Best Webcomic 2017
9:45 am
- Comic News Insider #803 interviews Dean Haspiel & David Trustman
Thursday, September 21st, 2017
---
10:25 am
- Self-entitled fans who organize hate
Trying to wrap my head around giving two fucks why I should be concerned about a hate-baiting fan (and his/her legion of lemmings) who don't respect the fact that it's a privilege to be able to access a creator beyond writing a disgruntled letter (email/tweet/etc.) to the publisher in response to the work (not the person). These kinds of fans are self-entitled creeps who use entertainment and fiction to reconcile the menace of their emotional delinquency, never once understanding the concept of franchise, iteration, adaptation, revamp, reboot, (rinse & repeat) and feel beholden to their very first encounter of any given franchise as if it were the holy grail. We all have our complaints but mature people don't dictate their desires upon others. They are free to criticize the work but NOT the creators. And how DARE they organize personal attacks and campaign hate! (over a comic book?) HOW DARE THEY! We've come upon an age where we've lifted the veil between creator and creation TOO MUCH. And, we've become too accessible to the dangers of arrogantly ignorant sycophants trolling the universe in hopes of shaping it into their perverted palace of puppets. Bottom line: creators have the drive and the tools to create. Don't like Spider-man anymore? Create your own. These kind of "fans" don't have the tools. Wouldn't know what to do with them if they did have the tools. I will keep an open mind and try to help resolve these problems as best I can (admitting that I may not have the tools for such resolve) but I will not tolerate harassment and physical abuse.
Wednesday, September 20th, 2017
---
1:24 pm
- Co-author
Clarity is key, up to a point, but those who need narrative hand-fed to them will never engage the co-author inside. It's all in there.

The reader/viewer/listener ALSO becomes co-author when they invest themselves emotionally. The word "mother" may become a plot point but it also means very different things to you and me (as per our experiences). And, thus, the reader/viewer/listener ALSO becomes co-author because they can't help themselves but, more importantly, because they want to.

In comic books, it's been said that everything happens BETWEEN the panels (the gutters). You have to be persuaded to participate and help fulfill the promise of the story.
Saturday, September 16th, 2017
---
9:00 am
- Happy 50th birthday Jen Ferguson!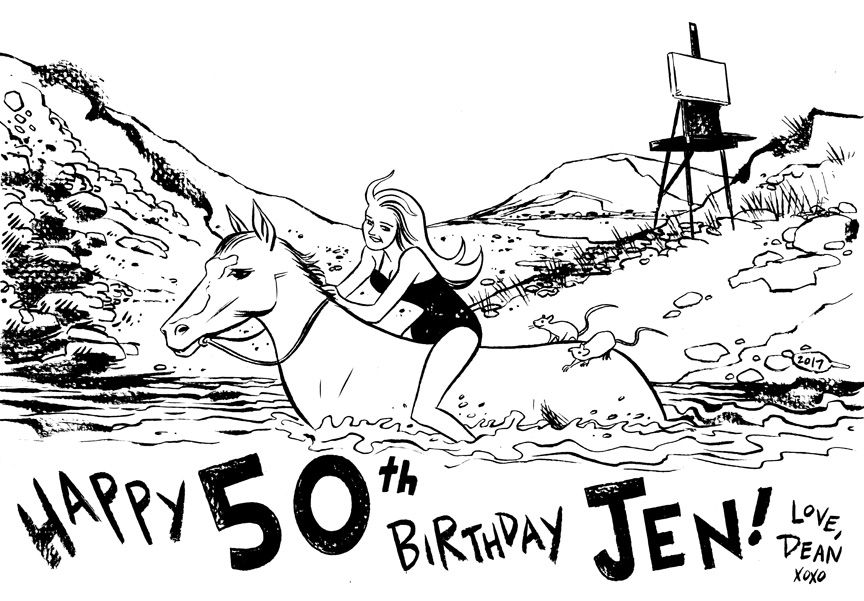 Happy 50th birthday to the angel in my life. I don't deserve your patience, beauty and compassion. I love you.
Thursday, September 14th, 2017
---
4:03 pm
- Dean Haspiel at Baltimore Comicon 2017


I'm a guest at Baltimore Comicon 2017 and will be tabling with Christa Cassano, Jason Goungor, Chris Miskiewicz, David Trustman & Sarah Moseley. We're debuting GOD SLAP, a graphic novel (see: https://man-size.livejournal.com/830076.html ) that I co-created with David Trustman. I'm also a 'Ringo Award nominee for my webcomic, THE RED HOOK, and I contributed an original pin-up for the Baltimore Comic-Con Yearbook featuring TELLOS by Todd Dezago and the late/great Mike Wieringo!

Please ask me about my upcoming webcomic, WAR CRY, and my upcoming play, HARAKIRI KANE.

Check out the panels I'll be on:

Friday, Sept. 22nd

3:15-4:15/room 343-344 - The Power Of Magic And The Magic Of Memory
Learn about magic in comics, its roots in reality, and the magic of memory. Chris Miskiewicz (THOMAS ALSOP) will talk about the magical mythology of New York City, and Dean Haspiel (THE RED HOOK) will preview his upcoming webcomic WAR CRY, showing how transfiguration can deliver powerful moments in storytelling. Sarah Trustman (THE MEMORY ARTS) will discuss using comics to teach real world magic and give a demonstration of the same memory techniques that appear so fantastic that using them got people burned as witches. And, David Trustman (THE RISE) will discuss his controversial graphic novel, GOD SLAP, and its modern take on religious magic.

Saturday, Sept 23rd

5:15-6:15/room 345-346 - Creator-owned vs. Company-owned
A company-owned property usually means a good paycheck, guaranteed audience, and a chance to reach a wider readership than creator-owned works. But the latter offers great freedom and satisfaction. Walter Simonson, Dean Haspiel, and Thom Zahler talk about the good, the bad, and the ugly with moderator Robert Greenberger.

Sunday, Sept 24th

1:30-2:30/room 339-342 - Jack Kirby at 100
This past month, the comics world celebrated what would have been the 100th birthday of legendary creator Jack Kirby. Tom King, Walter Simonson, Mark Buckingham, Jerry Ordway, Dean Haspiel, John K. Snyder III, the Kirby Museum's Rand Hoppe, and moderator Mark Evanier discuss Kirby's work and it's lasting influence in comics today.

For more information about Baltimore Comicon: http://baltimorecomiccon.com/