My brother, Mike, is out of the hospital and recovering at home. My mother's visit helped bring much needed morale and rallied him to quit the anti-depressants the doctors prescribed. Apparently, they were the bitch of the bunch. Unfortunately, he's still taking the highly addictive pain reliever, OxyContin, until further notice. That's how bad his nerve damage is. Mom said he's lost a lot of weight and looks like an AIDS victim. She took one photograph. She plans to show it to me once and then throw it away. He's lost a lot of hair and walks with a cane. His sight has deteriorated and he hallucinates. He was looking through his window wondering why two strange men were standing near his car. My mother looked out his window. No one was standing by his car. Maybe it's the withdrawal? I ordered him the boxed set of all five PLANET OF THE APES movies, dubbed "Evolution," because that's what he wanted for X-mas.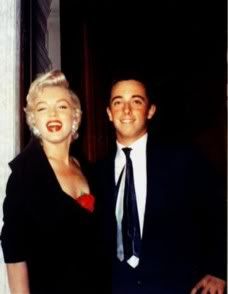 My father did a walking tour of the new MARILYN MONROE exhibit at The Brooklyn Museum last Saturday. Approximately 50 people [of varying ages] showed up to listen to my father talk about his experiences with MM, as prompted by any given photograph. Most of the fans queries were intelligent. Even though his health is dangerously compromised, my father still has the innate talent to hold court in a room full of strangers with unrivaled charm and authority. I'm convinced it's his passion, love, respect, and powerful memories of MM that keeps his engine running full steam ahead.

I was at a birthday party for a friend who is a film editor. She introduced me to the editor of LOST IN TRANSLATION and one of the producers of LUMINOUS MOTION. We talked movie shoppe and I told them a very sentimental story about my brother. The producer wondered if I had written any screenplays. I told her about the two I felt comfortable about and that I was slowly writing a third. They were interested in my psychological crime drama and asked me to send it to them for consideration. These vagrant screenplays will probably never sell and be turned into graphic novels before one frame of film ever gets exposed. But, yeah, I said I'd float 'em a copy.

Josh Neufeld and I did two 40-minute lectures about the comix industry, what to expect freelancing in franchise comics vs being an independent auteur, and the importance of laying out a comic page, to a series of high school students in the upper west side. We did this last year and the teachers were so thrilled with our insight and energy that they asked us for a repeat workshop. They taped our sessions for their archives and gave us copies which was embarrassing to watch at home. We staged a beat-the-clock jam session in collaboration with the students to teach them how to create a story from scratch under pressure and the unforgiving art of the deadline.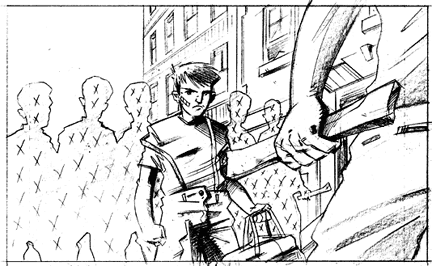 I finished pencilling the first 10-pages of THE QUITTER, and I'm inking the batch for a Vertigo meeting at the DC Comics offices come Friday. My editor was showing the pencils to author Jerry Stahl, who dug the art. What the hell was Stahl doing at DC? I got a DC Comics tote bag in the mail and wondered if it was a mistake. It wasn't. It was a X-mas gift for freelancers. I felt a part of the group...the winning team. Andrew Arnold, the comix reviewer for Time Magazine, hyped comix projects for 2005. He noted THE QUITTER, as well as, BIZARRO WORLD, and spilled beans for a project that I haven't even signed a contract for yet, AS BIG AS EARTH, a two-man anthology with cartoonist tour-de-force, Scott Morse.

http://www.time.com/time/columnist/arnold/article/0,9565,956125,00.html

Snagged 24 - SEASON THREE hot off the presses and watched the teasers for Season Four. It got me all flustered and sucked right back into the hyper drama. Without giving too much away, the teaser ends with tag lines that read something like this: "Jack lost his job. Jack found a woman that could love him. Jack was happy. Until the 4th day." HITLER BITCH CASSEROLE -- I can't wait for January 3rd! Meanwhile, I finally did my patriotic duty and watched Michael Moore's FAHRENHEIT 9/11. Words fail me. Even with the crippling and paramount devastation of Bush's re-election, the fact that this movie was made and distributed, and was viewed in the comfort of my living room, gives me hope and strength that we can change our future.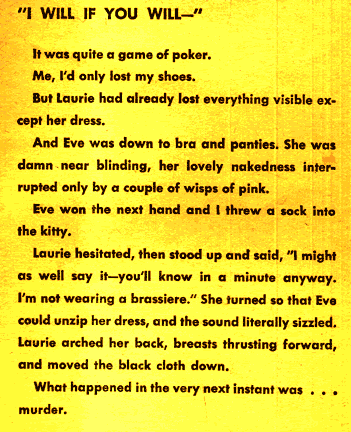 My pal Jim Dougan gifted me with an old copy of my very first DC Comics work, an embarrassing BATMAN "Bonus Book" I pencilled in the late 80s [DETECTIVE COMICS #589], and sported me two more sexy SHELL SCOTT novels written by Richard S. Prather: FIND THIS WOMAN, and JOKER IN THE DECK. Thanks, Jim!

In our parlay about all things zombie, Jenn suggested I pick up and devour Albert Camus' THE PLAGUE. I placed an Amazon order and took advantage of the shipping discount by ordering a movie.