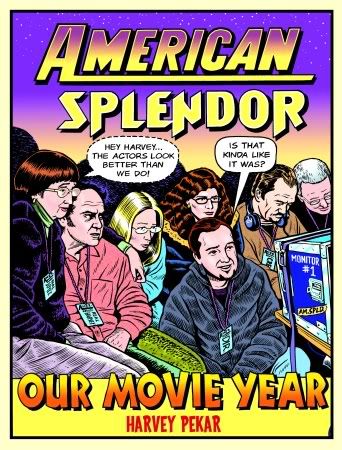 Harvey Pekar's new collection of "American Splendor" stories dubbed OUR MOVIE YEAR, was released this week from Ballantine Books. I have 1-page in the book ["Identity Crisis"], but I get mentioned a few times throughout [and drawn once by artist Mark Zingarelli] for helping get the movie made. I flipped through the 174 pages and found myself immediately sucked back into Harvey's earnest world. I spent an hour reading about his independent movie making experience [and what that would yield] contrasted by his daily life chores and observations. Good work by Harvey's latest cabal of collaborators including my long time friend, Josh Neufeld. Plus, perennials: R. Crumb, Gerry Shamray, Joe Zabel, Gary Dumm, [among others], and newbie Ed Piskor.

Hmm, autobiographical comix? This cat may be on to something...

http://www.randomhouse.com/catalog/display.pperl?0345479378

...back to drawing Pekar's origin, THE QUITTER.