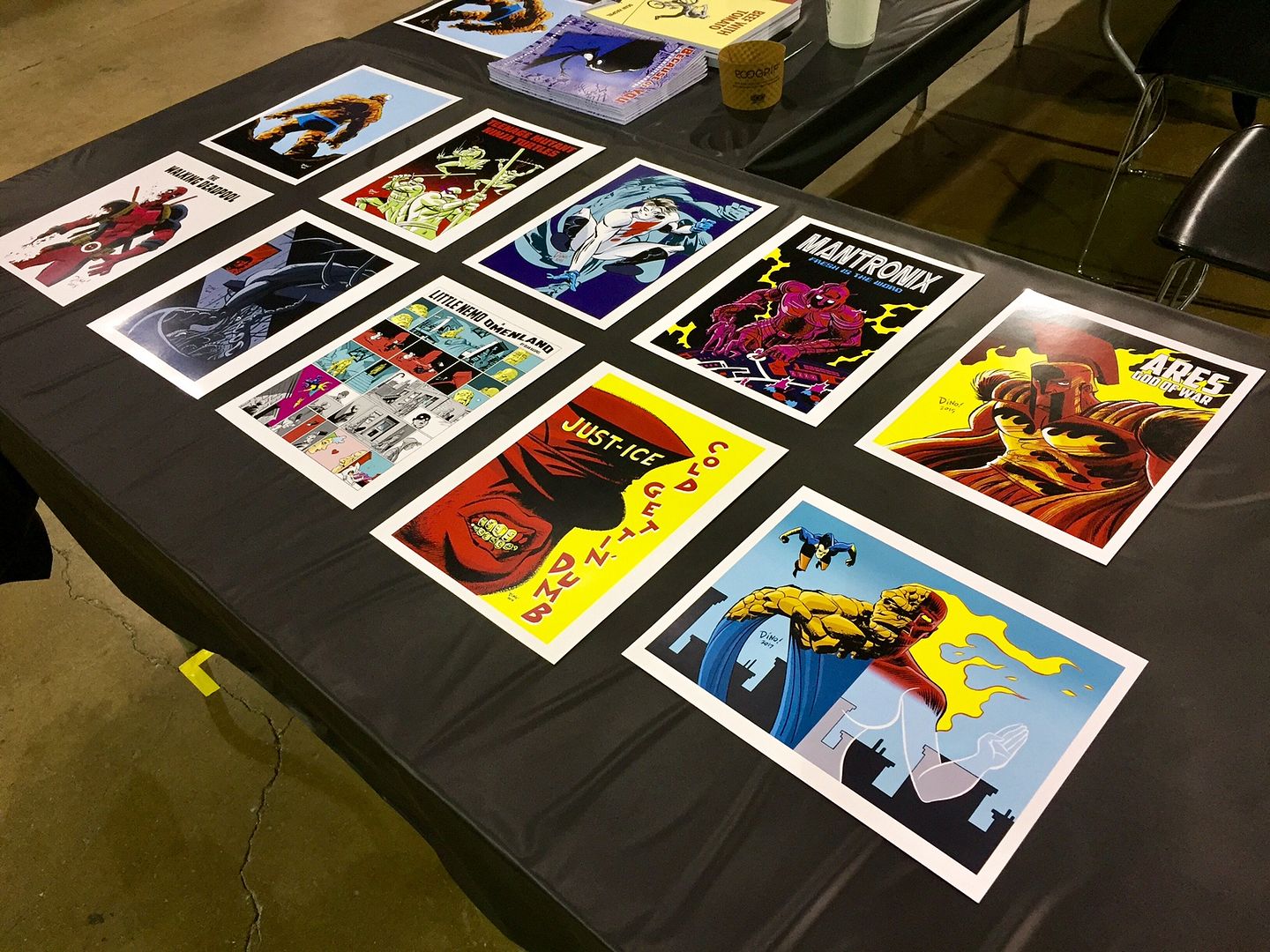 I'm a speaker at C3: Comic Creator Conference on Friday , Sept. 1st, and a guest of the Long Beach Comicon from Sept. 2-3, where I will be doing a few panels and small commissions at my table, D16. I'll have some books and prints for sale, too. Looking forward to seeing some of you there.

http://comiccreatorcon.com/

http://longbeachcomiccon.com/

C3: COMIC CREATOR CONFERENCE

Friday, Sept 1st

4pm-4:50pm Cuba - Separating Truth From Fiction
In May of this year, 11 members of the U.S. comics creative and business community participated in the C3 Havana Edition conference, meeting with 50 Cuban comics creators at Havana's National Animation Studio for an in-depth discussion of topics relating to comics, animation, video game development, storytelling, and film production. Now Martha Donato, President of MAD Event Management (which runs Long Beach Comic Con) and many of her fellow C3 Havana participants – among them writer Ron Marz (WITCHBLADE, DREAD GODS), artist Dennis Calero (MASKS, X-FACTOR), and Cryptozoic co-CEO John Nee – discuss the trip, and are joined by artist Dean Haspiel (CUBA: MY REVOLUTION) to discuss the changing landscape of U.S.-Cuba relations in the creative arts going forward.

5:55pm-6:40pm Developing Different Models for Creator-Owned Work
From "digital-first" to "digital-only", from self-publishing to creator-owned work in conjunction with a more-traditional publisher, and crowdfunding and subscription models, there are many different ways a creator can maintain ownership of the comics work they offer the reading public. Award-winning creators Gene Ha (TOP TEN, MAE), Dean Haspiel (ACT-I-VATE, THE RED HOOK), and D.J. Kirkbride (AMELIA COLE, THE ONCE AND FUTURE QUEEN) talk about their recent experiences and how what they've learned is impacting what they're doing with their current and future creator-driven projects.

LONG BEACH COMICON

Saturday, Sept 2nd

11:30am-12:30pm Playing Well with Others: Creators on Collaboration (The Garage / Room 202C)
Three acclaimed creators who have worked solo AND with others discuss the differences between being the solo name above the title and sharing the creative responsibilities, and you get to be a part of it! Join Howard Chaykin (AMERICAN FLAGG!, THE DIVIDED STATES OF HYSTERIA), Gene Ha (TOP TEN, MAE), and Dean Haspiel (THE RED HOOK) for a freewheeling conversation.

Sunday, Sept 3rd

1pm-2pm All Comics Are Digital: The Present and Future of Digital Comics (The Garage / Room 202C)
As readers increasingly look at comics on computers, tablets, and smartphones, and artists create pages without using "real" pencils and inks, is the comic-book medium changing? Join comics innovators Dean Haspiel (ACT-I-VATE, TRIP CITY), D.J. Kirkbride (AMELIA COLE, THE ONCE AND FUTURE QUEEN), James Gilarte (VENGADOR), and the team of David Gallaher and Steve Ellis (HIGH MOON) for an insightful discussion of what comes next in digital comics.

2pm-3pm Show AND Tell: Solo Storytelling (The Garage / Room 202C)
Three cartoonists with very different styles and backgrounds share anecdotes, examples, and insights into the challenges of telling stories without a partner. Chynna Clugston Flores (BLUE MONDAY), Dean Haspiel (THE RED HOOK), and Malachi Ward (FROM NOW ON) take the stage for a sure-to-be-memorable LBCC panel.