I was honored to be commissioned to draw a cover response for The Fantastic Four #42 for Michael Finn's One Minute Later series. Admittedly, it was a daunting prospect and I came up with a couple of responses, especially after re-reading the comic book, but something about The Thing being entangled by Mister Fantastic got my goat and I ran with it. I had a tougher time figuring out the background, as Jack Kirby gave little space to the concurrent melee between The Invisible Girl, The Human Torch and The Frightful Four, but I think I'm happy with what I decided on, including the fact that Sue Storm is trying to stop her husband Reed Richards from punching Ben Grimm in the back of his head!

Here is the cover I was responding to, The Fantastic Four #42: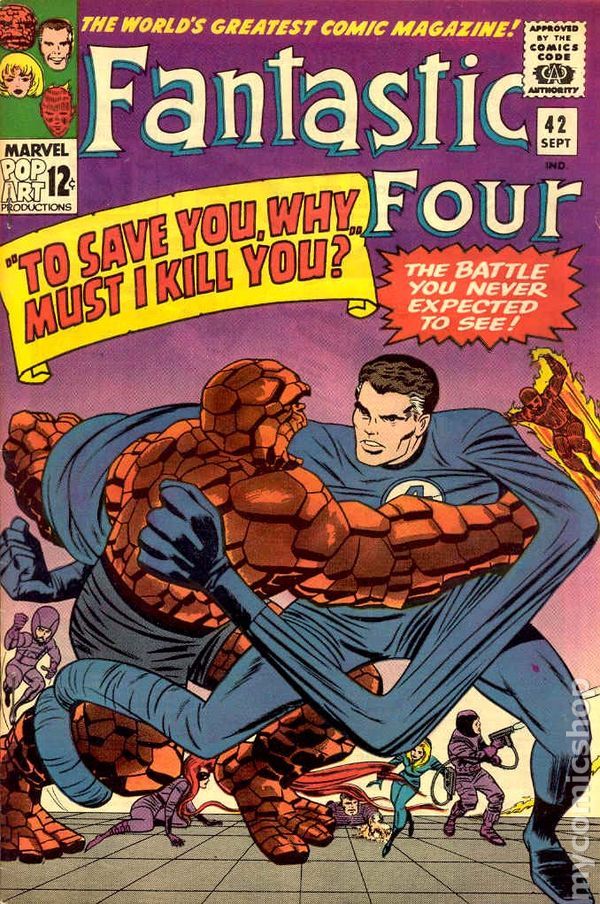 Here is a link to Michael Finn's One Minute Later commissions which is an awesome gallery of top artists meeting the challenge with some of comics' most famous covers: http://www.comicartfans.com/gallerydetail.asp?gcat=9834

I truly hope Michael publishes his incredible collection, someday.

Enjoy!