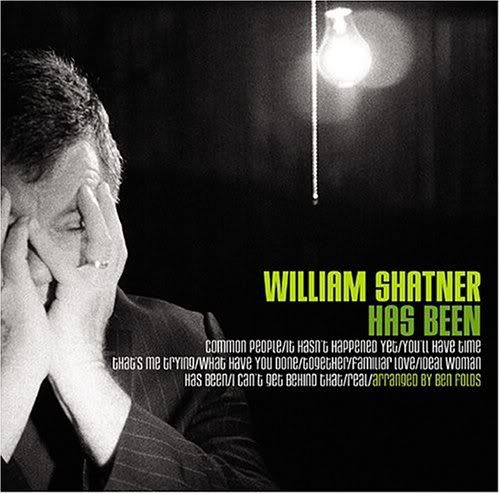 I usually don't buy into concept albums and/or humor. Just recently, in my 37th year, did I start lending a keen ear to comedy. Ergo, purchases of Patton Oswalt, David Cross, and Bill Hicks. A DVD of TRIUMPH THE INSULT COMIC DOG sits comfortably next to my 4 seasons of MR. SHOW and REN & STIMPY [UNCUT]. Otherwise, not too much funny/ha-ha gets to make the cut. SO, when I got wind of William Shatner's new album HAS BEEN, I thought it must be a joke. When I heard curious snippets of the tunes online, I soon discovered that, like Eric B. & Rakim, this was no joke. HAS BEEN purports to "tell the truth" Shatner style, and tell the bold truth, it does. Much like how Tom Wait's has been recording post-apocalyptic songs with rusted pans and broken voices [just listen to his recent REAL GONE effort], Shatner does the opposite and croons unabashedly in a lounge orbiting the dark corners of the collective unconscious, speaking in a catty yet coercing tongue. The two worlds of Shatner & Waits makes for a mind-melding experience that would finally learn Spock's Vulcan confusion the dirty secrets of the human condition.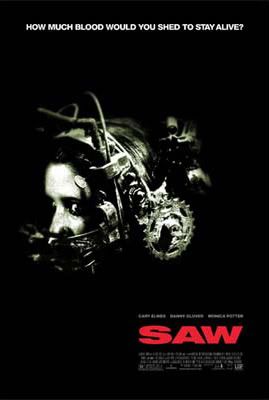 Saw SAW Monday night, thanks to my pal Doug Brod who had tickets to the horror films' NY premiere and after-party, featuring the writers/director, producers and actors. The acting was awful and the script dreadful, but I had a great time watching this low-budget freshman homage to SEVEN and SILENCE OF THE LAMBS [to name just a few of its obvious influences]. I figured out the twist ending in the very first scene, but then the filmmakers did a good enough job convincing me otherwise until the very end revealed to be what I thought was up. Still, it's a nail biter and the best kind of drive-in movie horror theatre.




All I remember about watching TOURIST TRAP when I was young was the frightening mannequins that turn their eyes, open their mouths to gaping proportions and shriek in hymns, and that it stars junior-high school crush, Tanya Roberts. Need more than that to convince you how great this horror movie is? Well, I made Jenn watch it with me based on one particular fond memory [the spooky villain chases a girl in the woods named "Molly" and terrorizes her by blurting out her name via creepy, animated mannequin heads], and no, the experience did not convince Jenn that it should be added to her Top10 list of classic horror. Still, as the movie played, I thought to myself "Wow -- this movie deserves a sequel." Then I thought "Never mind a sequel but it could be remade for today's standards." And then, by the very end, I decided "Nay. It is perfect the way it is" -- in my mind.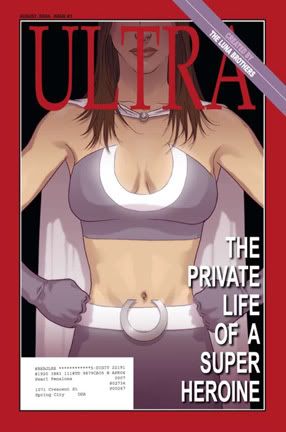 Besides the usual Marvel, DC/Vertigo/Wildstorm, Dark Horse, and indie/alt fair that I read on a weekly basis, I usually never look at what Image Comics has to offer. Well, that's changed: I picked up the first 3-issues of ULTRA by The Luna Brothers. This is a smart and sexy comic about three female best friends who so happen to be 9-to-5 superheroes. The concept may seem coy but the execution is savvy and witty. Plus, The Luna Bros. actually pull off that neo-animation style sans compromising the expression of line art and moody color.




The other Image Comics surprise that's had me swooning is Robert Kirkman's [along with artists Tony Moore & Charlie Adlard] THE WALKING DEAD, which may be the best comics spin on zombie lore to date. The zombie conundrum makes the perfect soap opera backdrop for what happens when men & women & children learn to buck up fast and try to survive each other in a world gone dead alive. I hear Kirkman turns superheroes on their side in his other creator-owned Image Comics series INVINCIBLE, with artist Cory Walker. I think I'll give it a try.