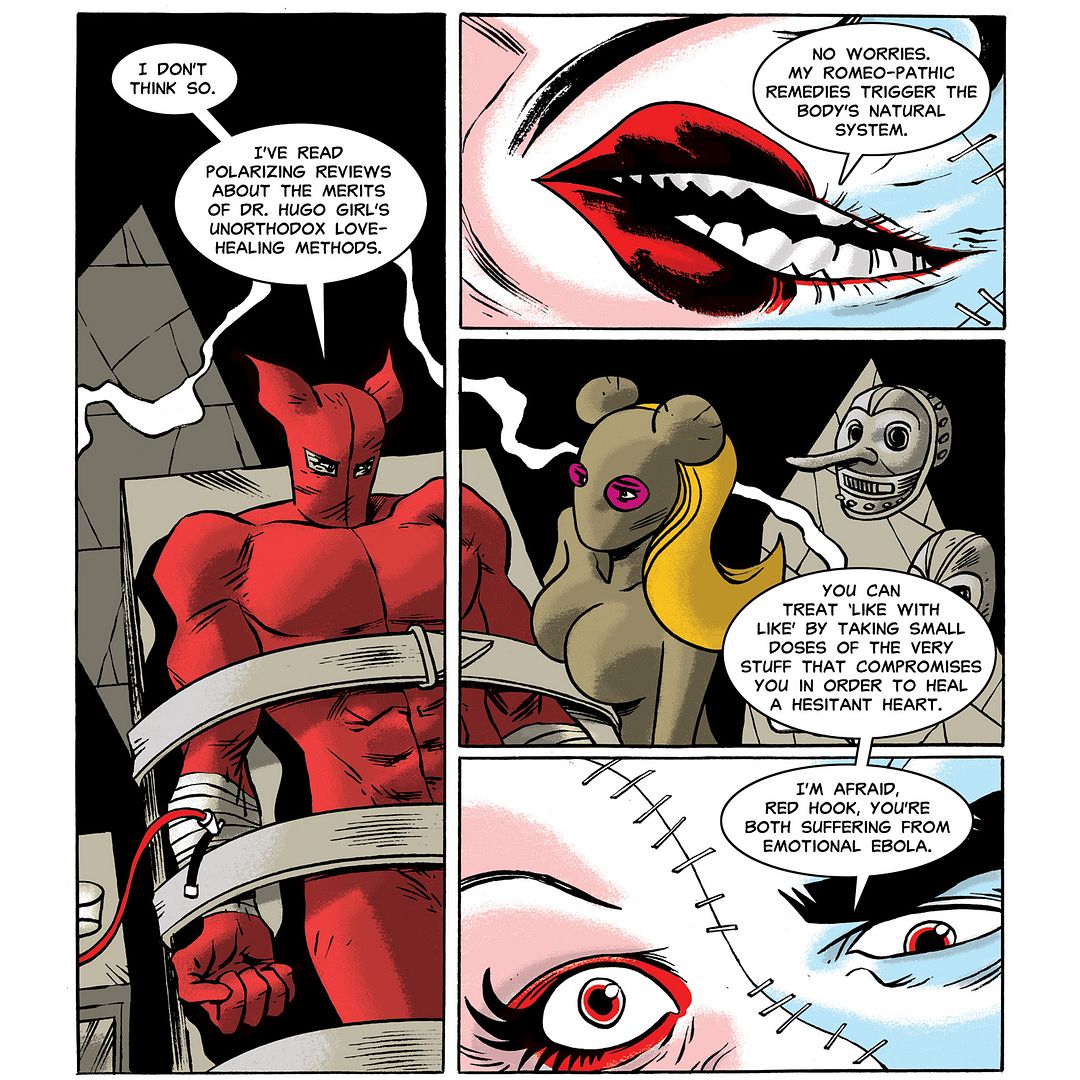 ( Read The Red Hook in "Emotional Ebola" in Dark Horse Presents #s 29 - 31, and Season One for free at LINE Webtoons http://www.webtoons.com/en/super-hero/the-red-hook/chapter-1/viewer?title_no=643&episode_no=2 )


I will be a guest at Wizard World New Orleans, January 6th - 8th, 2017, stationed at table B87. I will be selling some comix and available for commissions. I'm also doing five panels! Hope to see you there.

For more info: http://www.wizardworld.com/comiccon/neworleans

SATURDAY JANUARY 7, 2017

1:00 - 1:45PM ~ A VERY SPECIAL SESSION WITH AMERICAN FLAGG!'S HOWARD CHAYKIN—AND HIS PALS THE RED HOOK'S DEAN HASPIEL & COMICS SCHOLAR BRANNON COSTELLO (ROOM 238)
Howard Victor Chaykin has been a comic book professional for more than forty years. Forty years. Think about it. He took a hiatus from the comics industry for about fifteen years, to work his way up the ladder of television, on shows which he'd never watch—while keeping his hands in the comics business, because he knows nothing lasts forever. He has a terrible reputation among fans for profanity, limited patience with nonsense, and spite, an attitude he's finally and gratefully aged into. Among his many comics works are American Flagg, Black Kiss, and the Shadow. Today, Howard will say stuff about comics and life that you'll regret missing. Writer-artist Dean Haspiel (The Fox; The Red Hook)—Howard's former assistant—and comics scholar Brannon Costello (LSU; editor of Conversations with Howard Chaykin) join Howard in conversation. Danny Fingeroth (Disguised as Clark Kent: Jews, Comics and the Creation of the Superhero; Spider-Man) moderates.

4:00 - 4:45PM ~ TWO CENTURIES OF GENIUS: CELEBRATING THE SPIRIT'S WILL EISNER AND THE AVENGERS' JACK KIRBY with MARVEL ZOMBIES' FRED VAN LENTE, EISNER AWARD WINNER TY TEMPLETON, FANTASTIC FOUR'S DEAN HASPIEL & THE AVENGERS' DANNY FINGEROTH (ROOM 238)
Celebrate two titans as we near their 100th birthdays in 2017. Will Eisner was creator of The Spirit and an innovator of the graphic novel, starting with A Contract With God. Jack Kirby was co-creator of Captain America, Fantastic Four, the Avengers and more. Join panelists including Fred Van Lente (The Comic Book History of Comics), Ty Templeton (Batman Adventures), Dean Haspiel (The Red Hook) and moderator Danny Fingeroth (chair of Will Eisner Week) as they discuss what made these two great.

5:30 - 6:15pm Marvel vs DC: A SILVER SCREEN SUPER FAN SHOWDOWN (Room #243). Forget about who would win in a fight between Batman and Superman, or Team Cap vs. Team Iron Man, because in this riotous (but good-natured) fan debate, we're pitting the onscreen heroes of Marvel and DC against one another. Which classic comics house is owning it on television? Who has the better team movie? Which studio has landed the better villain? And who's film lineup has you the most excited. Join professional nerd Aaron Sagers (Travel Channel, Syfy, MTV, CNN) for an interactive and friendly super-fan showdown. It's the battle to bring the multiverse to its knees!

SUNDAY JANUARY 8, 2017

12:00 - 12:45pm THE WRITERS ROOM GAMESHOW (Room #243). Think Han should have kicked Kylo Ren's butt? Were you lost at the end of Lost? Did Man of Steel's finale snap you out of the movie? For all of you who think you could have come up with a better ending, you can't miss The Writers Room Gameshow. Professional writers join audience members, and are quizzed to come up with funnier finales for iconic movies and TV shows. Hosted by professional nerd Aaron Sagers (Syfy, Travel Channel), this hilariously interactive panel will test the improv skills and creativity of everyone.

2:00 - 2:45 PM WHO'S THE MOST NEUROTIC SUPERHERO? INSIDE THE MINDS OF BATMAN, SPIDER-MAN, CAPTAIN AMERICA, JESSICA JONES AND MORE with BATMAN AND PSYCHOLOGY'S DR. TRAVIS LANGLEY, MARVEL ZOMBIES' FRED VAN LENTE, THE RED HOOK'S DEAN HASPIEL & SPIDER-MAN'S DANNY FINGEROTH (ROOM 238) Ever since the dawn of Marvel's "superheroes with real problems," costumed adventurers have been letting their psychological damage show. Spider-Man's guilt and insecurity, Batman's tango with trauma, Captain America's survivor's guilt and Jessica Jones' smorgasbord of symptoms are just a few of the mental challenges that modern superheroes deal with. Today, psychologist Travis Langley (Captain America vs. Iron Man: Freedom, Security, Psychology), Fred Van Lente (Action Philosophers), Dean Haspiel (The Red Hook) and historian Danny Fingeroth (Superman on the Couch: What Superheroes Really Tell Us About Ourselves and Our Society) discuss the psychological challenges a variety of heroes (and maybe some villains) deals with.