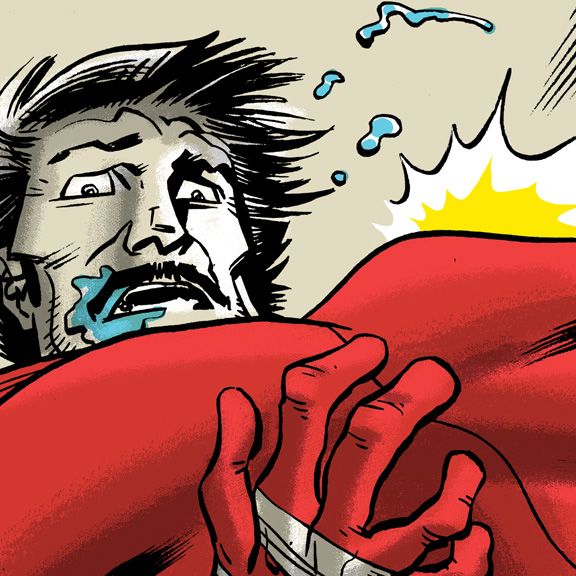 I am a guest at Wizard World Philadelphia, June 2-5, 2016, stationed at table A24. I will have copies of my latest graphic novels, BEEF WITH TOMATO, and FEAR, MY DEAR. Plus, rare copies of my exclusive THE WALKING DEAD cover. Ask me about my new weekly webcomic series, THE RED HOOK, published for free at LINE Webtoons http://www.webtoons.com/en/super-hero/the-red-hook/list?title_no=643

Tabling with me are cartoonists Christa Cassano, Jason Goungor, and David Proch. We're available for commissions and I will also be doing three panels throughout the weekend (see below).

Click here for Wizard World Minneapolis info: http://wizardworld.com/comiccon/philadelphia

PANELS

Friday June 3:

2:00 - 2:45pm TWO GENERATIONS OF UPSTARTS: AMERICAN FLAGG'S HOWARD CHAYKIN & THESRED HOOK's DEAN HASPIEL IN CONVERSATION (Room 121AB)
New York's Upstart Studios was famous for the work it created and the artists who worked there. Living legend Howard Chaykin (Star Wars; American Flagg!) was one of the longtime members of the studio, and among his assistants was Dean Haspiel (Billy Dogma; The Red Hook), who has gone on to create an amazing body of work of his own. Today, Howard and Dean talk about their days at Upstart, their past and current

3:00 - 3:45PM CAPTAIN AMERICA VS. IRON MAN: FREEDOM, SECURITY, PSYCHOLOGY (ROOM 121AB)
Marvel Comics' Civil War and the movie Captain America: Civil War explore superheroes' place in a post-9/11 world where some argue that superhero freedoms conflict with public safety. Captain America leads superheroes fighting for liberty, while Iron Man leads others concerned about national and international security - but why? Dr. Travis Langley (Captain America vs. Iron Man: Freedom, Security, Psychology), Danny Fingeroth (Superman on the Couch), Josué Cardona (Geek Psych; The Walking Dead Psychology), Victor Dandridge (Vantage: Inhouse), Dean Haspiel (Batman '66), and Rusty Gilligan (Captain America: The First Avenger) discuss how character motivations on both sides arise from positive human qualities. Do we really have to choose sides?

Sunday, June 5

1:30pm - 2:15pm THE CREATIVE MIND: TOP ARTISTS ON DRAWING COMICS with SPIDER-MAN'S STEVE GEIGER, BATMAN'S MIKE MANLEY, THE RED HOOK'S DEAN HASPIEL, TMNT's BILLY MARTIN & LEON: PROTECTOR OF THE PLAYGROUND'S JAMAR NICHOLAS (ROOM 121AB)
Top comics artists talk about their careers, their craft, the comics business and whatever else might come up—and may even show you some of their top-secret techniques! Join peerless pencilers Steve Geiger (Spider-Man; The Hulk), Mike Manley (Batman; Draw! Magazine), (Dean Haspiel (Billy Dogma; The Red Hook), and Jamar Nicholas (Fist, Stick, Knife, Gun; Leon: Protector of the Playground) as they pull back the curtain and tell you what it's really like to be a comics artist! Danny Fingeroth (How to Create Comics from Script to Print; Spider-Man) moderates.