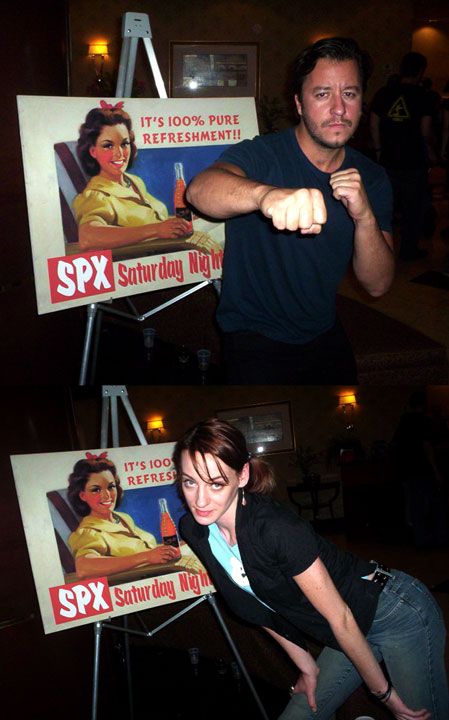 I tossed and turned, strangled sheets and punched pillows, but I couldn't beat the bug. Even with my +3 shield and magic battle axe, a Constitution of 17 [one point handicap for crippling my legs and busting my drawing hand from a devastating age old injury] coupled with a bajillion experience points, the bug crouched into my home and lurked inside my head like a super-snot jihad, manifesting into a sore throat and sinus fiesta. Sleep deprived, I rendezvoused with Josh Neufeld, his wife Sari, and The Beat's very own Heidi MacDonald, on 34th street for an 8:30am bus. I sat next to Gabrielle Bell and let the cold succumb me while the Farrelly Bros.' STUCK ON YOU and John Woo's phoned in PAYCHECK, played back-to-back on the bouncy mini-tv strapped above. The only thing that kept me sane was Gabrielle's innocent interest in the movies [she doesn't own a TV, so moving pictures are special like Saturday night roller rinks] and my nasally compromised calls to
digital_ink who rallied me to pop 1000mgs of Vitamin C, every hour on the hour.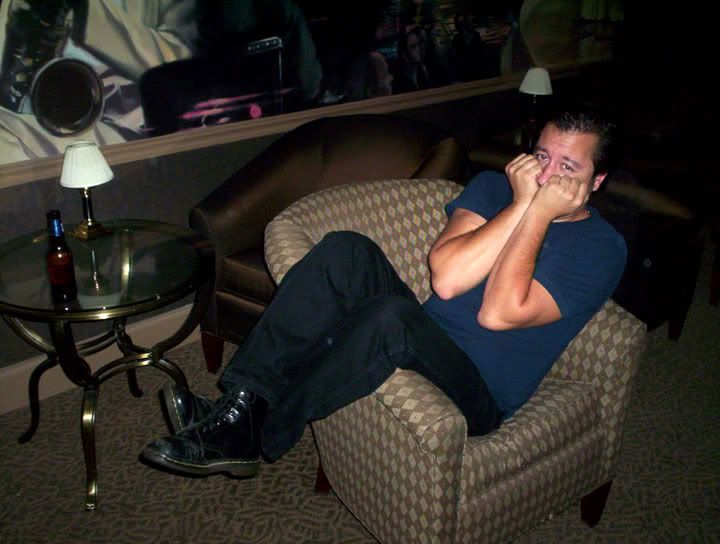 Bamboozled by nefarious directions, we rode the strict metro one stop beyond our destination point and trudged our luggage a mile or so back to the Holiday Inn Select where the event was being held. A half a block before the hotel, we bumped into a group of cartoonists and fans were gripping a copy of the WASHINGTON CITY PAPER with my 'Fox 5' parody art plastered across the cover. It had already hit the local spots and kids were buzzing. Keeping it strictly street, I perked up and rolled up my shirt for some comix clobberin' time. That would last five whole minutes as the bug blind-sided me with a blow that felt like a karate chop form Spock on Crack.




It was comforting to enter the communal halls of SPX and ICAF and see most of the regular faces I've enjoyed the last seven years [except for 9/11, when the show was cancelled and designer Charlie Orr hosted the now legendary SP-Xiles in Williamsburg]. Cooler even more to spot the fans of last year standing on my side of the table, hawking their wares. If SPX is anything, it's infectious. Most of Friday and Saturday were hazy and I battled many bouts of dizzy retreat. Still,
digital_ink kept me on point with hourly doses of Vitamin C, sinus massages, and proactive coaching. I couldn't have made it through the weekend without her expert nursing and tender loving care. Plus, we were there to steep in the glory that is creator-owned comix and damn it all to Hell if we couldn't keep our boots strapped on tight. So, we borrowed a pair and rallied.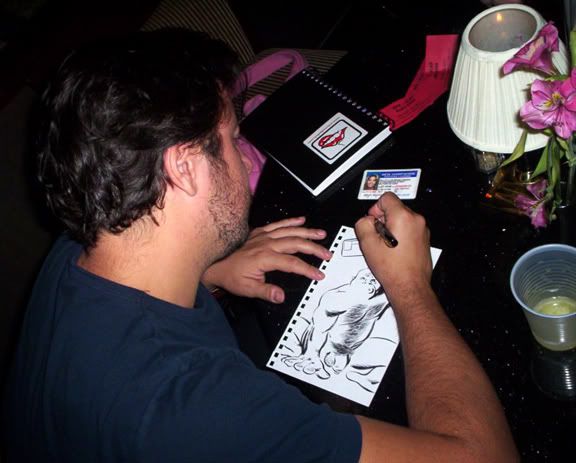 I managed to keep my dogged frame semi-functional for some signatures and a couple of sketches at
indymag's ALTERNATIVE COMICS booth. I realized the major difference between a show like SPX and Baltimore Comicon, was that fans who vie for franchise characters will keep any mainstream artist busy because they assume you draw the franchise gamut. I drew more GREEN LANTERN's at Balticon and San Diego Comicon than any other character. And, I've never drawn GREEN LANTERN professionally! I suppose the rule is, you've drawn one superhero, you've drawn them all. At small press shows like MoCCA or APE or SPX, fans and peers [often one and the same] limit their sketch requests for your creator-owned characters and/or invite you to draw in their theme oriented book. Nary a SUPERMAN or HULK gets sketched at a small press show unless they're getting butt-fucked by WONDER WOMAN with a rubber cock.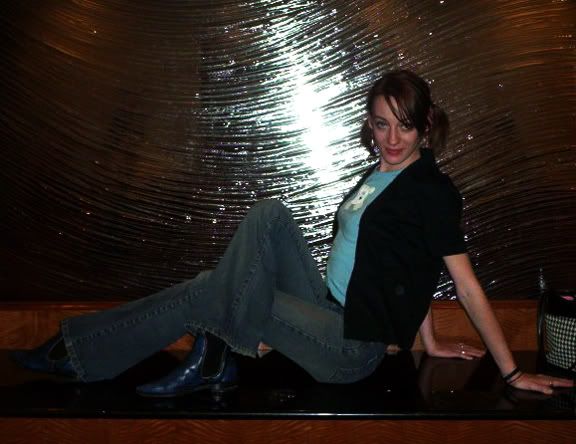 Finally, my girl
digital_ink arrived @3pm and we canoodled around the exhibitor rooms, scoping out some creator tables and catching up on the affair, making intermittent returns to the hotel room we were sharing w/Josh & Sari. We talked to the very talented and doubly charming TRUE TRAVEL TALES cartoonist, Justin Hall, who gave me a copy of ONLY IN SAN FRANCISCO, where the fold-out cover made me leap off panel in a cloud of whoosh. He was book-ending a row of tables in one room dubbed "The Gayborhood," for its domino effect of homosexual comix. I met and joked with some of the other gay cartoonists that they could write & draw non-sexually explicit "gay" comix and they would STILL be listed in the erotic section of the distribution catalogue. Made me wonder if the fact I have a gay character in my latest creation: A-OKAY COOL, would compromise its marketability or exploit it?

A pleasant group dinner with an elite group of comix enthusiasts and academics had
digital_ink's and my belly so full with Thai delight, we could hardly join in on the evening SPX festivities. So, we called it an early night and joined Josh & Sari for some cable tv and talk. Josh and I were hit hard by the bug and
digital_ink was worried about her son's morning drama with a body full of bite-sized hives. Hoping a hit of Benadryl would make nice, she was awaiting word of whether or not she'd have to split and head back home. Fingers were crossed that Lil' Man would break bread with the sick and let his mommy go indie-comix shopping on Saturday.

The middle of the night brought Heidi MacDonald into our abode to crash the make-shift chair/couch "bed" and then once we were all sound asleep and pitch black, the hotel room telephone came a-clanging, startling us all awake @6:30am. It was
digital_ink's mother calling, alerting us she was taking Lil' Man to the hospital. The spotted hives had connected into one big red pond on his body and he'd vomited. My head was dizzy with sinus gunk and a scratchy throat as the emergency call resurrected a hungry beast inside Neufeld's stomach. He and Sari congregated in the bathroom for a conference and debated rations. Finally, Sari came out and asked if Josh could eat my left-over ham sandwich wrap. Baffled, I obliged. That's when Josh revealed that he had eaten twice what he normally eats at dinner and woke up starving. Was he pregnant? Poor Josh took the sandwich into the brightly lit bathroom and sat alone on the toilet sating his mad hunger while Sari, Heidi, and I, went back to sleep.
digital_ink removed herself to the hotel diner below for the early bird breakfast and hospital calls. I started laughing uncontrollably, soaking my pillow in green lung ephemera. Were we all going mad? A short bit later, Josh came out looking for an apple. He needed an apple. I nearly choked.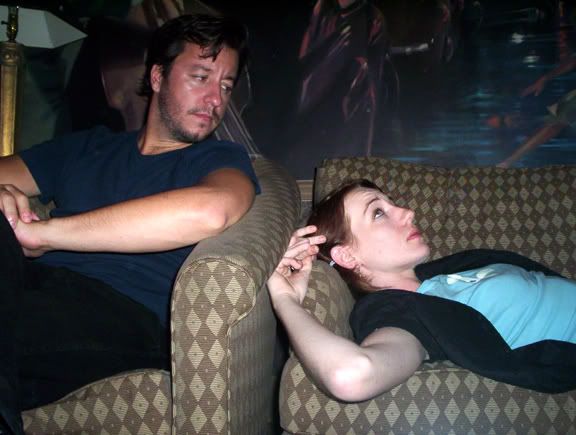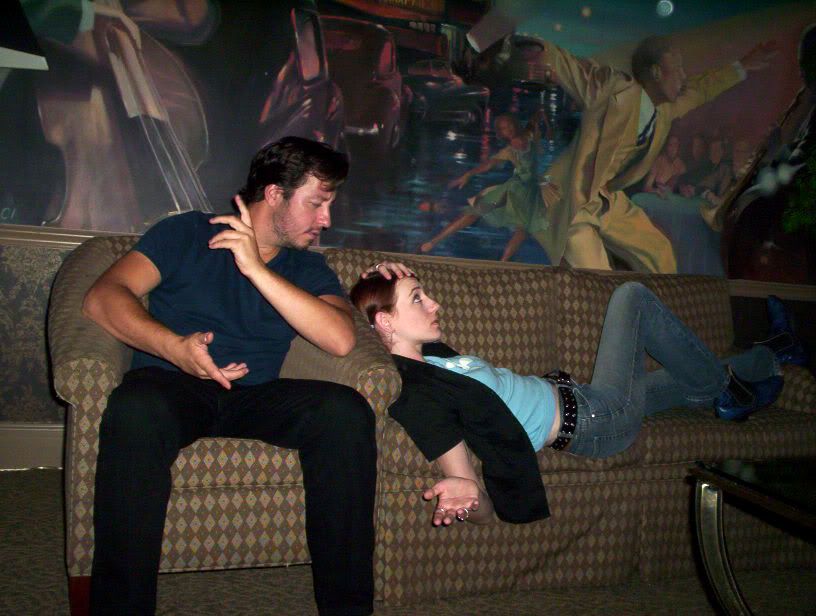 An understandably worried
digital_ink came back to bed an hour later as we tried to steal a couple more hours of sleep. We woke up groggy and worse for wear. How were we going to make it through the weekend?
digital_ink's enthusiasm was being crushed by the sick state of her little boy and now, the bug was making its way through her body, too! I'd have bursts of energy and then flop like a Raggedy Anne Doll. We were soon becoming the Fric & Frac of SPX. A combined effort to rally had us imbibing the fruits of the hospitality room; energizing ourselves to scour more tables for coolio comix where I spotted
super_donkey at the Global Hobo table, and
digital_ink scored some truly unique comix, including BAZAAR LOVE TRIANGLE, a comic like magic eightball made from a paper pyramid with a magnet in the middle, held together with a rubberband.

The term "LJ" got dropped a lot as I groggily greeted
ebess and her main squeeze/cartoonist Leland Purvis. Gave a hug to
kthor. Picked up a copy of EVERYMAN hot off the presses from
sneakymonkey and his brother Dan. Met
snale and bought her mini-comix ARCHIPELAGO #2 and NINA THE LIBRARIAN. Cracked wise with
mikedawsoncomic. Congratulated
gregmce for dropping so much weight due to his regimented marathons. And, unfortunately, only stole 5-minutes of
jcrichards time who was kind enough to gift me with an 8-pack of multi-colored Sharpie Pens. All in all, I picked up a box worth of comix, which included:

Jim Campbell's KRACHMACHER #1
Jeffrey Brown's BIGHEAD
Jim Ruggs' STREET ANGEL #3
The Bros. Goldman & Joe Bucco's EVERYMAN
Joel Orff's WATERWISE
Justin Hall's TRUE TRAVEL TALES #3
Graham Annable's FURTHER GRICKLE
Rick Smith's BARAKA AND BLACK MAGIC IN MOROCCO
Matt Madden's A FINE MESS #2
SPX 2004 ANTHOLOGY
ROSETTA #2
Rich Tommaso's PERVERSO!
Tony Consiglio's TITANIUS
Matt Wiegle's THE GHOSTS
Robyn Chapman's HEY, FOUR EYES!
TEEN BOAT #6
REYNOLDS ROCKET COMICS
Vanessa Davis' SPANIEL RAGE
Brendan Buford's BRENDAN COMICS
Sam Hiti's EL LARGO TREN NEGRO
Tomasz Kaczynski's TRANS SIBERIA, and TRANS ALASKA
Fay Ryu's HELLO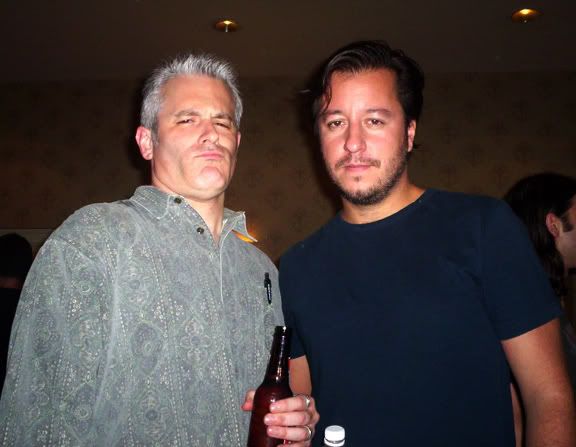 Nick Bertozzi, Heidi MacDonald,
digital_ink, and I, met up with spiky white haired pal/Fox News reporter Ian [aka
chooseymother] for Indian food and light-hearted ribbing. We came back for the SPX - 10th Anniversary sheet cake and party, the epicenter of what makes SPX/ICAF internationally communal and invigorating. I congratulated Mike Mignola on his HELLBOY movie and comix success, and talked comix show politics with both Balticon organizer Marc Nathan, and SPX director, Steve Conley. I bashfully surveyed
trishalynn as she roamed the lobby in a red slip like an angry ex-girlfriend of John Wayne Bobbit, and thanked her for her swell review of LIONEL'S LAMENT [http://www.sequentialtart.com/reports.php?ID=3486&issue=2004-10-01].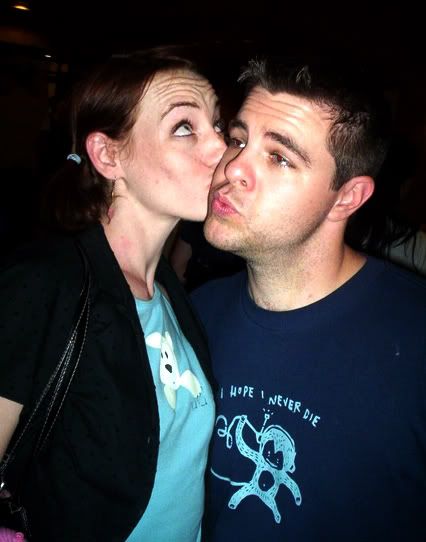 [Jenn and Scott Morse making kissy faces]

I had bought
digital_ink a sketch pad for her to get cartoonists to draw in, and after scoring illustrations from both Nick and Josh, I introduced her to all around nice guy/gentleman/talented cartoonist Scott Morse, who drew an amazing illustration for Lil' Man. They talked a long while about parenting and cartoons for kids. Morse is a man's man with an endless vault of super great concepts. I wish I could share a studio with that guy.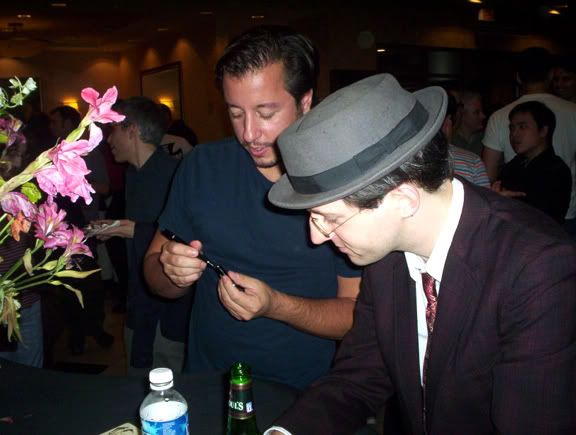 [Dino and Jason Little talking inking techniques]



[Jenn and Gabrielle Bell - a duo to be feared!]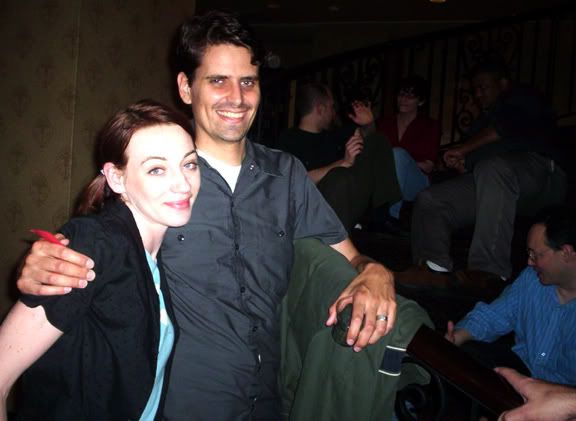 [Jenn and Nick Bertozzi]

The bug was clogging up my nose with fish skeletons and license plates and skating around my throat with a razor blade wrapped in Brillo. So, we ended the night on a high note and, much to
digital_ink's chagrin, I crashed dead asleep @2am. A few pokes woke me up and reminded me that we had some snuggling to do and so we did, ninja-style. @8am, I was awoken to Sari's directives to quit snoring. The bug was making a final death rattle and I tried my best to keep the sinus snorkeling at bare minimum. And then, Josh started to snore. Sari's camp had no case.

I started to feel a little better Sunday morning as
digital_ink packed her stuff to split for A-town to take care of her hive-ridden son. As a parting gift, she gave me a beautifully painted portrait, executed in the spirit of Max Beckmann.




Elated, I drew Lil' Man a superhero sketch for his budding collection.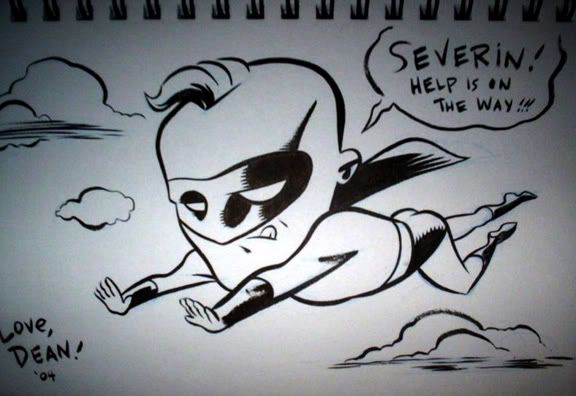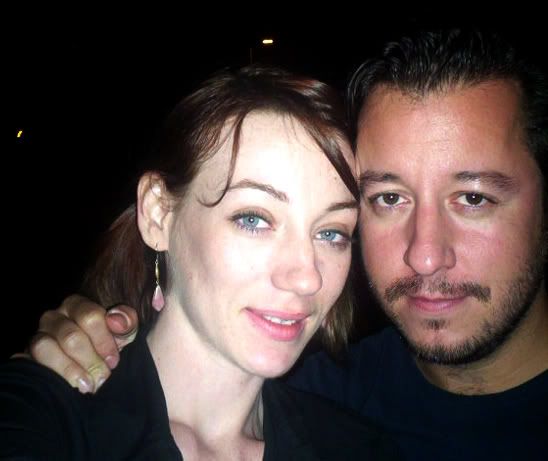 Shortly after
digital_ink was gone for good, I had to attend my panel BRINGING INDEPENDENCE TO THE MAINSTREAM, where I shared an hour of discussion with panelists Scott Roberts, José Villarrubia, Farel Dalrymple, and Scott Morse. We talked about the pros and cons of writing and drawing franchise characters and the marketability of our alternative sensibilities.

I made a few last rounds before saying goodbye to another swell SPX and hopped a ride with FRAYED ENDS creator Jason Brightman, his pal Bonnie [sp?], and Heidi MacDonald, as we made the long trek back to NYC. We talked about better ways of finding one's creative voice by telling universal truths, distinguishing ego from lore, and bringing clarity to your ideas while making classic tales instead of esoteric ones.

Back home, I called and kissed
digital_ink goodnight over the phone and slumped into a sound stupor. The bug had left the building.