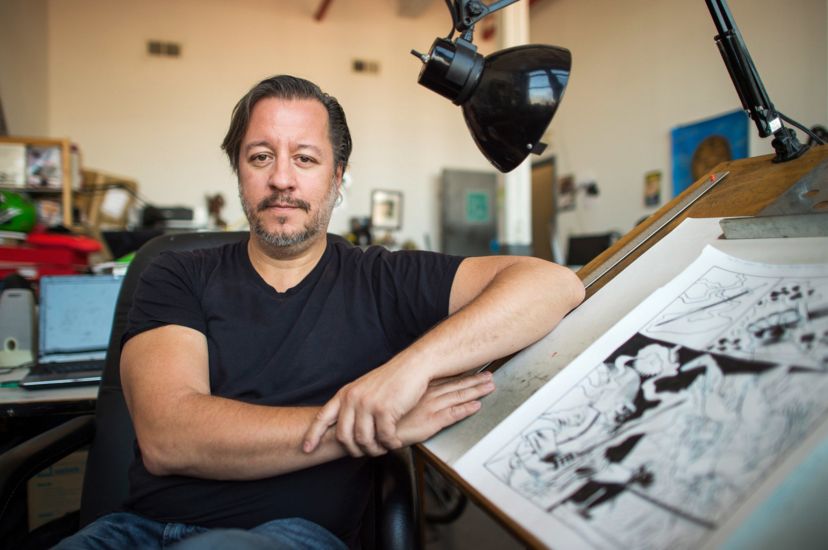 George Gene Gustines interviewed me about my new/free webcomic series, THE RED HOOK, and the rest of the "New Brooklyn Universe" creative team for the New York Times.

Excerpts:

"What if Brooklyn was sentient?" the cartoonist Dean Haspiel wondered. "And its heart was broken, and physically seceded from America?" The result is "New Brooklyn," a free weekly comic web series that chronicles life in the anthropomorphized borough. Appearing in its panels are new heroes and villains like the Red Hook, Benson Hurst, Billy Burg and the Brooklynite.

Mr. Haspiel grew up in Manhattan on the Upper West Side but moved to Brooklyn in 1997. He has the borough pride of a new recruit. He is the consummate Brooklyn comic-book artist. He even served as the basis for a larger-than-life Brooklyn comic-book artist played by Zach Galifianakis in the HBO comedy series "Bored to Death."

"New Brooklyn," which began appearing on the comics website LINE Webtoon this month, combines many of Mr. Haspiel's touchstones. There is his adoration of the superheroes and creators of Silver Age comics (like the Fantastic Four and Jack Kirby). There are romantic notions of years of artistic pursuits finally paying off — in the fantasy barter system of "New Brooklyn," art is practically gold. "We'd rise to the cream of the crop," Mr. Haspiel said during an interview at his art studio in Gowanus.

Mr. Haspiel, who lives in Carroll Gardens, had the idea for the Red Hook, the pulp hero who stars in the first 26-week installment, in 2012. The initial conceit was "a superthief that is forced to become a superhero," he said. "It's like the reverse of 'Breaking Bad.' 'Breaking Good' is the corny way of describing it."

But things didn't really jell until 2014, when two American flags on the Brooklyn Bridge were mysteriously replaced with white flags. It turned out to be an art stunt about celebrating public spaces, but it inspired Mr. Haspiel to ponder why Brooklyn had given up. He decided the borough was tired of modern America and wanted to revert to the ways of old.

That kind of thinking is not a surprise to anyone familiar with Mr. Haspiel, 48, who comes across like a comic-book tough guy but is quickly unmasked as a soft touch. A visit to his studio began with him introducing the other comic artists working in the subdivided warehouse. (Though he founded the online comic collective ACT-I-VATE, he's still a firm believer in print and does his inking by hand.) A couple of his studio mates, including Christa Cassano, listened in on the interview and gently scoffed when he said things like "You can't gift a GIF" while talking about the emotional value of books.

You can read the entire article/interview here: http://www.nytimes.com/2016/04/24/nyregion/brooklyn-gets-a-superhero-and-a-few-villains.html?_r=0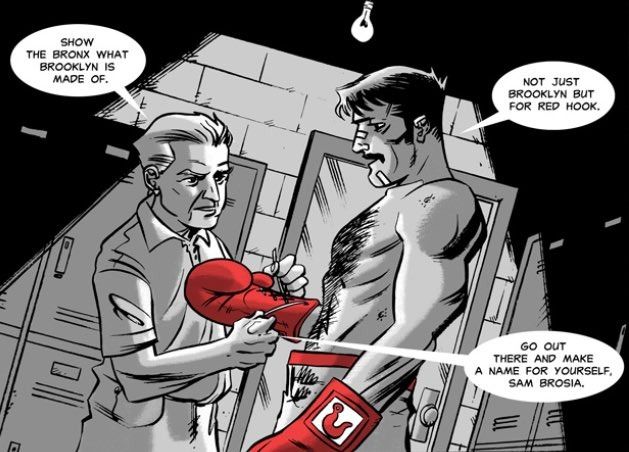 A version of this article appears in print on April 24, 2016, on page MB4 of the New York edition with the headline: Brooklyn Gets a Superhero (and a Few Villains).