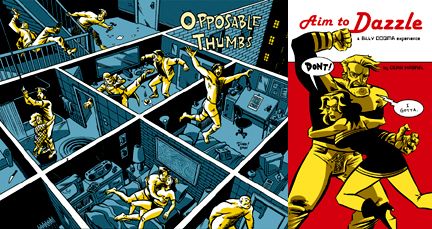 Bouncing between
indymag's Alternative Comics [which will be stocked w/copies of my creator-owned perennials; AIM TO DAZZLE and OPPOSABLE THUMBS], and AdHouse Books [to promote A-OKAY COOL in the upcoming anthology, PROJECT: SUPERIOR], I'll be attending SPX [http://www.spxpo.com/] and ICAF [http://go.to/ICAF] from Friday, Oct 1st until Sunday, Oct. 3rd, with my gal
digital_ink. Catch me so I can show you sneak peeks of my VAMPIRELLA collaboration with
brianwood, my Harvey Pekar collaboration for DC Comics' upcoming BIZARRO WORLD, sell you a copy of LIONEL'S LAMENT [my online/narrative corpse collaboration w/Josh Neufeld], and so I can drop science on my upcoming Vertigo project that will be officially announced this Sunday at New York is Book Country [http://www.nyisbookcountry.com/].

My Alternative Comics Signing Schedule at SPX:
Friday 3pm-5pm
Saturday 4pm-7pm
Sunday Noon-2pm

2:30-3:30 SUNDAY:
BRINGING INDEPENDENCE TO THE MAINSTREAM - A roundtable of independent creators lending their voice to the mainstream.
Featuring Scott Roberts, Dean Haspiel, José Villarrubia, Farel Dalrymple & Scott Morse.

Hope to see you there!