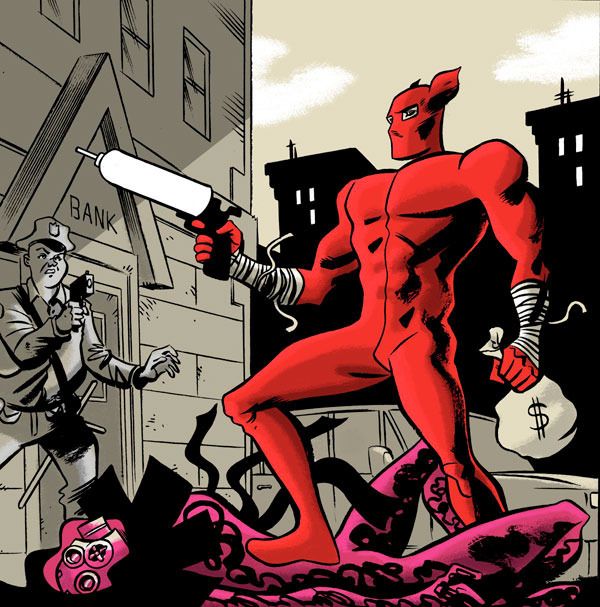 I'm proud to launch my new, free Webtoons series, THE RED HOOK, which is a part of the "New Brooklyn" Universe (NuBKU). Best viewed on a smart phone or tablet, you should download the free WebToons App for optimal scrolling. You can also view it large-scale on your laptop. If you like it, please leave a comment and tell your friends & family about it. It will help insure that I get to produce more Red Hook comix. Thanks!

Click here to see/read chapter one:
http://www.webtoons.com/en/super-hero/the-red-hook/ch-1-the-white-flag/viewer?title_no=643&episode_no=2

Also, be sure to read WebToons editor, Tom Akel's nice introduction to the "New Brooklyn" universe I co-created with Vito Delsante, Ricardo Venancio, Shamus Beyale, and the late Seth Kushner.

http://www.webtoons.com/en/super-hero/the-red-hook/an-introduction-to-new-brooklyn/viewer?title_no=643&episode_no=1

From the official press release:

LINE WEBTOON LAUNCHES FIRST TITLE IN "NEW BROOKLYN" SUPERHERO UNIVERSE — "THE RED HOOK"

First Comic Series Set in New Brooklyn Universe Debuts Chronicling the Adventures of Thief Turned Hero during the Fallout Following Brooklyn's Secession from NY

LOS ANGELES, April 06, 2016 – LINE Webtoon, the popular digital comic publisher pioneering the development and distribution of comics worldwide today launched the first of three titles that comprise a brand new comic universe, New Brooklyn. Created by Brooklyn writers and artists, New Brooklyn is the first comic universe to truly encapsulate the borough's spirit with comics starring Brooklyn as their centerpiece. The first title, The Red Hook by Dean Haspiel, follows Brooklyn's master thief, Sam Brosia aka The Red Hook, who finds he can no longer lie, cheat, or steal when America's greatest champion bequeaths him the powers and moral burden of the Omni-Fist of Altruism– against his will.

New Brooklyn follows the adventures of a unique group of heroes who emerge in the fallout from Brooklyn's decision to secede from New York State. In these comics, Brooklyn is not just the setting, but also a character with a broken heart whose decisions greatly impact the destinies of its residents. Fed up with the way society has formed around her, Brooklyn quite literally pulls away from New York – its bridges breaking and tunnels flooding – and proposes that humanity return back to days of old where things and people were defined by their ethics, values and contributions; where skills and art could be bartered and traded; where land could be farmed to sustain life and spawn beauty.

"I'm excited to produce an original comic with full autonomy using a state-of-the-art format that can appeal to everyone," said creator Dean Haspiel. "Ever since print was challenged by the digital age, I've been advocating new storytelling delivery systems while developing a dawn of creator-owned heroes. Working on season one of The Red Hook at LINE Webtoon is a renaissance moment for me."

"New Brooklyn is the first complete comic universe created for LINE Webtoon and we are looking forward to seeing this alternate reality that Dean and his fellow creators have developed come to life in The Red Hook and future titles," said JunKoo Kim, Founder and Head of LINE Webtoon.

In addition to The Red Hook, season one of New Brooklyn follows two additional heroes who are also struggling to make peace with themselves and reconcile their redefined home in theNew Brooklyn Universe – The Brooklynite and The Purple Heart.

Launching in summer from the late Seth Kushner and Shamus Beyale, The Brooklynitefollows Brooklyn cartoonist Jake Jeffries, who gets caught in the fallout of two super-humans battling and is accidentally irradiated with superpowers. Fraught with "Superman powers and Spider-Man problems," Jake learns to fight crime in his secret identity as The Brooklynite, and chronicles his adventures in a comic book series while struggling to lead a dual existence.

The Purple Heart, launching this fall from Vito Delsante, Dean Haspiel, and Ricardo Venâncio, tells the tale of US Navy soldier, Isaiah "Zeke" Nelson has just returned from war overseas. He is done fighting and all he wants is to go home to Brooklyn, but Brooklyn has other plans when her heart is broken and she secedes from America and selects Zeke to become New Brooklyn's cosmic guardian, The Purple Heart.