Having weathered Hurricane Jeanne's NYC backlash, heavy traffic and customs from JFK Airport, I cooked internationally lauded cartoonist, Miguelanxo Prado, an impromptu meal of whole wheat pasta w/spicy garlic red sauce and salad, who was crashing my apartment for the evening. Spanish academic/poet, Ana Merino [the organizer who had arrived a couple of hours earlier], was her usual lovely yet manic self, talking 1000 Spanglish words per minute before she split to crash at her girlfriend's house.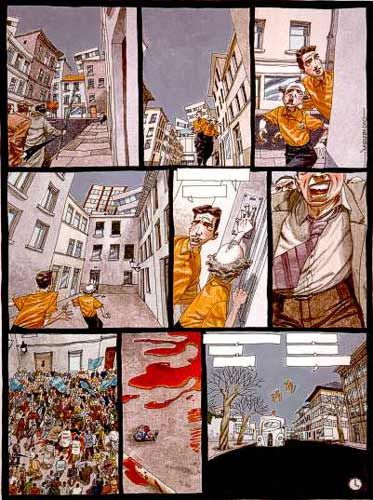 (c) Miguelanxo Prado

Trapped by the heavy storm, Miguel and I watched half of Mikhail Kalatozov's 1964 black & white epic, I AM CUBA, where canoes floated down serene ghetto rivers, rooftop jazz ascended hotel facades into deep pool parties, and sugar cane fields were hacked and burned in the bright sun. He was happily seduced by the cinematography and purple language while pulling books off my international comix shelf. We shared thoughts about the artwork of Baudoin, Lorenzo Mattotti, Baru, Alex Toth, Bezian, and Stuart Immonen. Coming from different graphic approaches and cultures we were envious of artists who let deliberate accidents dictate their comix work, allowing for visceral line and brush work sans the savage grip of commercialism that stifles so many of us. I prepared Miguel for SPX [Small Press Expo] by showing him KRAMERS ERGOT #4 as an example of what separates this alternative show from the mainstream madness of San Diego Comicon. He was impressed.

Prado gave me a copy of THE SANDMAN: ENDLESS NIGHTS, which features a story he drew for Neil Gaiman. I furnished him with some copies of my creator-owned fare and showed him examples of my mainstream work. Exhausted by the long trip from Spain, Prado hit the sack with my comix in hand. A few minutes later, I could hear him chuckling from behind my bedroom door. He was laughing at my semi-auto-bio comix.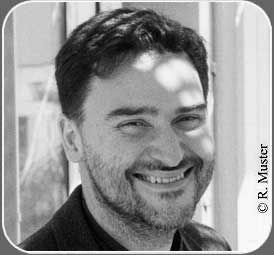 We woke up to coffee talk about European distribution and publisher politics. After showers, Ana Merino came back to take us to lunch and we went to a diner where Bacon Cheese Burgers were indulged as rapid-fire Spanish went in one ear and out my other. The way they barked and cajoled, I kept asking if they were angry. They laughed and apologized for their intermittent lapse into their native yet incredibly passionate tongue. Before grabbing luggage to head off to Manhattan, Miguel honored my book with a personal inscription and drawing.

I insisted we three take the subway [Miguel's first experience] and swing by Jim Hanley's Universe for comix shopping. Miguel got to bask in the glory that is The Empire Building [directly across the street from JHU]. I bumped into SHE-HULK writer Dan Slott, who got me hip to his upcoming projects [including a SPIDER-MAN/HUMAN TORCH mini-series] and we met up with Lisa Polen and her pal Bridget. I gave
dinoblack a high-five and got recognized by LJer,
lil_fatty. Before I knew it, Prado and Merino were out the door and heading to Penn Station for the ICAF conference in Bethesda, MD.

For more information about Miguelanxo Prado:
http://www.lambiek.net/prado.htm
http://www.nbmpub.com/comicslit/prado/pradohome.html