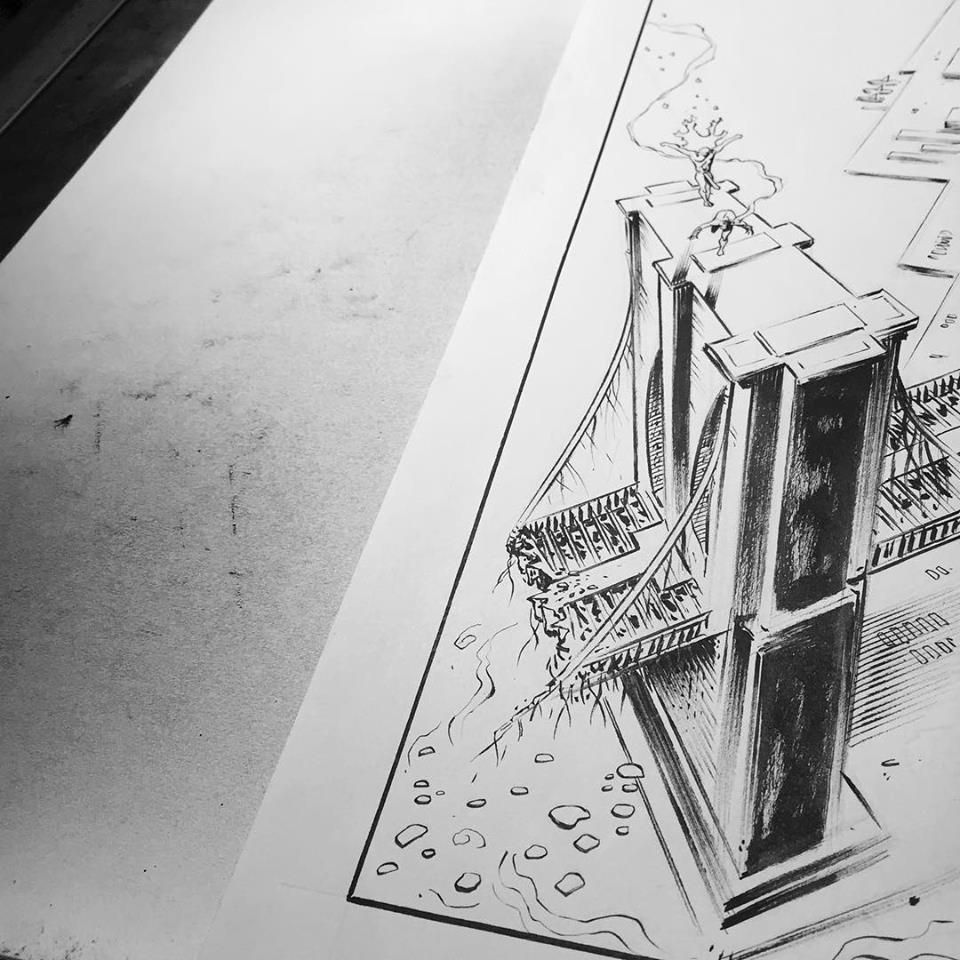 I am a guest at Wizard World Portland, February 19 - 21, 2016, stationed at table A21. I will have some copies of my latest graphic novels, BEEF WITH TOMATO, and FEAR, MY DEAR. Plus, rare copies of my exclusive THE WALKING DEAD cover. Ask me about my new, upcoming webcomix series, THE RED HOOK, to be published at LINE Webtoons. And, I'm available for commissions. I will also be doing two panels on Sunday, which is also my father's 78th birthday.

http://www.wizardworld.com/home-portland.html

SUNDAY, 2/21

1:30-2:15 PM SUPERSTAR ARTISTS: SUPERIOR FOES OF SPIDER-MAN'S STEVE LIEBER, THE FOX'S DEAN HASPIEL, BUFFY'S REBEKAH ISAACS & DR. WHO'S SIMON FRASER (ROOM B110)
Top comics artists talk about their careers, their craft, the comics business and whatever else might come up—and may even show you some of their top-secret techniques! Join peerless pencilers Steve Lieber (Superior Foes of Spider-Man; Whiteout), Dean Haspiel (The Fox; Beef With Tomato), Rebekah Isaacs (Ms. Marvel; Angel & Faith) and Simon Fraser (Judge Dredd; Dr. Who). Danny Fingeroth (How to Create Comics from Script to Print) moderates.


2:30-3:15 PM INDY COMICS CREATORS TELL ALL with BILLY DOGMA'S DEAN HASPIEL, HEREVILLE'S BARRY DEUTSCH, DAVID CHELSEA IN LOVE'S DAVID CHELSEA & BAGGYWRINKLES' LUCY BELLWOOD [A Will Eisner Week Prequel] (ROOM B110)
The model of comics creators tethered to one or two major publishers, working on adventures of corporately-owned characters is no longer the only game in town. Many of the top talents in comics work either exclusively on their own material, while others work both sides of the street, alternating independent work with mainstream assignments done in their own distinctive styles. In this lead-up to the worldwide comics and graphic novel celebration, "Will Eisner Week," speaking about how they have forged their own paths (and reading from their work), are some of the most distinctive creators in comics today: Dean Haspiel (Spider-Man; Billy Dogma), Barry Deutsch (Hereville: Hereville: How Mirka Met a Meterorite), David Chelsea (David Chelsea in Love; Everybody Gets it Wrong! and Other Stories) and Lucy Bellwood (Baggywrinkles; Down to the Seas Again). The panel is moderated by Danny Fingeroth (The Rough Guide to Graphic Novels; Studs Terkel's Working).