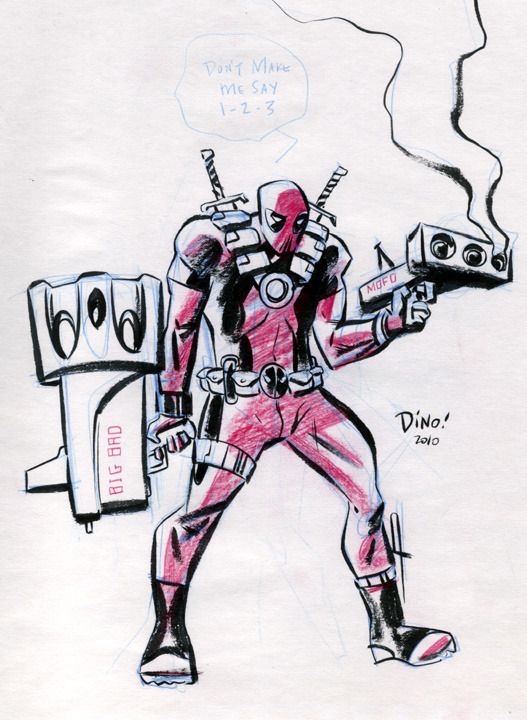 (my first Deadpool sketch in 2010)

When Marvel editor-in-chief, Axel Alonso called me up in 2010 to ask me if I'd like to write & draw a short Deadpool story for DEADPOOL 1000 (a one-shot anthology celebrating 100-issues of Deadpool), I immediately said "Yes." When I got off the phone, I hopped from my (then) studio (DEEP6) directly next-door to ask studio mate, Reilly Brown what he could tell me about Deadpool, a character I'd never read and one he'd drawn many times. I walked away with the understanding that Deadpool was Marvel Comics' schizophrenic yet sassy Looney Tune with guns galore. A combination of Spider-man and Wolverine and Russell Brand. I had to whip up an idea fast.

Once my story was approved, I drew it and, with one minor (major?) edit (Deadpool's fist was adjusted to enter the side of the demonic cat and NOT through his anus, which I'm sure would've been approved had I drawn it TODAY), I asked Joe Infurnari if he would color it and he did a fantastic job.

Below is a low-resolution version of my 4-page Deadpool story, "A Nightmare on Elm Tree." There's also the cover to DEADPOOL 1000 by Dave Johnson, and a recent poster I made available for sale at conventions I attend, mashing up Deadpool with The Walking Dead (a no-brainer...literally).

Deadpool was co-created by Rob Liefeld and Fabian Nicieza 25-years ago for Marvel Comics and opens as a feature-length film this weekend at a theater near you. Obviously, the characterization of Deadpool has been added to over the decades by a slew of other creators and that's how franchise comics works. 'Nuff said!

Enjoy!