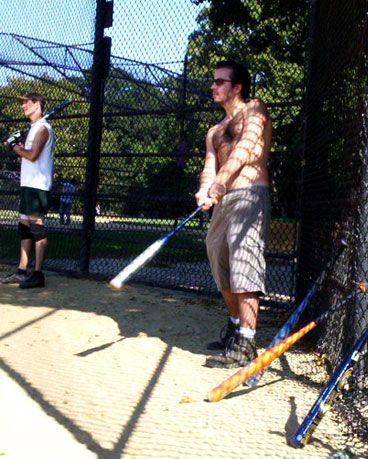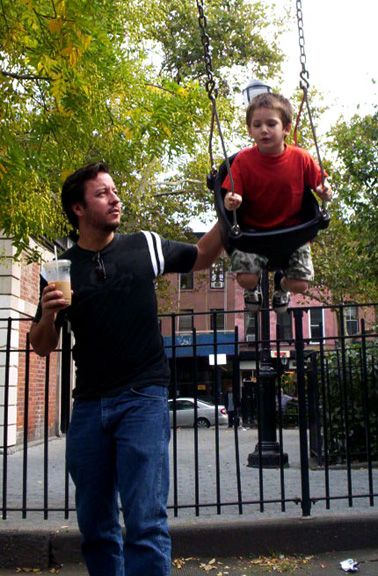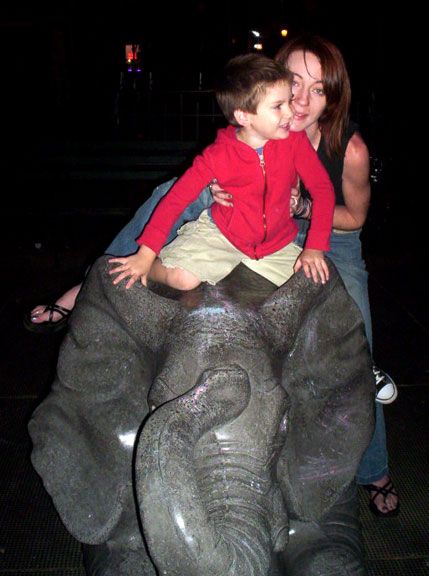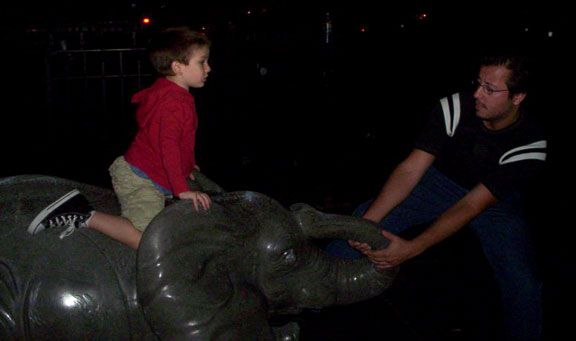 On Friday, we played in Carroll Gardens park where Lil' Man got swung like a monkey and rode an unbudgeable elephant. Then, we drove to HOPE & ANCHOR restaurant for the best Turkey Club and Bacon Burger Deluxe in Red Hook. We skirted drunken Kareoke and drove our hot meal containers to the edge of D.U.M.B.O. for a Manhattan River view and some rock skipping. For dessert, Lil' Man launched his chocolate cake fueled body into the "Ship Park" where we followed his captains orders.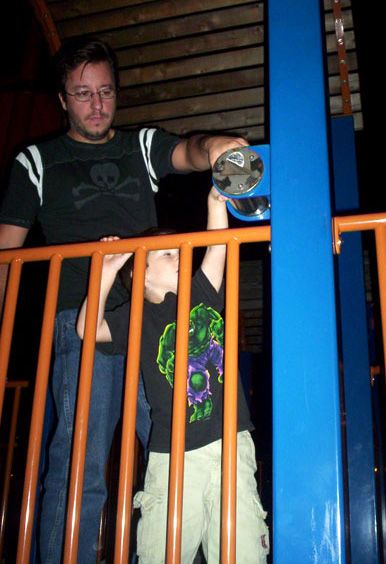 On the way back home we stomped at our loyal shadows under the crimson street lamps and, after Lil' Man hit the sack,
digital_ink and I got to make out while watching Guillermo Del Toro's haunted ghost story, THE DEVIL'S BACKBONE.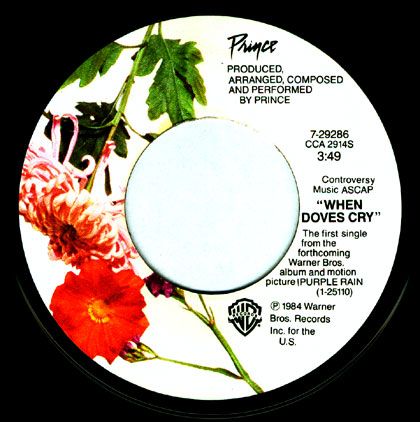 Saturday morning, I woke up to coffee and an impromptu gift. During a bagel run,
digital_ink spied a stoop sale and scored me an old 45-single of Prince's WHEN DOVES CRY, my favorite song [tied with Afrika Bambatta & The Soul Sonic Force's PLANET ROCK]. After I cooked us a hearty breakfast, the vinyl nostalgia prompted a neighborhood walk for street deals where $2 boots and $3 earrings and a spoon ring were scored. Lil' Man was captured by an ancient plastic puzzler that had his thinking cap pulled tight, and we stopped by Carroll Park pavement for some frisbee lessons.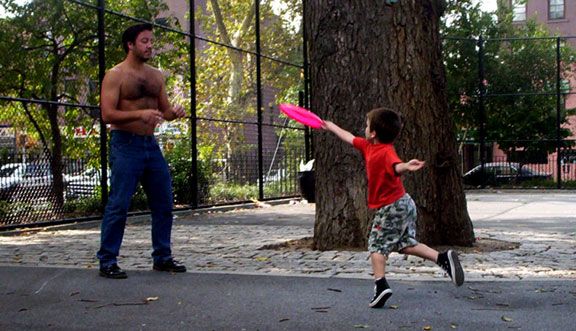 I gave
digital_ink a set of GON Japanese comix collections to help inspire a comic she's writing & drawing concerning the origin of the Pug.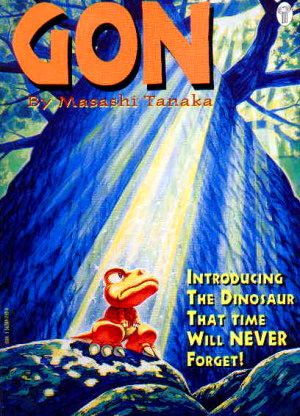 That evening had us driving a sunset lit BQE to Jackson Heights where we hung out and ate Jackson Diner Indian food with Nick, Kim & Sabina Bertozzi.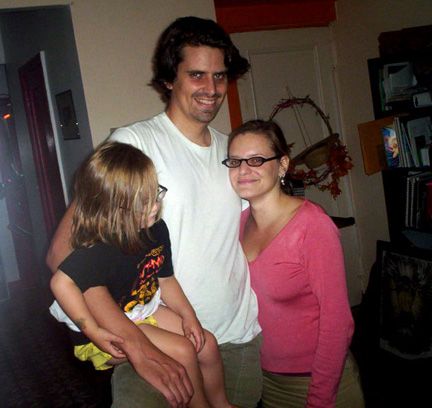 Lil' Man and The Bean got along famously playing blocks, stickers, tattoos, digital paint games and, at one point, put on bike helmets so they could hop around like grasshoppers [???]. While all that was occurring, the adults sat back for a couple of hours of TRIUMPH, THE INSULT COMIC DOG and EDDIE IZZARD comedy. Unfortunately, Izzard's DRESS TO KILL show didn't send me like I hoped it would. No matter, the "Star Wars Premiere" and "Westminster Dog Show" bits on the TRIUMPH -DVD kill me every time. Before we split Queens, we dressed up in Nick's cover band wigs where
digital_ink made for the most ravishing Mod.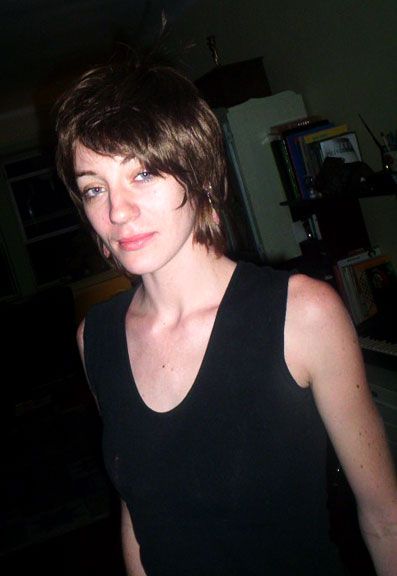 Back home, a midnight Smith Street stroll had us collapsing a curfew delinquent Lil' Man as he hit the sack like a pile of Tonka Toy Trucks [am I dating myself?]. Finally, the weekend excitement did him in and he was out.
digital_ink and I took the rest of the night off from parental duty to steal a few dozen kisses and play doctor.

On Sunday morning,
digital_ink made me witness a bizarre episode from the 1960s SPIDER-MAN cartoon series. "Cold Storage" had Spidey frozen solid in a warehouse ice box by a couple of no-good thugs. Spidey has a fevered dream wherein the ice melts and he frees himself only to find that NYC has succumbed to nuclear fallout and mankind has mutated to a regressed form of cave-mobsters who are occasionally attacked by...dinosaurs? One of the monosyllabic speaking thugs wore a bunch of wristwatches and a big clock dangling around his neck, as if he were the 'King of Time.' The landscape was painted in those haphazard primary color washes that young Ralph Bakshi employed to economically evoke comic book surrealism. In the end, a truck driver making an unexpected stop saves Spidey from imminent doom. I could see why this episode attracted
digital_ink sensibilities. It was acid. Punked out and super-silly. I was shocked and appalled that Spider-Man subconsciously convinced himself that the apocalypse would occur had he not escaped the ice trap. Ego tripping.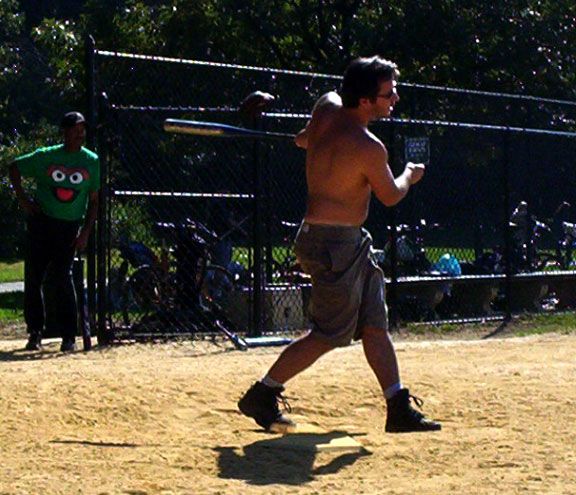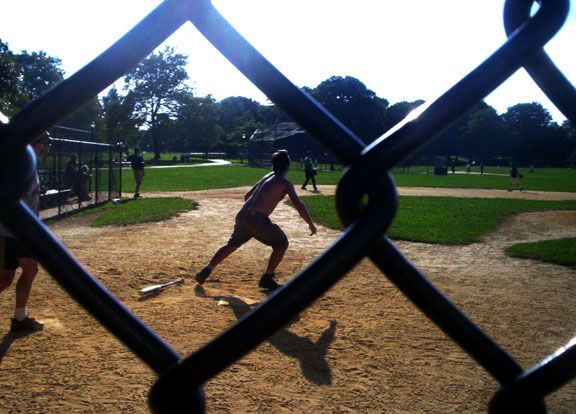 I rode my bike over to Prospect Park to make the 1pm game of softball, where I hit hard and defended center field and second base fairly well, despite the fact that I hadn't played in a good while. My team has come to nickname me "DR. STRANGE-GLOVE" because sometimes I can make the most amazing play and sometimes I can make the most awful play.
digital_ink showed up with Lil' Man for the 2nd game where we played with him in the sandpit, in-between softball defense and offense.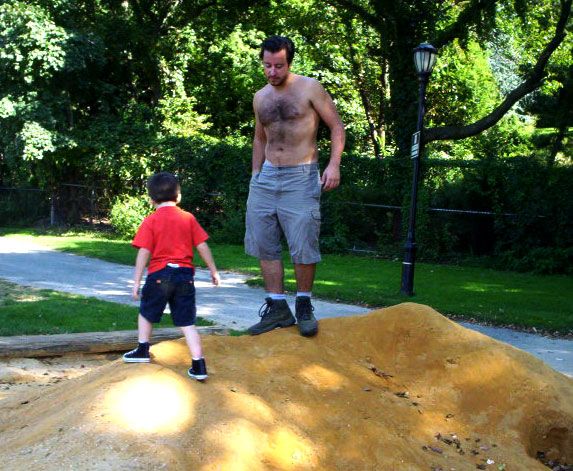 eyehawk showed up with his wife and son and we caught up on the weeks events and the freshness that is SHAUN OF THE DEAD.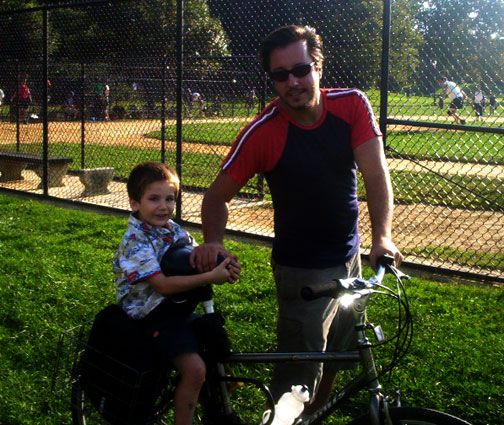 My legs couldn't handle a 3rd game, so we all hoofed it over to the kids playground that Lil' Man dubbed "Water Park." Lil' Man went bananas racing through the mist and spray, soaking his entire frame.
digital_ink coerced him to dry off in the sun by the musical monuments and then we carted a shivering 3-year old boy back to my apartment for a hot bowl of Ramen noodles and POWER RANGERS.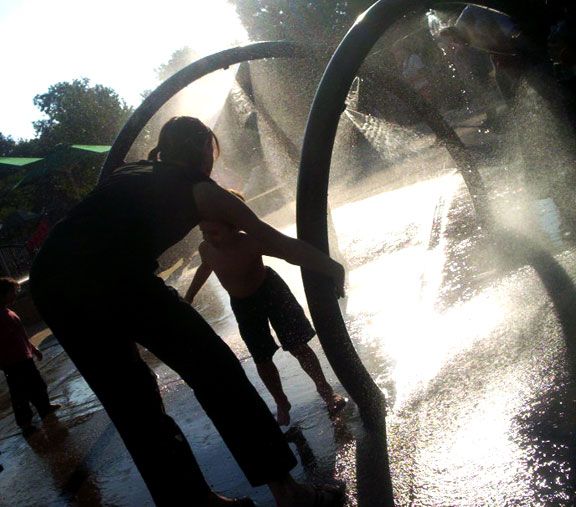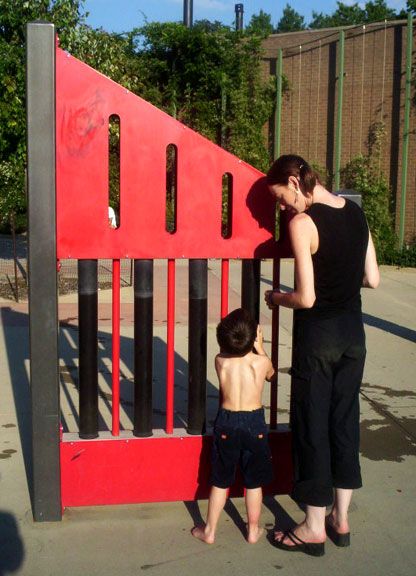 digital_ink took her son for an early evening stroller walk and came back with a sexy, 50-cent bikini from a laundromat sale. Lil' Man took some convincing to count sheep while I snagged us some Chinese food from LING LING. We aimed to watch Lucio Fulci's horror classic, ZOMBIE, but wound up talking about nutrition, herbal medicine, midwifery, and comix, while I was treated to a soothing leg rub. I schooled
digital_ink about RICHARD CORBEN's recent Marvel work, specifically BANNER and CAGE, and showed examples of MIGUELANXO PRADO's classic comix, who is crashing my pad Tuesday night before heading off to SPX as a guest of ICAF. We quit waxing geek-speak and switched off the lamps so the neighbors couldn't copy our make-out.

A 5:30am alarm took
digital_ink and Lil' Man back to A-Town. Later that morning, I woke up dizzy from a dream, wondering where my morning kiss was.