[not yet a Jedi, I vogue with Adam Hughes' lightsaber]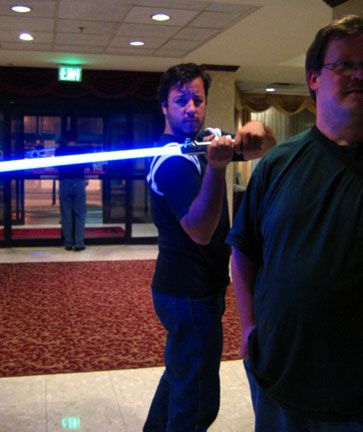 (c) 2004 Heidi MacDonald [The Beat: http://www.comicon.com/thebeat/]



Marc Nathan, organizer and prince among men is the reason I attend the Baltimore Comic-Con [4-years in a row and counting]. Marc owns Cards, Comics & Collectibles in Baltimore and puts his soul into this Charm City comix convention. For the past two years, Marc has provided me with a hotel room, food, guest badges, and a table to hawk my wares. And, even when I don't have wares to hawk, he makes sure my table is stocked with my various comix, from franchise to creator-owned, so that I can make some spending money and get mainstream fans hip to my square. For some reason, Marc and his amazing wife, Bonnie, have taken me under their wing, giving me carte blanche like I have never known in this polarized industry we dub comix. I am eternally grateful for their kindness and for this ever expanding show.

On Friday, I hopped the Greyhound bus from Port Authority in Manhattan to the Holiday Inn in Downtown Baltimore where the Yankees were getting their ass served to them by the Orioles. The stadium is adjacent to the convention center, directly across the street from the hotel I was staying at. On the bus ride up, I got a cell phone shout out from
digital_ink alerting me that she and her 3-year old son, Severin, were planning on driving to the convention from Allentown on Saturday, possibly for an overnight. I hadn't seen either them in a long while and I was excited to hang out. Plus, it would be Lil' Man's first comix con! Upon arrival, my weekend roommate/THE BEAT reporter, Heidi MacDonald, and I squished into one of the many vans busing a bunch of us cartoonists to a big dinner that Marc & Bonnie Nathan were hosting at the Macaroni Grill. We were treated to an abundance of Italian appetizers, entrees, and desert. That, coupled with many glasses of bourbon on the rocks and I could hardly contain myself. Many toasts were made and I got to talk "man talk" with artists Jimmy Palmiotti and J.G. Jones. The dinner hosted about 50-or-so top notch cartoonists and writers as I hugged and high-fived my mentors; Walter Simonson, and Howard Chaykin, and complimented a trim Mark Waid sporting a macho red beard. If he starts taking off his shirt at cons, I'm calling it quits! I finally got the chance to shake Mike Wieringo's mitt for doing such a magnificent job on the current run of FANTASTIC FOUR. I told him that he was Jack Kirby to Waid's Stan Lee. Ringo told me he dug my stuff, too, and I got all bashful. On the van ride back to the hotel bar, cover artist king, Adam Hughes, shared horror stories about his popular convention sketches and we debated the pros & cons of spicy food between his current digs in Atlanta to my hometown New York. At the bar, I met DREADSTAR creator Jim Starlin, and we discussed the halcyon days of Upstart Studios in NYC when I came aboard to assist Chaykin & Simonson shortly after he split his art table for the Catskills. I told him how much I dug his character SYZYGY before calling it a night and hitting the hay.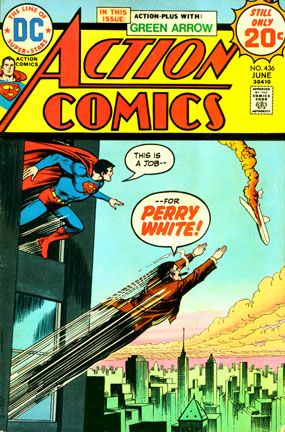 A late Saturday morning start had me grabbing a quick cup of coffee and rushing to my table, situated next to Walter & Louise Simonson, where
jcrichards and his lovely wife Tammy were the first to greet me.
jcrichards plopped down a bag of free comix he gifted me from his personal collection, treating me to the likes of OMEGA ~ THE UNKNOWN, NOVA, and WEREWOLF BY NIGHT. The cover that tickled my eye the most was ACTION COMICS #436, which carried the Julius Schwartz tradition of ridiculous cover concepts for snagging a cheap sale. Other comics in the booty were DAZZLER, SHEENA THE SHE-DEVIL, and STARFIRE. Bad girl comics that would make
digital_ink swoon. As we were catching up and I was getting hip to
jcrichards quirky Kirby concept, THE PIE PANDEMIC!, a fan wanting my signature pulled up to the bumper and I was delinquent of a proper pen. All I brought was my brush and pencils for sketches.
jcrichards was kind enough to bust out his Sharpie and I continued to use it for the entire weekend!

From then on, when I was seated at my table, I was either sketching or signing -- non-stop. Something I had never experienced before. Being a cartoonist who toggles between the mainstream and alternative, I have a very loyal yet testy mini-fanbase which doesn't house too many asses in seats but just enough to allow for me to show face at certain cons. Half the time I spend cracking jokes with table mates and twiddling my thumbs. I was surprised at how much attention I was getting here in Baltimore. Suffice it to say, this would soon become one of my more successful convention experiences.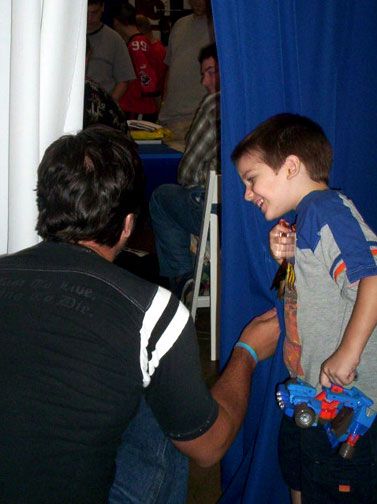 Surprise!
digital_ink and Severin turned the corner and I kneeled down for a big hug with Lil' Man. He'd grown SO big since last I saw him.
digital_ink was looking divine as ever and another long lost hug was found. We exhaled and I introduced
digital_ink to
jcrichards and Tammy, who are also Pennsylvanian's with offspring. They chatted something about the Mutter Museum and made future plans.

Now that
digital_ink arrived, I had an excuse to split the table and help show Severin around the convention. Toys were his main attraction as Power Rangers and Transformers were scored by the bundle. Cartoonist/SPX Director, Steve Conley gave Severin a BLOOP doll and comic and Severin met GREEN LANTERN!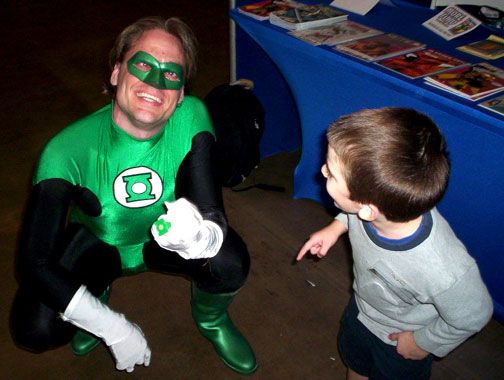 Lone Mom and Wolf were a big hit, scoring free candy, stickers, tattoos, and cards, as they ran around the con floor. I visited a few tables, talking shoppe with AdHouse publisher, Chris Pitzer, who was pimping PROJECT: SUPERIOR with a sneak-peek of the anthology due next February. Finally, after a bunch more sketches and signatures, Saturday's show was over and the evening's festivities were about to commence. Rather than hang with the crowd and network, I opted for a nice dinner and walk by Harbor Place with
digital_ink and Severin. We scored yummy Japanese and Thai food in the mall area where Lil' Man practiced his chopstick technique and
digital_ink insisted I enjoy a 10-minute Aqua-Massage wherein you place your body face down in what appears to be an iron lung with a car wash on top of it. The massage works its wonders from water pressure and is quite the oddball tourist trap that actually axe-murders the kinks in your neck and lower back. As fate would have it, my good pal from High School & College/film producer, Shannon Goldman, happened to be visiting the area with his girlfriend Debbie [and her family] so we met up for 5-minutes and I made fun of his height. Then, we heard the fudge makers downstairs singing and dancing their fudge making song! Severin sat on my shoulders while watching chocolate pirouette. We bought a brick of fudge to nibble on outside in the sublime night air and played by the dock where Severin saved me from slipping into the sea.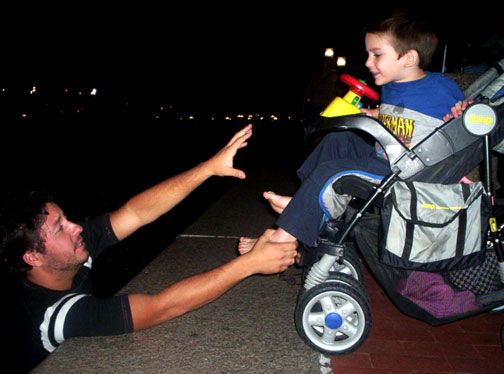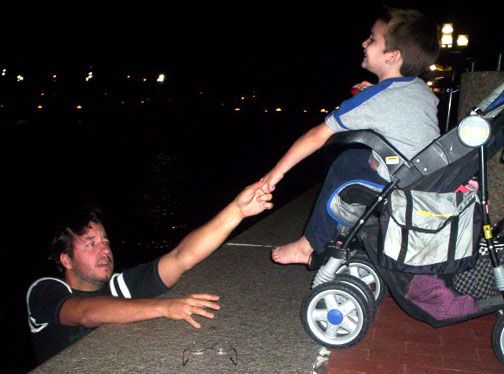 To thank him for saving my life, I showed Severin how to steer a ship and then he sat me down by the end of the pier and we talked about living the hard life.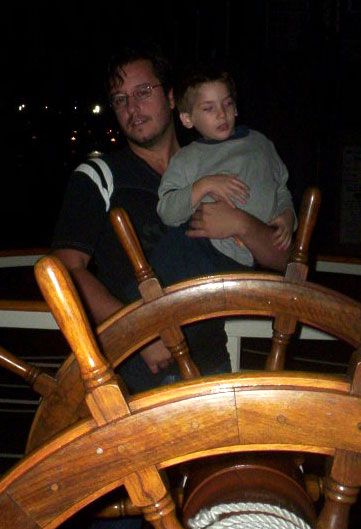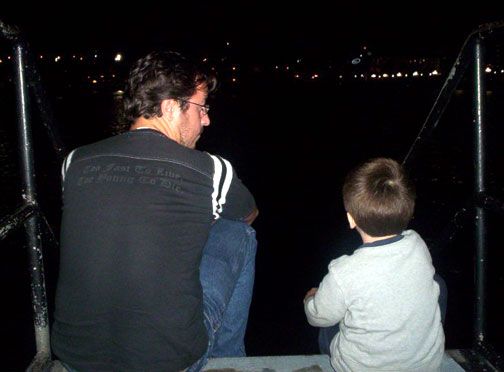 digital_ink felt left out, so she kidnapped her son for some recreation and respite while I snuck off and scored him a rubber FINDING NEMO glow ball necklace to steal back his affections.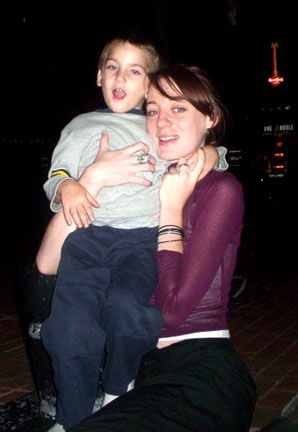 On the way back up to the hotel room, Severin bumped fists with JUSTICE LEAGUE OF AMERICA artist Ron Garney and I headed to the bar for some honest industry catch up and shmoozing. Talked to DC art director, Mark Chiarello, about NEW FRONTIER and his new series of SOLO books. Responsible for BATMAN BLACK & WHITE and other great franchise concepts, Chiarello is truly one of the more innovative editors at DC. A few cop cars made some noise and a bunch of Yankees fans [represent!] got evicted from the West Tower of the hotel where food and beer had exploded across the hall rugs and elevator walls. I called it an early night from the comix bar fray and hung out with
digital_ink. She put an excitable comic-con soaked Lil' Man to sleep so we could enjoy each other's space, one on one.

Lil' Man woke up early Sunday morning for cartoons and a visit to the pool with his mother. I wiped the sand from my eyes and hit the shower so Heidi MacDonald and I could get back to the convention by 11AM. I spent another good couple of hours sketching THE THING, BATMAN, GREEN LANTERN, SPIDER-MAN, WONDER-WOMAN, my very own BILLY DOGMA, and HARVEY PEKAR! Yes, it's true, Harvey Pekar has become an icon.
digital_ink took some snapshots of me drawing CAPTAIN COLD for a fan.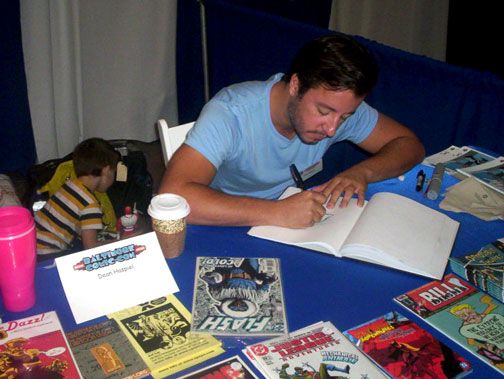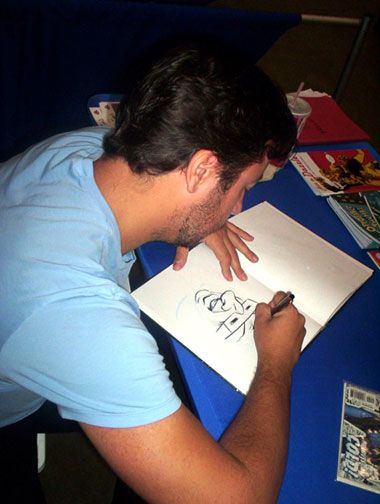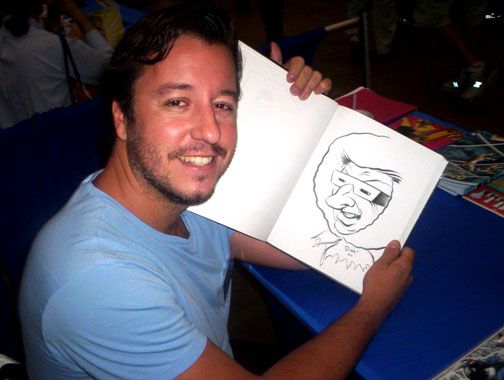 I took another much needed break from the table and we went comix shopping. I met Mike Grell of WARLORD and SABLE fame, and B. Clay Moore was kind enough to toss me copies of his HAWAIIAN DICK comix. Talked briefly to Carla Speed McNeil, who told me more about her upcoming comic collaboration with Warren Ellis [who I'd like to work with someday, too] and she gave me her FINDER: MYSTERY DATE collection. Severin met the legendary Martin Nodell, the artist/creator of The Original GREEN LANTERN [from the 1940s] and THE PILLSBURY DOUGHBOY. After winning over everybody's hearts, Severin and
digital_ink and I swung back to the table where she got to meet Howard Chaykin and hear some funny anecdotes about me from when I was 18-years old. Chaykin showed us his upcoming, EC Comics inspired, SOLO book and it was brilliant.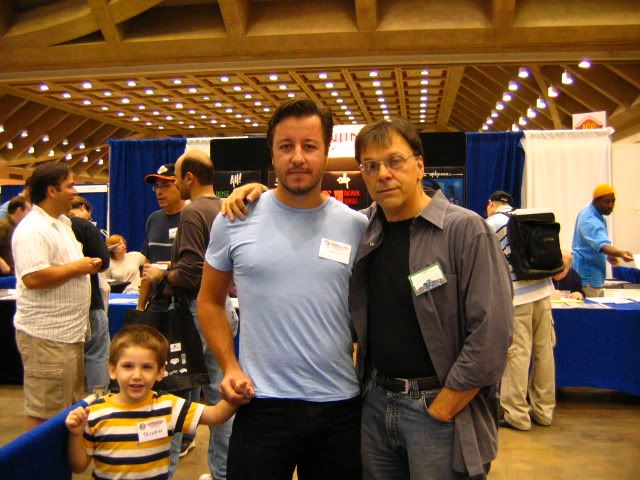 Severin had to pee and insisted on going to the public bathroom alone. Naturally, we let him go. NOT. So he ran ahead thinking he was pulling a fast one and, like a ninja, I shuffled surgically behind him, never letting him catch on to my whereabouts. Not until I found him run up to the adult urinal, pull down his pants and try his best to pee up. I grabbed him by his shoulders and ordered him to hold on as I swung him passed a line of urinating cartoonists and fans over to the kids urinal. He urinated like a proper gentleman, flushed, and washed his hands. Legendary artist Mike Kaluta was on hand to witness the little boy's entree to adulthood and would later commend him for his abilities and my patience. Turns out, Kaluta lives in the Upper West Side of Manhattan [where I grew up] and invited us to hang out at his art studio.

Inspired by all the drawing everyone was doing, I threw Severin a piece of cardboard and
jcrichards Sharpie. He made deliberate marks on the paper and drew his very first superhero.
digital_ink nearly cried. And so did I.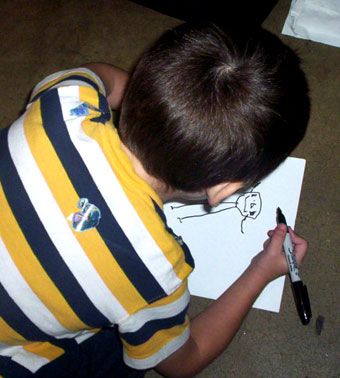 We made one last race around the convention and I bought
digital_ink a bootleg DVD of SHAUN OF THE DEAD. Later,
digital_ink would give me PLATO, book marked to the chapter titled "Symposium." Hmmm. I wonder if it has anything to to do with the walking dead?

Everybody gave their goodbye's as we gave another thumbs up and hugs to another Marc Nathan Comic-Con, where the locale was just as important to the people as was the event. It was harder to say goodbye to
digital_ink and Severin. So, I gave the required hug and kiss but I didn't let go. And, even though I'm back home in Carroll Gardens, I still haven't.