Whenever I get wind of a 3-day Holiday weekend, I chuckle. Most freelancers don't get Monday or Friday off. They're lucky if they go a day without putting SOME time in at the computer or art table. I can't remember the last Labor Day weekend I wasn't working. Then again, if a freelancer plays their cards right, they can take 4-days off during the week and watch an entire season of '24' with their Mama in the Catskills. I'm just starting to learn that.

Scrounging for work before I tackle my next as-of-yet unannounced project for Vertigo, I pitched a JOHNNY BRAVO springboard to DC Comics and a SPIDER-MAN plot to Marvel. Both bit. Lucky me. But, these things often go through a strict filter and so I had to jump some hoops. The SPIDEY plot was asked to be fleshed out and broken down per page, which I did and now I await the next round. The JB plot got approved by Cartoon Network and I was given the greenlight to write up a full script for DC.

So, this weekend was spent catching up on creator-owned projects and making bank on recent freelance gigs. Then, I get an email for more work. The kind you get the Thursday BEFORE the holiday weekend so that art directors and editors can fly to the Bahamas while you scratch away at your first drafts to have it to them by Tuesday morning, 9AM sharp. Can I blame them? This particular email is from the art director at EGM [Electronic Gaming Monthly], and they pay big bucks. Something I can't say NO to after enjoying an 8-week career lull. Plus, once I get the skinny about the gig, it actually sounds like a lot of fun. Plus, the art director is extra nice which always helps seal the deal.

I haven't played video games since ASTEROIDS and DONKEY KONG, so I'm not hip to your modern day role playing fare. Still, I'm not deaf and dumb so I'm semi-aware of how sophisticated games have gotten. The better ones cost a couple of million to produce and test and they could be feature films. So much so, some of 'em GET adapted into feature films. Anyhow, my assignment for this article is to illustrate an overview of what five actual game makers have created in a combined effort to show the initial process. Something fans and amateur game makers can appreciate. It's all far fetched and berserk, but I'm learning as I go along, too.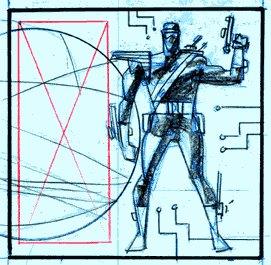 The red boxes w/the X's are spot holders for text.