My mom has been threatening that we hang a good week alone and uninterrupted by my freelance chores and her weekend duty at Kicking Stones [her co-owned antiques, art & collectibles shop] in Margaretteville, NY. In all her recent years living in the Catskills, post her 30-year tour as deputy director at NYSCA [New York State Council of the Arts], I have only ever visited mom on weekends. If that. I see her maybe 3-4 times a year. Our usual time spent together is grilling marinated steak, boiling fresh pasta and pesto for a night of board games, wine, and a DVD thriller with local pals and family. It's always fun. Two days of that plus getting driven around the mountains [I don't have a drivers license -- a true blue city boy] and walking by the creek, and I'm rejuvenated for another month of freelance anxiety.

[A son and his mom and her dog]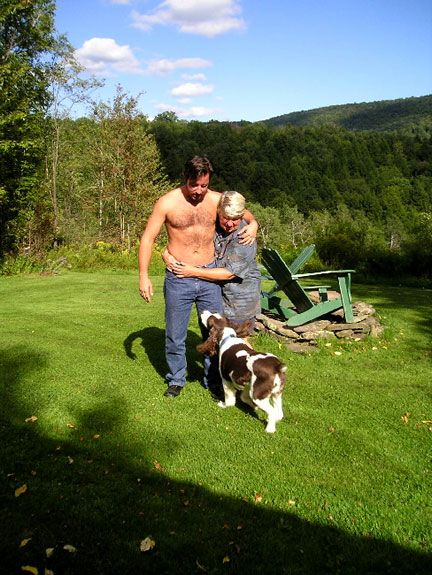 I hadn't seen Mom since X-mas and summer was almost over. What with NYC getting hijacked by the RNC [Republican National Convention], protesters, and the US Army, mom insisted I split dodge and we catch up. Until late Spring, we'd share a one hour ritual every Tuesday night wherein we literally screamed and gasped at each other inbetween commercials of what we thought was going to happen on 24, that insane, cliffhanger cruel anti-terrorist TV show. I got hooked on Season Two and got mom hooked on Season Three. Never having seen Season One, I bought the massive DVD collection for a 24-episode marathon.

Having experienced my very first freelancer lull [two-months and counting], I took my mom's bait and bussed it out to Kingston on Sunday where she picked me up in her big red truck and we scored a pint of pork lo mein. I fed mom noodles via chopsticks while she drove us back to her 22-acres of land where she shares space with her best friend, Inverna, a Cuban artist and curator. Inverna is my second mother and lives with Ali, a writer. If I were to step back and view their bunker from above, I'd swear I'd be staring at some kinda artists colony for the league of extraordinary geriatric gentlewomen.

It took us three-and-a-half evenings to watch the entire 24 - Season One, and it was tense. We literally had to swap couches every few episodes to give the verisimilitude that our bodies were exercising in potato mode. I left mom Season Two so that she'd be square for Season Four, come January. Inverna and Ali borrowed the first four episodes and were so freaked out, they had to watch a show on plastic surgery just to calm down. Alas, they were hooked on 24, too.

We grilled a bunch of meat, including our usual marinated steak, hamburgers, and BBQ'd ribs. I laid strips of steak flat out on some organic green leaves so nobody could accuse us of being total pigs. We managed to take some advantage of the beautiful sunny days and visit locals, grab grub at the cafes, feed ducks, and hit shoppes in The Andes where I scored a handmade journal made from rice paper with a Buddha on the cover. I've been meaning to sketch more and this may could provide the jolt. I even made it down to the hidden creek by the end of the property and made peace with the rocks and water. That coupled by my mother's hilarious pal Cindy, who warmed my legs to ease with her spiritual hands. My Zen for the week.

[A son punches his mother's boxing bag]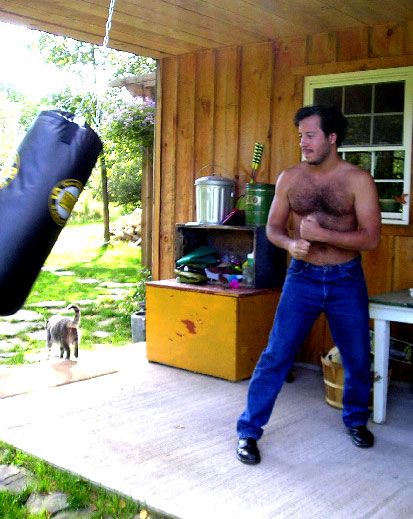 Mom took me to my favorite spot in Margaretteville, a long bridge that crosses the Watershed. In the 1950s, four small towns were made extinct by the city when folks were ordered to evacuate. Dynamite collapsed homes and general stores so that 23-miles of Delaware River could flood their town streets and cover it like a modern day Atlantis, letting fresh spring water run it's course towards our city pipes. There are many ghosts in this river and the story made me think to explore the legend for a proposed fictional graphic novel.

Five days came and went in a snap. I wasn't a delinquent freelancer as I devoted half-a-day towards writing some of a JOHNNY BRAVO script for DC Comics, and cooked up more plots for my creator-owned A-OKAY COOL comix. Still, it was no skin off my nose to take some healthy breaks from computers and the internet so as to bask in the crisp mountain air of Canada Hollow with my mom, who I love so dearly.

Heck, I may just need to head back up for the Cauliflower Festival.