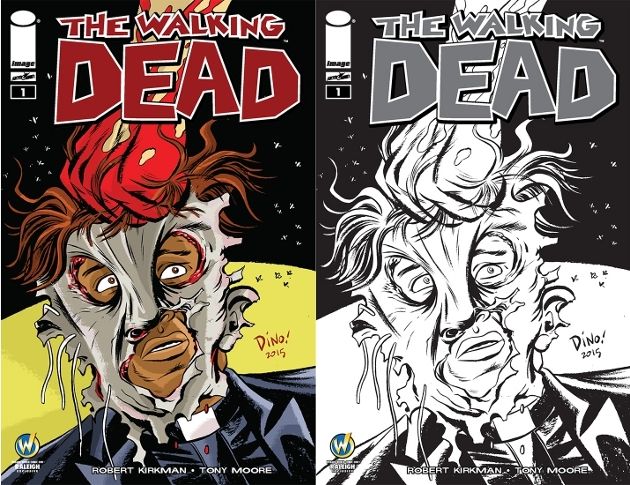 I will be a guest at Wizard World Raleigh from March 13-15th, where my exclusive THE WALKING DEAD cover, featuring Father Gabriel Stokes (currently being portrayed by my old college chum/actor, Seth Gilliam on the TV show) being terrorized by a man holding a ripped-off face. I will have exclusive copies to sign and sell, including some of my Hang Dai Editions items; PSYCHOTRONIC COMIX, and a soft-release of my new Billy Dogma comic, HEART-SHAPED HOLE (officially debuting at MoCCA next month). I will also have exclusive Wizard World trading cards of Billy Dogma & Jane Legit. As usual, I'm available for some sketch commissions.

I recruited local cartoonist, David Trustman (The Rise, Karma Springs) to table with me (A2) and take care of business while I'm doing panels/etc. (see panel descriptions below). To kill time, we may collaborate on a new comic jam called GOD-SLAP: The Resurrection of CHURCH TYSON - WRESTLER PREACHER! Check out David Trustman's awesome comix: http://www.davidtrustmancreations.com/the-rise

Saturday 3/14
2:30-3:15pm
CREATE-A-COMICS-STORY WITH SPIDER-MAN'S TOM DeFALCO AND THE FOX'S DEAN HASPIEL (ROOM 306A)
Ever wonder what it would be like to collaborate on making comics with top professionals? In this fun-and-educational session, superstar writer Tom DeFalco (Spider-Man; Thor) and celebrated artist Dean Haspiel (The Fox; Billy Dogma) create a new character and story before your eyes, incorporating audience members' ideas and suggestions! Come see—and join in—the creative process! The panel will be moderated by longtime Marvel writer and editor Danny Fingeroth (Spider-Man; How to Create Comics from Script to Print).

Sunday, 3/15
1:30-2:15pm
SUPERWOMEN OF COMICS WITH X-MEN'S ANN NOCENTI, DISNEY'S POCAHANTAS' BARBARA SLATE, BILLY DOGMA'S DEAN HASPIEL & AZA ENTERTAINEMT'S JAZMIN TRUESDALE (Room 306A)
Jazmin Truesdale, founder and creator of Aza Entertainment, home of a roster of all-new multicultural female superheroes (debuting in 2016) will tell us why and how she decided to launch this new venture. Joining her are Aza writer Ann Nocenti (Daredevil; the X-Men), as well as Barbara Slate (Disney's Pocahontas; You Can Do a Graphic Novel) and Dean Haspiel (Billy Dogma; The Fox). Danny Fingeroth (Dazzler; Spider-Man) moderates.

Here's a sketch for another WALKING DEAD cover idea I dubbed "The Thinking Dead."