It was the summer of 1987. I was 20 years old. I couldn't afford college and was working as a flunky in a construction management company. I was living at my father's upper west side apartment where I grew up in Manhattan. I had just landed a deal with a small press publisher for my very first co-created comic book, THE VERDICT. I was fed up with trying to make my way into mainstream comix via fan fiction anthologies. So, I did an awful and terrible thing. I concocted a fake obituary. A prank that would end my ties with this mess. Way before photoshop and the internet. It worked.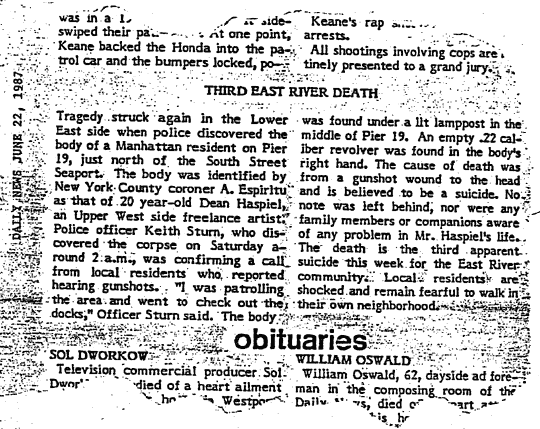 A few months after my "suicide," I discovered through a mutual friend that the guy I pranked was emotionally distraught by my death and planning a tribute issue to me in his fanzine. It was to be page after page after nauseating page of my drawings with the word "NO!" plastered over every image, increasing in size. I had to put a stop to my lie. I called him up. My voice from the grave nearly gave the poor guy a heart attack. Naturally, I never heard from him again. I don't blame him. I never pranked anybody like that again.

It's 17 years later and I wonder how I would kill myself this week?