For me, SDCC was all about the Jacuzzi at the new Omni Hotel where Niggerkojak, Sweetandlow, and myself set camp. Thanks to NK and his Hollywood job, I enjoyed the perks of an expensive hotel sitting directly across from the convention center; adjacent to the Gaslamp District where popular ethnic restaurants and bars were stationed. This year, I opted for comfort over network. Otherwise, the San Diego Comicon was all about intellectual property and how to milk a franchise beyond the pages of comix print. Has been for years. If it isn't a toy and a movie backed up by free buttons and stickers bandied about by half-naked blonde bombshells, you have a lot of competition to contend with because everyone and their mother is making comix these days. Which isn't a bad thing. Just incredibly daunting to make an impact with in a room that currently appeals to over 100,000 fans.

[NK and Dino]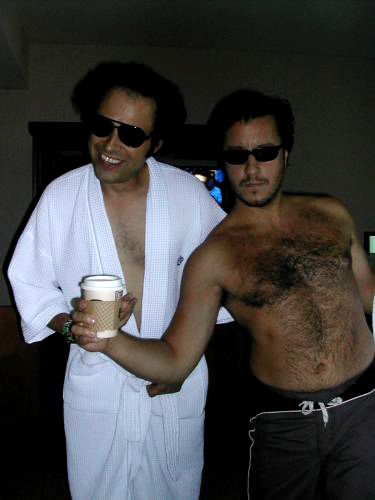 [photographed by Sweetandlow]

Thursday morning had me waking up slowly in a car service to JFK airport. My JetBlue flight to San Diego had me sitting right next to Adrian Tomine of OPTIC NERVE fame. We had a nice conversation about Brooklyn food [where he spends 40% of his time with his girlfriend], the recent NY Times article about graphic novels, and the uber-geek elite. I read Steven T. Seagle & Teddy Kristiansen's Vertigo graphic novel, IT'S A BIRD, which could cut 10% of its sympathy strings, but was really good, nonetheless. Made it to the con in time to snag my badge, and get to my ESCAPIST signing at the Dark Horse booth which featured Michael Chabon, Howard Chaykin, Kevin McCarthy, Gene Colan, Eric Wight, and Glen David Gold. Chabon dug my LUNA MOTH tale and we talked about my drawing future ESCAPIST stories in possible collaboration with authors Jonathan Lethem and Jonathan Ames, whose scribes I'd kill to draw.

I took a quick peek at the massive floor, hopping between Top Shelf and Global Hobo booths, before editor Jonathan Vankin invited me to a DC/Vertigo dinner at a Brazilian restaurant where they perpetually served racks of yummy meat. I chatted w/Vankin, Tony Moore, Ron Randall, new SWAMP THING writer Josh Dysart, cover artist Tara McPherson, penciller Leigh Gallagher, colorist Patricia Mulvihill [who won an Eisner award the next evening for "best colorist"], HUMAN TARGET artist Cliff Chiang, editor Will Dennis, and 100 BULLETS creators Brian Azzarello and Eduardo Risso.

On the way to the Hyatt Hotel bar [where the industry usually congregates for a night cap], I bumped into actor/comedians Patton Oswalt and Brian Posehn. Patton told me he'd written and sent a check for a butt-load of Alternative Comics to help out its current crisis and cause, and to give his good pals good comix gifts. That was awfully nice of him. Popular superhero artist, Jim Lee alerted me to a Saturday night poker game in his hotel room. The very game NK was hoping for earlier! Despite Comicon jitters, the three hour difference was catching up with me when I stumbled upon Andy Helfer who enthusiastically outlined his entire DARK KNIGHT RISING, a 12-issue maxi-series, in acute detail along with gorgeous examples of Tan Eng Huat's art for over two hours while we stood on the trolly tracks, jumping distance from my Omni bed. Obliterated, I hit the sack @4:20AM their time, 7:20AM my time.

NK smoked pot. A lot of pot. That's why his hairstyle doesn't faze him. Not one iota. Friday morning NK woke up way too early for comix panels and was kind enough to "wake and bake" in the posh bathroom before splitting with S&L for the day. A minute later there was a knock on the door. I figured NK forgot his key. A mumble coming from behind the door had me opening said door only to greet a hotel clerk wondering if the snack bar needed replenishing. As I go to mouth the word "No," a cloud of marijuana comes wafting out of the bathroom, past my nostrils, and into the hotel clerk's eyes which widened in anger. I smiled a sorry "Goodbye" and shut the door, flopping back into bed praying the San Diego police wouldn't storm the room and arrest me for NK's hippie habit.

A few hours later I hit the shower and made it to the last 30-minutes of the VERTIGO panel where announcements galore were made. A certain collaborator hadn't signed his contract yet, so I wasn't able to announce my big project. Hung out at Vito Delsante's & Jim Muniz's MR. MERCURY CHRONICLES booth where Jim Hanley's Universe rep/pal, Nick Purpura, showed up and we went to the JACK KIRBY tribute panel featuring Mark Evanier, Mike Royer, and Walter Simonson, who waxed cosmic Kirby memories. At the Top Shelf booth, I talked shoppe w/Eddie Campbell about collaborating on something together. In response to Craig Thompson and James Kochalka's CONVERSATION, I came up with an idea for the final crossover called WHO'S STRONGER!? Probably never happen. I pitched mini-comic LIONEL'S LAMENT to Larry Young at AiT/PlanetLar where I bumped fists with VAMPIRELLA collaborator/DEMO writer, Brian Wood, and later on was told by DC exec's that editorial should be looking to snag me interim work before I start my proposed [unannounced] Vertigo graphic novel. I sure hope so. I need the work.

I saw a comix cohort gripping tight to a comic book I had to have. I searched far and wide for SUPERMAN'S GIRLFRIEND LOIS LANE #106, to no avail. I must have it. I must!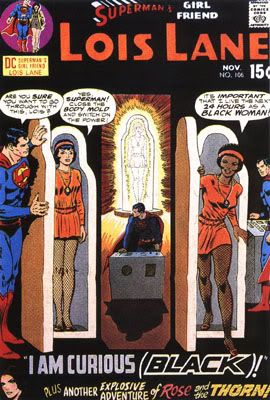 I skipped the Eisner's for a soak in the Omni Jacuzzi with NK where we chatted with BONE creator Jeff Smith who split for the ceremony. We dried off for Thai food where I high-fived writer Mark Waid, before skipping off to the uneventful Hyatt bar outside where I finally met writer Zeb Wells, my collaborator on SPIDER-MAN'S TANGLED WEB #20.

On Saturday, I was a guest panelist on THE NEW MAINSTREAM hosted by R.C. Harvey with self-publishers and cross media authors Batton Lash, Eric Shanower, Stuart Moore, David Brin, Max Allan Collins, and Colleen Doran. I apologized for being included on the panel due to the fact that I'd never made a hit in either of the mainstream nor small press waters [despite my Eisner and Ignatz nominations], making it difficult to peg me or my oeuvre and that, by some lazy default, I may be considered a pioneer of the "new mainstream" for my scattered creator-owned BILLY DOGMA series toggling between genre and semi-autobio, creating a marketing anomaly. After some discussion recognizing Manga for its contribution to the comix form and business practices, an audience member got into a heated debate with Doran, suggesting that the new mainstream focus on pop culture in the vein of BEVERLY HILLS 90210 for 6-year old girls. I left utterly confused, but not before sharing a few chuckles with ex-Tower Records PULSE! editor Marc Weidenbaum. I met filmmaker Ben Sainsbury and his gal-pal Michele and we split the halls to pitch JAIL BAIT the movie cum graphic novel to publishers AiT/PlanetLar, Fantagraphics, and Top Shelf. All showed signs of interest depending on if they dug the screenplay.

Another quick soak in the Omni Jacuzzi had NK, Dave Evans, and I, going bananas over a hot chick swimming in the adjacent pool with who we THOUGHT was her 4-year old daughter. Turns out "mommy" was the sister and only seventeen. Ouch. I need a new eyeglass prescription. An honest chat revealed that she was the daughter of an actor in ALIEN VS PREDATOR. I asked if her father was the alien or the predator? She kindly avoided my coy query and continued to slay us with her innocence. 10-minutes later we split the tub only to confront her father chilling at a table by the open fire place holding stoic fort. It was Lance Henriksen.

Bishop!

A botched Mexican dinner trip to Old Town, had us leaving S&L to fend for enchiladas with her pals while we went in search of a Thai joint that wasn't packed to the gills. So, Chris Oarr, NK, David Evans, movie producer Daniel Gold, movie director Jeremy Kasten [they're remaking WIZARD OF GORE], and his pal Michele, wound up in a slight ghetto where the liquor store was sold out of Jim Beam! So, Early Times, it was. We convinced NK [who drives like Ms Daisy] to skip the notorious Jim Lee poker game for the Global Hobo beach party, which was a sad mistake. Heidi MacDonald recognized the end of an era as the fire pit gave off the halo of an orange glow, begging a few of us to take a quick skinny dip in the ocean alongside Robyn Chapman, Meredith Yayanos, and a few Hawaiian cartoonists. Still, it was worth the trip to steal a hug from SUNY Purchase alum, Terry Anderson and his gal Maggie. A late night soak back in the Omni Jacuzzi with NK and Dave made up for the tepid beach party.

[Dave Evans and Dino]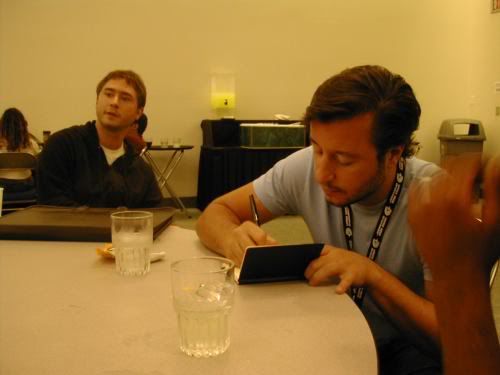 [photographed by Sweetandlow]

On Sunday, I took it easy and wandered the floor for last chance meetings with editors and publishers. A quick chat with Dark Horse editor Scott Allie let me pitch a horror proposal that he's going to look at next week. Vito was my wandering partner a lot of the con as we networked and ogled. I met DEMO artist Becky Cloonan and found out she was soon moving to Allentown, PA with her husband. I made her an instant pal with A-town refugee Jenn aka Digital_Ink. Steven and Dan Goldman hit me with a copy of STYX TAXI: A LITTLE TWILIGHT MUSIC, a swell little ditty of post-mortem comix. I wound up buying more DVDs than comix. For that matter, I only bought one comic and that was OMEGA THE UNKNOWN #1 for $2.50. Otherwise, my DVD purchases consisted of Honk Kong flicks: HERO, and THE GOD OF COOKERY, and animation short, REX STEELE ~ NAZI SMASHER.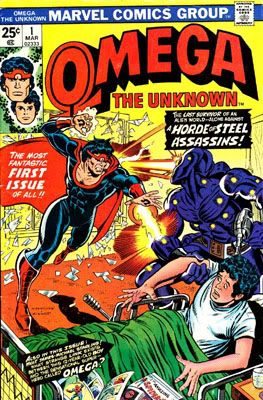 Dinner at the Yacht Club behind the Marriot got me free margarita, guacamole & chips, and a hamburger deluxe on ADV Films corporate dime thanks to Chris Oarr and his buddy, Marvel colorist Frank D., before hopping a taxi to the airport. An hour or so early, I shared war & romance stories with new FIRESTORM artist/Brooklyn neighbor, Jamal Igle. Soon thereafter, a gaggle of cartoonists, editors, and publishers, came to take the JetBlue red eye back home to NYC.