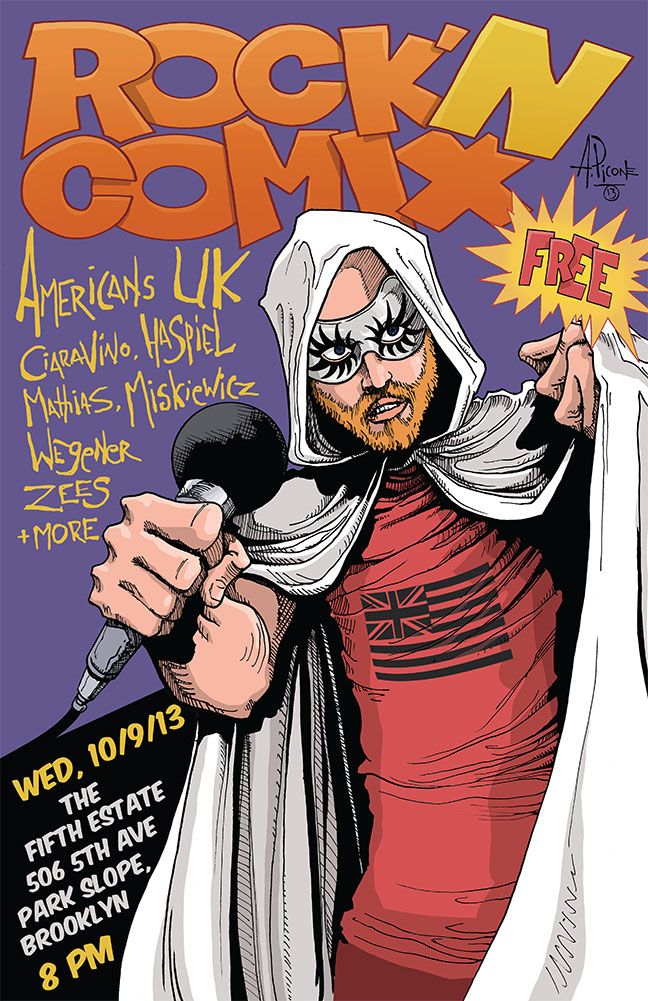 WEDNESDAY, Oct 9th, 8pm!

I will be reading some A-OKAY COOL comix at the Americans UK "ROCK N' COMIX" show this Weds @8pm at The 5th Estate (bar) in Park Slope, Brooklyn: https://www.facebook.com/events/210348455800967/

Sci-fi rock band Americans UK host a night of live comix readings and music for FREE at the Fifth Estate Bar, in Park Slope, Brooklyn, on 5th Avenue, between 12th and 13th Street. This is the New York Comic-Con pre-party you don't want to miss!

Featuring live readings by Dean Haspiel (The Fox, Billy Dogma), Scott Wegener (Atomic Robo), Paul Ciaravino (SH3: Human Hunter), John Mathias (The Lowbrow Reader) Chris Miskiewicz (Thomas Alsop), Palle Schmidt (The Devil's Concubine - and all the way from Denmark!), Zees (Just Super), and more!

Americans UK will be playing ambient and light jazz as we project the comix panels against a screen in Fifth Estate's back room. Then once the readings have finished, Americans UK will play their new, live and loud rock-set, featuring never-before-heard songs from their upcoming album, Where Giants Walk!

Stick around after to watch an advanced screening of Episode Two of The Adventures of Shakespeare & Watson: Detectives of Mystery!