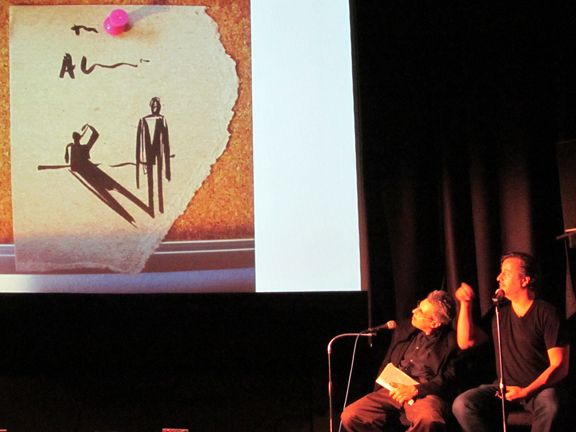 (Matt Berkowitz & Dean Haspiel discuss the cover to The Alcoholic at the Cinema Arts Centre)

Hannah Means-Shannon chronicles my evening at the Cinema Arts Centre [moderated & produced by Matthew Berkowitz] at The Beat: http://comicsbeat.com/on-the-scene-dean-haspiel-storms-long-island/

Excerpt:
"The evening's presentation made it clear that Haspiel's work has been consistently characterized by change and innovation as he's developed into a fully-fledged "storyteller" rather than solely a comics artist, and that he's spread the lessons he's learned along the way to an up and coming generation working in comics. But he's not content with the ground he's covered already. This unique event in Long Island, presenting comics in a cinematic context proves that. While the evening's entertainment took the long view of Haspiel's career and its often startling place in comics history, he made it clear that his career is not so much about where he's been as where he is going, delving even further into the evolving possibilities of visual storytelling."