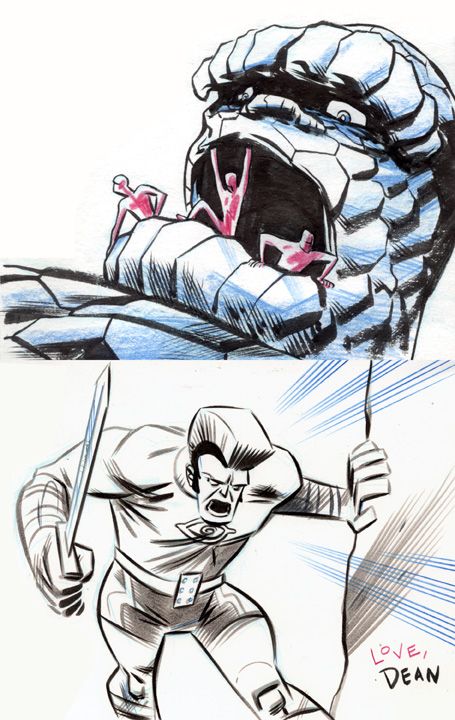 I was invited to participate in KIRBY ENTHUSIASM, a gallery show honoring the late, great cartoonist, Jack Kirby, during New York Comicon. My piece celebrates my two favorite Kirby creations: The Thing and OMAC. For more details, please read below.

Enjoy!

--Dino


KIRBY ENTHUSIASM a phantasmagorical multimedia tribute to the King of Comics, Jack Kirby!

Saturday, October 15 · 5:00pm - 9:30pm

Maxwell's
1039 Washington Street, Hoboken, NJ

In the front room, artwork by illustrators, cartoonists and fine artists pays tribute to the man who created and co-created some of comics' most enduring characters as well as entire comic book genres and, most of all, an entire dynamic visual language!

In the back, it's a musical extravaganza featuring three bands:
WEEP featuring Doc Hammer of THE VENTURE BROS!
WJ AND THE SWEET SACRIFICE featuring the Invincible Billy Alpha
and, created especially for this show,
THE BOOM TUBES a space-rock supergroup featuring members of The Neutron Drivers and Starbolt 9!

The Opening is at 5pm, with doors for the music show at 6:30.
Tickets for the rock show are $10, available now at Ticketfly.com
http://www.ticketfly.com/purchase/event/65275?utm_medium=bks

Merchandise will be available for sale, some of the proceeds going to benefit the Jack Kirby Museum & Research Center
http://kirbymuseum.org/

Spread the word from Asgard to Apokolips, this shall be a show for the ages!!! Hope to see you there!!

Contributing Artists:
Adam Meyers
Andrei Molotiu
Arlen Schumer
Brian Musikoff
Cheese Hasselberger
Cliff Galbraith
Dave McKenna
Dean Haspiel
Dennis Franklin
Edwin Vazquez
Evan Dahm
Frank Espinosa
G.R. Lambert
Gothic Hangman
Janna Brower
James Romberger
Jason Atomic
Jay Piscopo
John Hanlon
Karl Heitmueller
Ken Wong
Kevin Colden
Lamour Supreme
Lauren Weinstein
Mark Badger
Mark Frauenfelder
Miss Lasko-Gross
Norris Burroughs
Pete Von Sholly
R. Sikoryak
Randolph Hoppe
Ryan Inzana
Steven Brower
Tom Kraft
Tom Morehouse
Tom Scioli
Vlad Quigley

...and more to be announced!