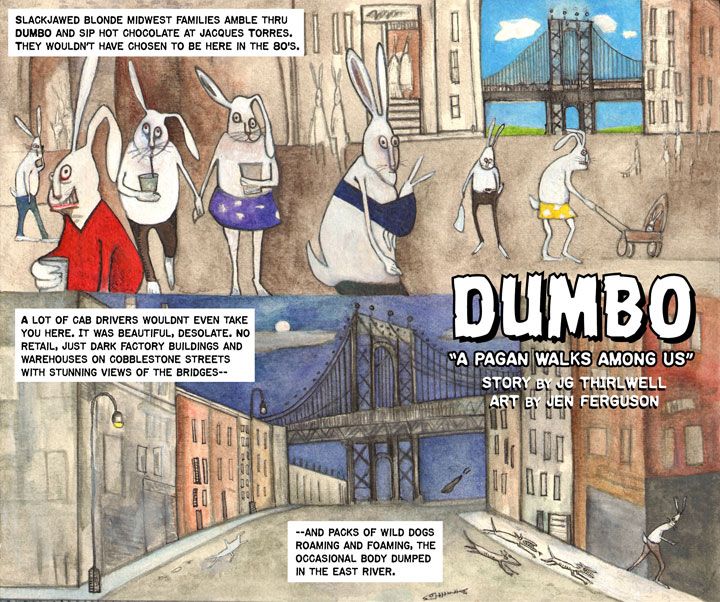 As curator of COMIX BLOCK for Cousin Corinne's REMINDER, a literary arts journal published bi-annually by Brooklyn's very own BookCourt, I'm honored to work with people I admire. So, it was a coup to shepherd an original comix collaboration titled, "DUMBO - A Pagan Walks Among Us," between musician, JG Thirlwell [of FOETUS, STEROID MAXIMUS, MANOREXIA, and VENTURE BROTHERS fame], and painter, Jen Ferguson [Railbirds, Blue Ribbon Restaurant's menu & decor art, Brooklyn Oenology wine label art, Monster Mash-ups, and contributing artist to HBO's "Bored To Death"] to divulge something personal about DUMBO, Brooklyn, where they both reside.

Here is the original, unedited interview that Brooklyn Paper journalist, Chuck O'Donnell, conducted with Jen Ferguson about her collaboration with JG Thirlwell:

1. Tell me about substituting rabbits for humans in the story. Was that your idea? What function did it serve to portray the characters as rabbits rather than humans?

Using the rabbits to tell the story was my idea; I wanted to utterly transform the context in which the story is set. Employing the rabbit characters fits squarely in the tradition of the fable, where anthropomorphized creatures tell a moral or folk tale. I see JG Thirlwell's story, "DUMBO - A Pagan Walks Among Us," as the modern equivalent of an urban fable. Also, I thought it would be fun to draw them.

2. How was collaborating with Mr. Thirlwell? Was there a lot of give and take, back and forth? Did you even know him before this project?

I met JG Thirlwell years ago through mutual friends and, over time, I've become more familiar with his work which is very inspiring to me. Also, we're neighbors! As far as our collaboration, JGT wrote up his story and we met a few times to work out a storyboard and pacing for the script. Once we got that down, I worked on the art and he didn't see it until it was finished. It was more a situation where he did his part and then trusted me to fit my art to the story. It was quite pleasant. I was a little nervous about what he'd think about being portrayed as a rabbit but it all worked out and he loved it.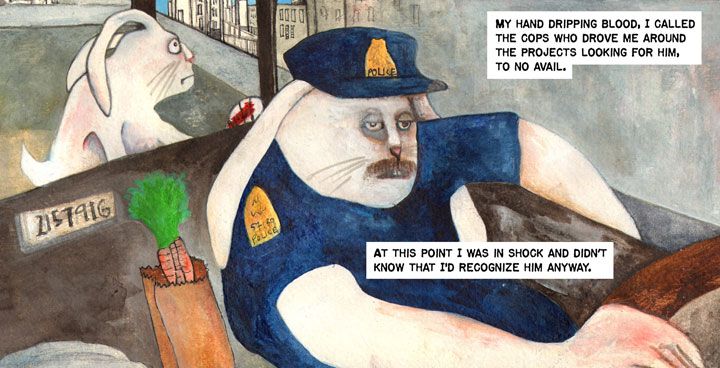 3. Would you consider this an unlikely pairing: A composer and a fine artist combine to create a comic book?

Since neither JG Thirlwell nor I are comic book artists, I suppose our collaboration a little unconventional in every way but I see it more as the combined efforts of two artists in a slightly unfamiliar genre. JGT scores the music for "The Venture Brothers," an animated series for Adult Swim (The Cartoon Network), so I knew he had a sense for sequential art and storytelling. In addition, his own music and art compositions are rich, layered and evocative. Between his aesthetic sensibilities and mine, I was sure it would be interesting. Dean Haspiel, who is the Comix Block curator for Cousin Corinne's Reminder, is the one who came up with the idea of our working on a comic together. It made sense since we both Jim and I live and work in DUMBO and know one another.

4. Do you have to use a different skill set when you are creating a comic book as opposed to a painting or other work of art?

Yes, absolutely! I have a newfound respect for artists and writers working in the comic art genre. It's a tremendous effort to figure out how to tell a story in sequence, what to illustrate directly as opposed to what should be inferred, how to space the action, where to place the dialogue and words... It's almost like cinematography. Whereas as my paintings are meant to be contemplated over time, these comic panels are supposed to carry the action along, and show specific aspects of a story. I'm not a fast worker, so each little panel became a mini-painting. I felt like a monk working on an illuminated manuscript where each inch of art takes a month to paint. It's definitely harder than it looks! But I like a challenge.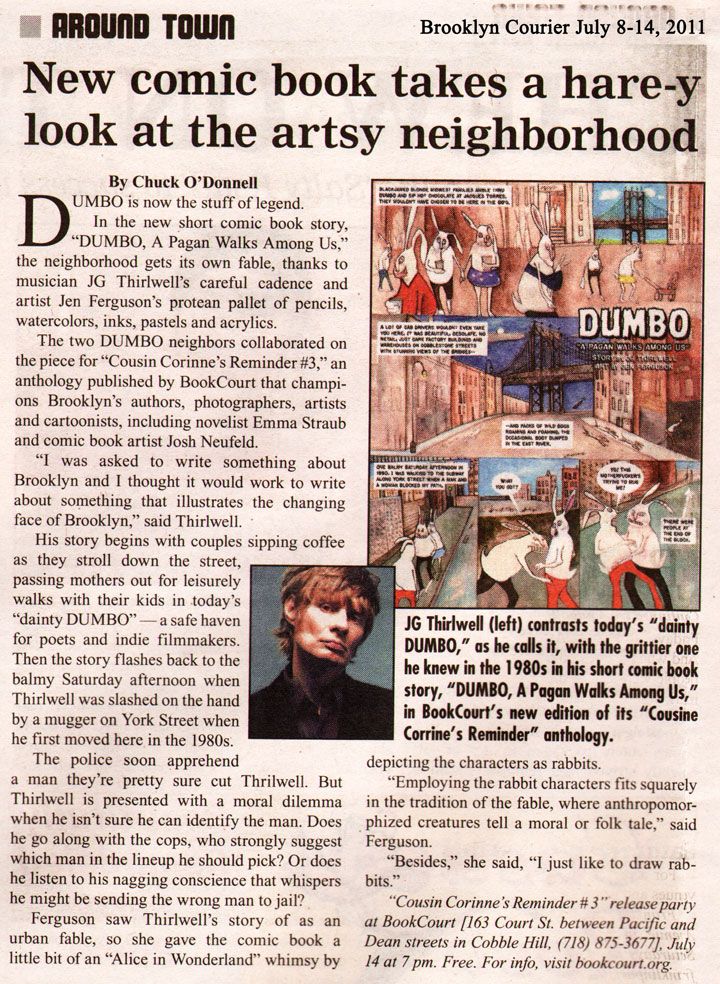 http://www.brooklynpaper.com/stories/34/27/24_bookcourtbook_2011_7_8_bk.html

JG Thirlwell: http://www.foetus.org/
Jen Ferguson: http://www.artinchaos.com/
Cousin Corinne's REMINDER: http://www.cousincorinne.com/

JULY 14th LAUNCH PARTY!