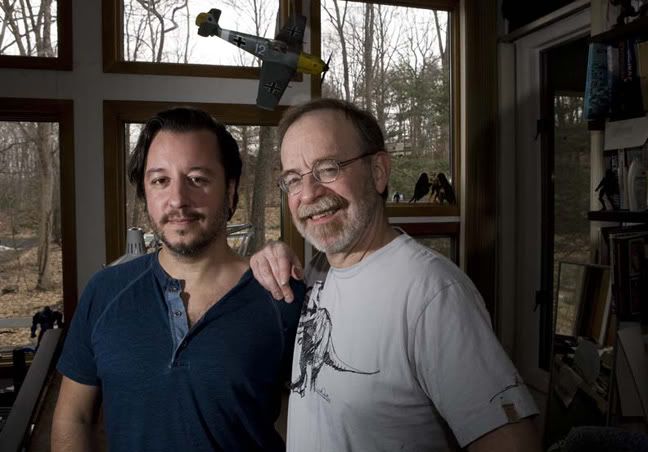 [Dean Haspiel & Walter Simonson. Photograph c.2009 Seth Kushner]


On Sunday, I had the great fortune to accompany photographer/filmmaker, Seth Kushner, and journalist/comic book historian, Chris Irving, to Walter and Louise Simonson's upstate home to photograph and interview Walter for GRAPHIC NYC: http://graphicnyc.blogspot.com/

I was already a huge fan of Simonson's ground breaking take on THOR when I first met Walter via Howard Chaykin at Upstart Studios in the Garment District of Manhattan during my senior year of high school in 1985. I was assisting Bill Sienkiewicz on NEW MUTANTS and ELEKTRA: ASSASSIN down the hall from Upstart but it didn't take long before I was assisting both Walter and Howard on THOR and AMERICAN FLAGG!, respectively, alongside my good buddy, Larry O'Neil. I learned more about the mechanics of storytelling and craft from that studio environment than 4-years of fine arts at Music & Art cum La Guardia. Then again, I was too busy rejecting fine art while drawing and defending comix, so, maybe that was my bad. A short while later, Howard moved to California and Walter moved upstate and I moved on to draw THE VERDICT, my first published collaboration with writer, Martin Powell, for Eternity Comics in 1987. I've been making comix ever since.

Walter and I have been pals for almost a quarter of a century now and he always takes my phone calls, gives me warm welcomes at conventions and signing's, and shares his stories and wisdom whenever we parlay. A true mentor, mensch, and comix legend. Walter is one of the very few cartoonists who gets better with age. Walter's run on ORION, a few years ago, is, arguably, as good as his first few years on THOR and would have possibly surpassed that career watershed had he been afforded the opportunity to finish his intended storyline. Walter regaled Seth, Chris, and I with stories about NYC, Upstart Studios, and his first break into comix, plus, off the record shenanigans that any artist worth their salt has to laugh about.

Walter opened a closet door and said "Herein lies 36-years of my life," as we became witness to a monument of comix gold, stacked top to bottom, with pages of his original artwork. We got to hold and ogle the original art from his classic MANHUNTER collaboration with writer, Archie Goodwin. We perused original CAPTAIN FEAR, STARSLAMMERS, THOR art, and a sneak peek at THE JUDAS COIN, Walt's new, upcoming graphic novel from DC Comics. That, and sketches and childhood comix on type-writer paper from his earliest days. The walls were filled with famous paintings, illustrations, and original comix art from the likes of Jack Kirby, Steve Ditko, Alex Toth, Mike Mignola, and Howard Chaykin, among others.

After we sobered up from having been treated to the stuff of legend, we all went to a Mexican restaurant nearby where Walt and "Weezie," spun more yarns from back-in-the-day and Walter alluded to future plans and ideas including tidbits of his personal spin on a be all/end all Norse inspired story featuring a hammer wielding god for the ages.