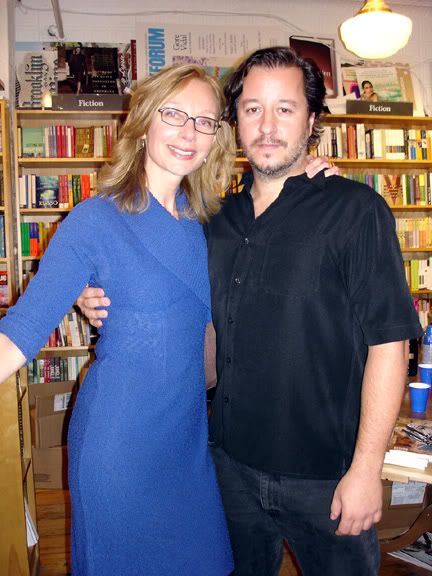 [snapshot by Seth Kushner]

It was a great launch to what I believe to be a great graphic novel. SBX looked outrageously gorgeous and lots of friends, peers, and Brooklyn locals [and a fan flew in from San Diego!] showed up, including my editor, Jonathan Vankin, and DC Comics publicity manager, Pamela Mullin. Book Court was packed [over 100 people] and we signed/sold over 50 books. The store declared it one of their Top 5 events.

Afterwards, we hopped a cab to lower Manhattan with Jonathan Ames and his girlfriend/singer/songwriter, Fiona Apple, and went to a literary party packed with actors [Josh Lucas], writers [Jonathan Lethem], and a ton of pretty and rich people, hosted by Diesel Jeans. Ames was hired to write one sentence and it, among nine other author's sentences, were projected on the building's exterior throughout the night. While at the party, we hooked up with Patrick "The Mangina" Bucklew, and filmmaker, Michel Gondry, and his girlfriend/cartoonist, Gabrielle Bell. I talked to Fiona about the sign language and film classes she's been taking. And, after recently watching BE KIND REWIND, I declared Michel our modern-day Preston Sturges, which he appreciated. We all caravanned via taxi to the Bowery Poetry Club, where The Mangina was performing in a play written and directed by east village "Art-Star" Reverend Jen. It was hilarious and reminded me of what I sorely miss in NYC when all I ever do, these days, is write and draw comix at DEEP6 Studios.

It's good to get out.