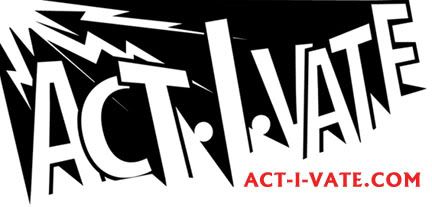 Just in time for New York Comicon, ACT-I-VATE announces its brand new headquarters: http://www.act-i-vate.com [and http://www.activatecomix.com], after two years of critically-acclaimed webcomix at the blogging platform, Live Journal.

ACT-I-VATE is proud to recognize 2008 Eisner Award nominees Dean Haspiel and Michael Cavallaro, and to announce the launch of Cavallaro's LOVIATHAN, Tim Hamilton's THE ADVENTURES OF THE FLOATING ELEPHANT, Jim Dougan and Hyeondo Park's SAM & LILAH, Maurice Fontenot's GHOST PIMP, and Ryan Roman's SLEAZY PIZZA. In addition, Simon Fraser's LILLY MACKENZIE, Haspiel's BILLY DOGMA: FEAR, MY DEAR, and Paul Maybury's PARTY BEAR, will make an exciting return.

ACT-I-VATE, the premiere webcomix collective, features original, serialized graphic novels and is updated daily. ACT-I-VATE's select artists produce their work without editorial oversight and offer their comix for free to an ever-growing audience of loyal readers. In addition to these high-quality comix, ACT-I-VATE is known for having lifted the veil between creation, creator, and reader by providing a forum for spirited dialogue between audience and auteur. The new website confirms one of ACT-I-VATE's core tenets: that the artists and writers of the comix community are the optimal providers of intellectual properties and comix content.