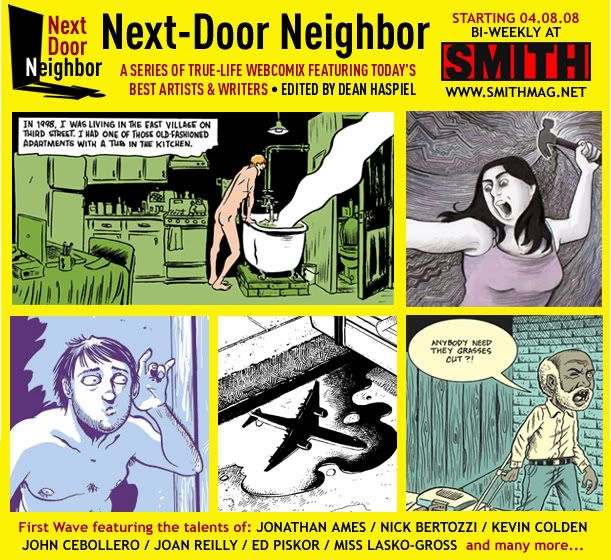 NEXT-DOOR NEIGHBOR
True-Life Webcomix Anthology, edited by Dean Haspiel,
Launches on SMITH Magazine, 04.08.08
www.smithmag.net/nextdoorneighbor

"Everybody has one. And, no matter how close or how far, we all live next to someone, and we all have a Next-Door Neighbor story," says NDN Editor Dean Haspiel. "With this in mind, I asked some of my favorite storytellers and cartoonists to create their favorite NDN stories so that we at SMITH Magazine could share them with you over the next year."

New installments of Next-Door Neighbor will appear every two weeks on online storytelling community, SMITH Magazine.

The first wave of stories launches with an urban "daymare" titled "Next-Door Neighborless" written by novelist Jonathan Ames and illustrated by Nick Bertozzi, whose graphic novel The Salon, was hailed as among the best comics of 2007. Upcoming stories feature the talents of Kevin Colden, John Cebollero, Joan Reilly, Ed Piskor, and Miss Lasko-Gross. The second wave will be announced in June and includes a super-secret, special first-time writer/artist matchup.

True to its reader-generated spirit, SMITH is concurrently launching a contest, "What's Your Next-Door Neighbor Story?" Readers are invited to submit their own true stories. The winning tale will be matched with an artist, and transformed into a full-color, multipanel webcomic. This "user-generated" tale will appear as the last installment of Next-Door Neighbor.

NDN is the third original Webcomic presented free on SMITH Magazine. The first was the media sensation SHOOTING WAR, by Anthony Lappé and Dan Goldman, expanded into a hardcover graphic novel from Grand Central Publishing. The second is the currently-running A.D.: New Orleans After the Deluge, a non-fiction webcomic by Josh Neufeld about escaping and surviving Hurricane Katrina–and what happens next in the lives of a cross-section of Crescent City residents. SMITH comics editor Jeff Newelt aka JahFurry brought all three projects to the site.

Dean Haspiel is a founding member of both Brooklyn's DEEP6 Studios and the webcomix collective ACT-I-VATE. He collaborated with Harvey Pekar on THE QUITTER, THE ESCAPIST, and Vertigo's relaunch of AMERICAN SPLENDOR. Haspiel recently completed his first online graphic novel, BILLY DOGMA: IMMORTAL, and is currently drawing the sequel, BILLY DOGMA: FEAR, MY DEAR. This fall, Haspiel will publish THE ALCOHOLIC, an original graphic novel collaboration with author Jonathan Ames (Vertigo), and MO & JO: FIGHTING TOGETHER FOREVER, a Toon Book collaboration with underground legend Jay Lynch (Raw Junior).

SMITH Magazine, launched in January 2006 by Larry Smith and Tim Barkow, is a home for storytelling of all forms and kinds, with a focus on personal narrative. Its recently released book, NOT QUITE WHAT I WAS PLANNING: Six-Word Memoirs By Writers Famous & Obscure (Harper Perennial), vaulted to the New York Times bestseller list in its fifth week in print.

Media Contact
Jeff Newelt, jahfurry@gmail.com; 917.450.7013

Hi-res images available for any media at the media downloads page.