I dig lots of comix but I hardly have the time to hype the stuff I like which is why it takes an exceptional circumstance to get me to steal 15-minutes from my art table and wave the pimp wand.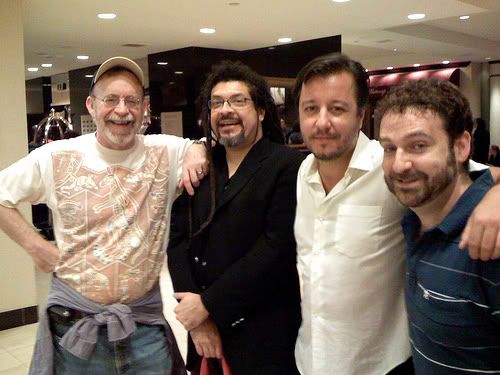 [Walter Simonson, Kyle Baker, me, and Jeff Newelt, at Baltimore Comicon]

Recently, I was at Baltimore Comicon and one of the many conversations I enjoyed was with good pal & comix god, Kyle Baker, who was at the hotel bar drinking, jive talking, and scribbling away at his latest venture for Image Comics. As we caught up on craft and business, it didn't occur to me to delve deep into what Kyle was drawing inbetween sips and gab. After all, Kyle is the guy who's mastered keeping his work social -- a multi-tasking genius -- and so I figured he was just doing warm-ups. Eons ago, before I'd ever officially met Kyle, I witnessed him inking a page of DC Comics' THE SHADOW, on a Manhattan subway during rush hour! Kyle is the self-professed king of pushing his deadline to the night before it's due and coming through with flying colors. He's that good -- the bastard! Anyhow, I noticed Kyle was drawing war stuff and he might've mentioned something like "thank god for EC Comics and Joe Kubert," and we continued our drunken parlay until it was time to split.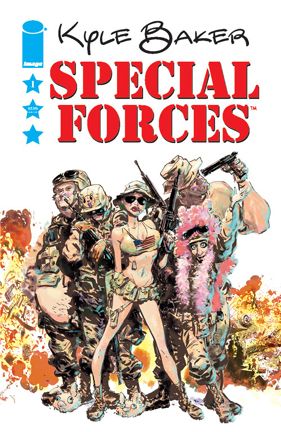 Yesterday, I swing by Rocketship [my local comix shop], and, lo-and-behold, there sits SPECIAL FORCES #1, the comic Kyle was bashing out in the Baltimore bar. I grabbed a copy, cracked the cover, and was hooked on the first page. By page four it was confirmed: Kyle was taking the piss out of war -- a welcome parody while steeped in reality in the style of Jack Davis and Frank Miller by way of EC Comics. As much as I dig and champion current comix takes on war via DMZ, ARMY @LOVE, SHOOTING WAR, etc., SPECIAL FORCES hits cylinders that tickle my war comix palette. So, do yourself a favor and pick up a copy of SPECIAL FORCES. It's silly and dark in all the best ways.