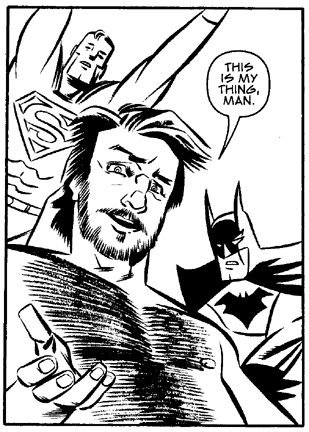 ["New York City Signing" panel from Harvey Pekar's AMERICAN SPLENDOR #4, published by Vertigo]

I hardly receive hand-written fan mail. Email and Blogs have replaced the art of the postcard and letter. I am thankful for the deluge of digital high-fives I get weekly but there's nothing cooler than an article that has travelled from heart to hand to air and back to land, sealed with a government stamp and a touch of personal DNA. I try to write postcards once in awhile but I, too, am guilty of leaning on the ease of typing electronic missives and shooting 'em off into the ether never to be ogled fondly. So, when I receive the very rare, once-in-a-blue-moon, hand-written notice -- it doesn't go unnoticed.

Case in point: Harvey Pekar calls me up on the telephone last week to read me an excerpt from a fan letter he got in the mail from a woman. This is what he read to me:

"And I love Dean Haspiel's style - with you like an agonizing superhero - it's fantastic. As I was reading along, I thought 'I have to look up this guy's other work!' Then I got to the story with him in it & I was like 'Oh! He's really cute too!' And then he suddenly has his shirt off and I'm like 'What a cheese ball!! What is he doing?!!' So Harvey, he's drawing himself, is he really that cute? Because if he is, I'm NOT interested! I'm over good looking guys! But his work is great, so he obviously hasn't rested on his good looks."

I laughed and declared to Harvey that this was my favorite fan letter to date [even though it wasn't written directly to me]. Harvey wouldn't reveal to me the woman's name so, ma'am, if you're reading this post, please accept my heartfelt appreciation and thanks for making me smile.