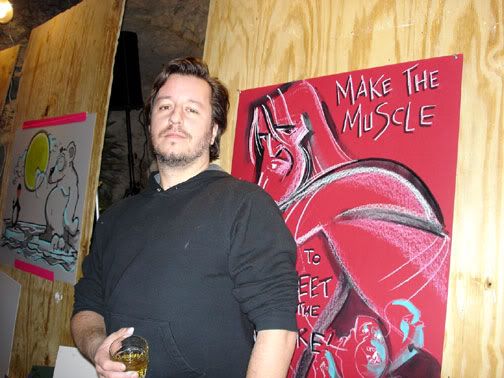 [Drunk and happy at my very first live art show in Austin, TX]

I think it was Steven Goldman aka
sneakymonkey that got the ball rolling. Or, if it wasn't him, then he helped insure me the spot and offered me his place to crash when the time came to make it all happen. So, when it did, I was flattered and humbled to be a "guest of honor" at the 3rd Annual STAPLE! convention in Austin, TX.



I flew out of a chilly NYC and a few hours later landed in sunny, 73-degree perfection where Austin Books & Comics' proprietor, Brad Bankston, picked me up from the airport. Like SPX and MoCCA and APE, et al, STAPLE! is a team effort and Brad is the 6' 5" cat who helps arrange for the "guest of honor" to appear at the show. I've only been spoiled the one time Vertigo/DC paid my way to San Diego Comicon two years ago when I went to hawk the coming of THE QUITTER. Otherwise, by hook or by crook [like most comix-makers], you find a way to make face at these whirlwind comix-gatherings. So, it was a real treat to have Brad host my flight and for
sneakymonkey to be my "Guy Friday."

Austin Books & Comics is a huge store. It might even be bigger than Jim Hanley's Universe. If I were to make a movie called "The Last Comix Shoppe on Earth," I might shoot it at Austin Books & Comics. It's that vast and that well stocked. The only delinquent book was Posy Simmond's GEMMA BOVARY and Brad was already rushing to the back room to order it for the store. I picked up two Alison Bechdel DYKES TO WATCH OUT FOR books for SBX that were missing in her collection.
sneakymonkey picked me up at the store with his pals Ian & Jillian and took me to a TexMex place where I ate enchiladas and gulped root beer. Brad threw a party that night at the store before STAPLE! to launch this years event and many fine local folks showed up for drinks and comix. A special bottle of Makers Mark was provided and I caught up with my buddies Chris Staros, Wayne Beamer, Dave Wallain, and Jim Mahfood, who introduced me to his "live art" cohort, Dave Crosland. I met STAPLE! organizer Chris Nicholas and Randy Lander, and the other "guest of honor," best selling horror writer, Brian Keene, who shared a funny anecdote about trying to get a LUKE CAGE pitch sold to a Marvel editor who had never heard of the character. To which Brian screamed, "Sweet Christmas!" I met other cool folks as Staros and I discussed
act_i_vate and the rising digital comix revolution.

Cartoonist, Nick Derington, showed up late with his lovely wife, Tania, an anesthesiologist, and I took great interest in her job. She told me about the three stages of putting a person "under," and when I asked her about the paralytic portion [what is commonly known as "muscle relaxant"] and whether or not people ever release their bowels onto the operating table, she nodded in affirmation and revealed the proper medical term, "Code: Brown." I have been operated on several times in my lifetime, thus far, and all I could wonder was "Did I ever Code: Brown?" It nearly ruined my weekend.

The next morning,
sneakymonkey drove his lady, Leslie, to work and came back with breakfast taco's, which I had never eaten before. Nothing beats the early AM taste of Mexican spice in your scrambled eggs. We split for the show and arrived to a big room filled with grassroots efforts sprinkled with some veterans of various colors. The day was filled with lots of meeting and greeting. I roamed the room, spoke to a few exhibitors, made sure to stick to my table [which I'm really bad at] and help sell some of my books with Brad at my side. I drew some sketches and tested the waters by selling some original art [for cheap] which did pretty well. I have always been afraid to let my "girls" go, but I needed to bite the bullet and learned that it was okay to say "goodbye." I was happy to see Mack White, who I hadn't see in almost a decade, and I met SUPERMARKET artist, Kristian Donaldson, NEGATIVE BURN writer, Jody LeHeup, and Marianne Welles, Promotions Director for The Onion in NYC. Many fine cartoonists and bloggers from Live Journal came up to me and we shared high-fives. My one hour talk about my career with moderator, Scott Hinze [of Fanboy Radio] went really well. Scott would ask a question and I would go off on a riff. I'm king of the segue, so it was an easy parlay.

Coincidentally, SBX was in Dallas on business and, on Saturday, she rented a car to drive 3 & 1/2 hours to Austin to rendezvous with me. I was thrilled beyond measure that she would do this. So romantic!!! It was a relief to see her warm face. What with our crazy busy schedules these days, we hardly have time for each other and so it was nice that we could find a way to spend a night with each other in another state!
sneakymonkey and Leslie took us to JACKALOPE, a bar/restaurant on the infamous 6th Street strip where all the hip party action throws down. Ian and Jody LeHeup joined soon after and we chowed on hamburgers, catfish, and fries. SBX and I were sobered by what $10 could buy you. Austin keeps their liquor nice and cheap.

Besides championing the comix form, my other [secret] mission was to surprise my old elementary/high school buddy, Eric Waldman. He was one of the kids in my original nerd gang. We drew comix [he was my first "inker"], played Atari video games, and helped form a spy club in Central Park. We even got suspended from school together. It had been too many years since I saw my old pal but I knew he had been bartending for almost 12-years at a popular joint called CASINO EL CAMINO. It was a thrill to surprise him. Eric's double take turned into a strong hug and we shared a drink and a few minutes of catch up before I had to split to THE CLUB DEVILLE up the block where Jim Mahfood and Dave Crosland were rocking their cool "live art" scenario which was outrageously fun. 3-DEEP, three great DJ's were spinning old school hip hop while ink-slingers waxed acrylic and magic marker on poster boards and alcohol kept the music in our mouths. I was nervous to draw "live" in front of a captured audience but I let the spirit of the crowd and the artists vibes flow with the encouragement of Jim and Dave and SBX. That, and copious amount of Maker's Mark seem to do the trick. As I was signing my name to the impromptu art piece, a nice guy from the crowd came up to me and offered me $80 for it.

Sold!

Austin is a hell of a town and STAPLE! is a hell of a show. Like a grassroots embryo, STAPLE!, promises to be the next substantial independent comix show. Congratulations to Chris "Uncle Staple!" Nicholas for organizing STAPLE! and celebrating comix and artistic expression.

PICTURES GALORE



[Brad Bankston of Austin Books & Comics at STAPLE!]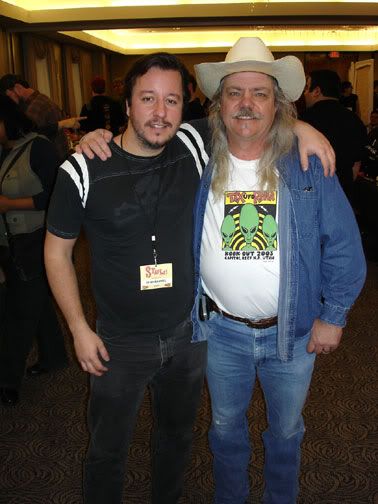 [Me and Mack White at STAPLE!]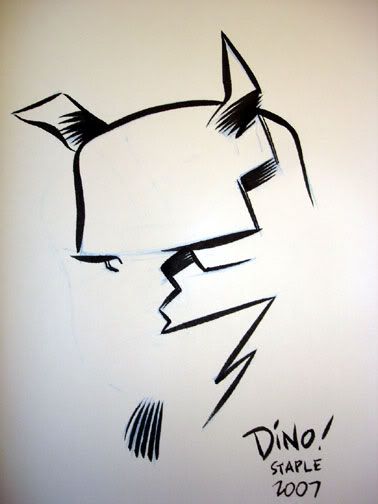 [superhero sketch]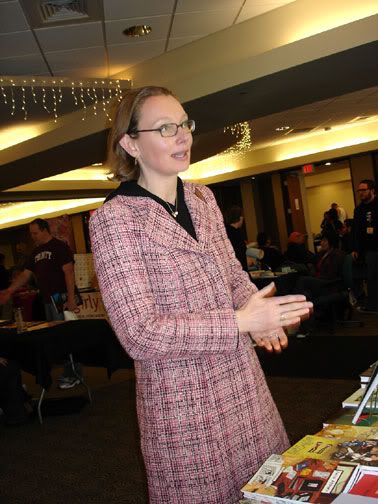 [SBX at STAPLE!]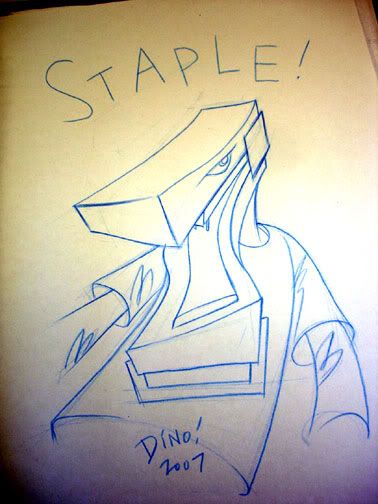 [STAPLE! mascot sketch]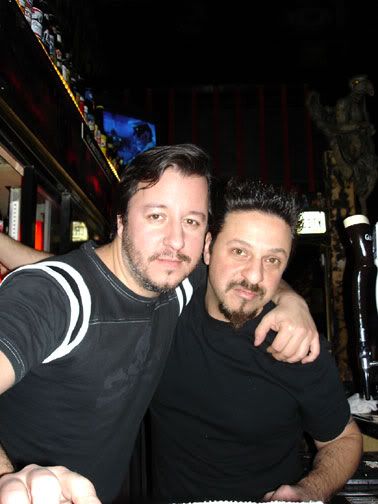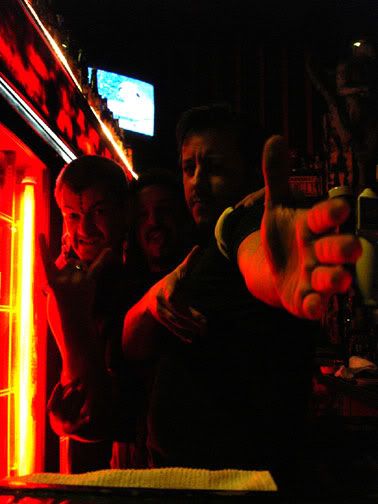 [me and Eric Waldman at Casino El Camino]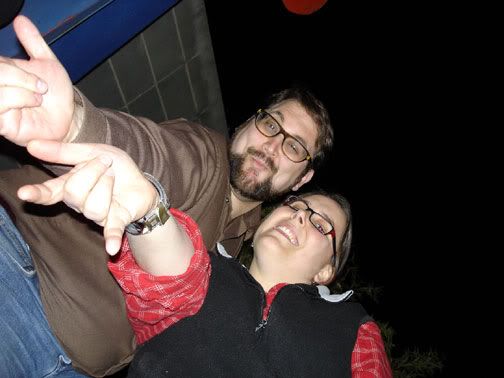 [Steve & Leslie]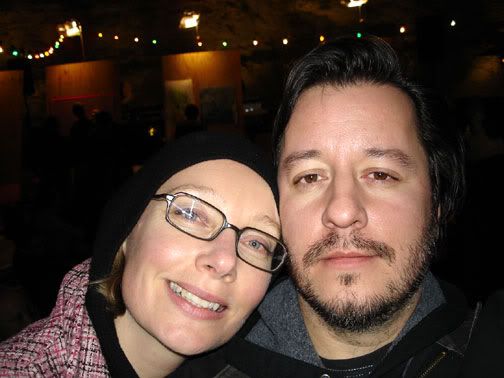 [SBX and I]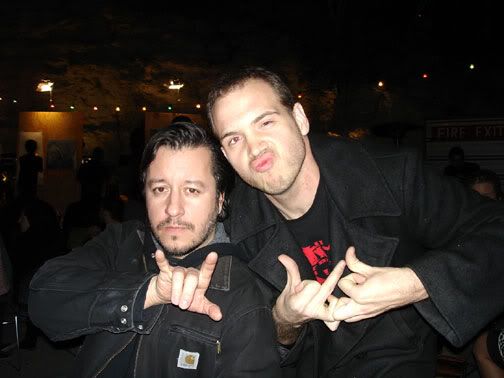 [Me and Jody LeHeup, writer of "Hard Road" in NEGATIVE BURN #9]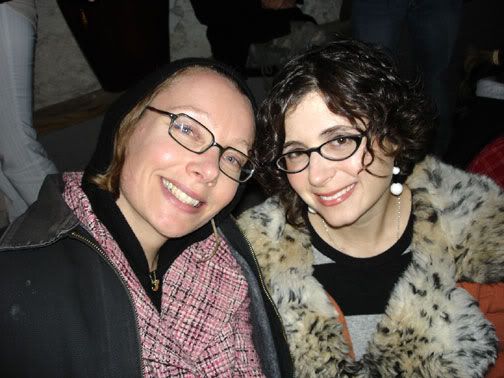 [SBX and Tania -- "Code: Brown!"]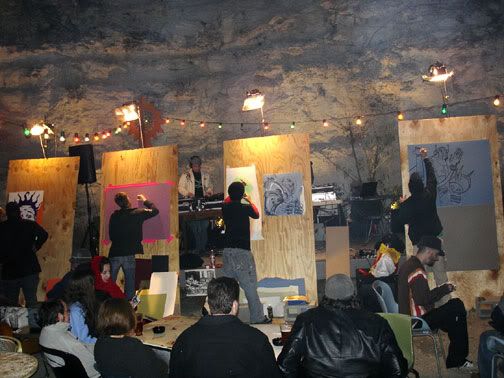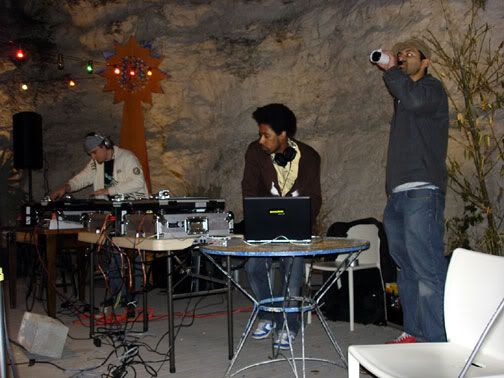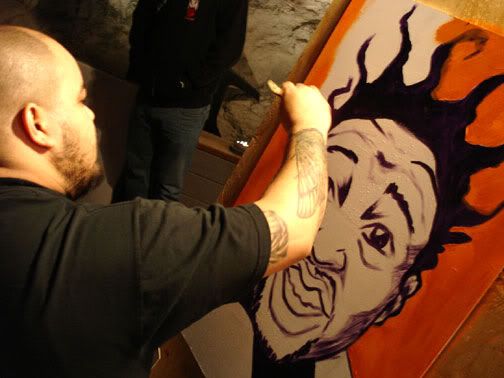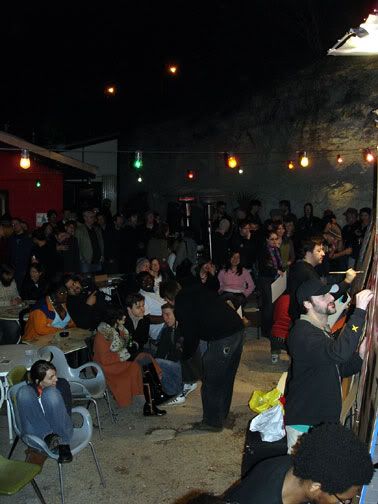 [live art deejayed by 3DEEP]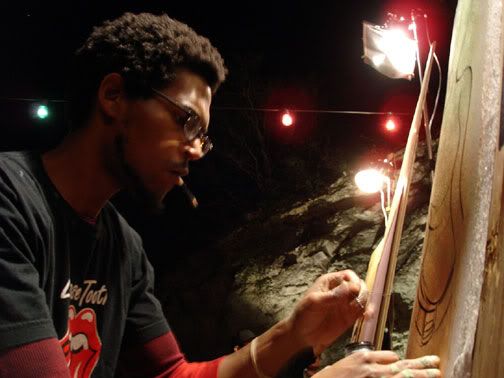 [David Crosland live art]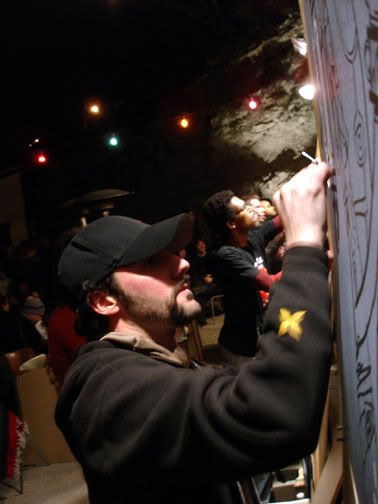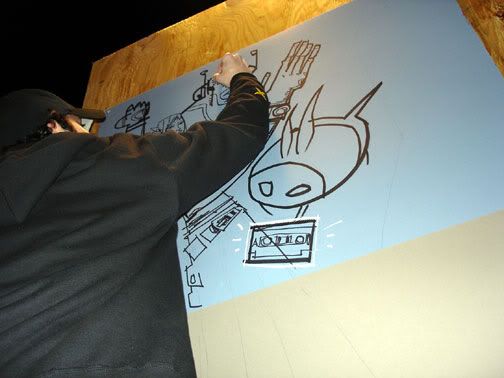 [Mahfood live art]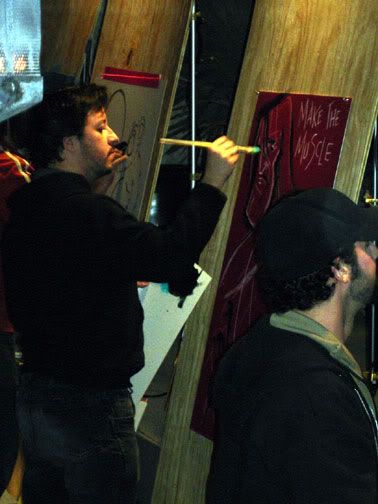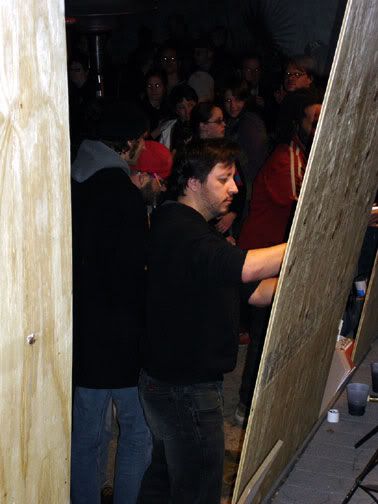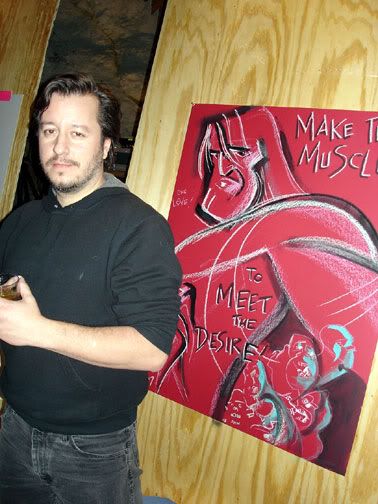 [Dino + Billy Dogma = live art]

LINKS

Steve Goldman's report:
http://sneakymonkey.livejournal.com/131958.html

Marianne Welles' pix:
http://www.flickr.com/photos/mways/sets/72157594569262131/

Scott Hinze / Fanboy Radio
http://www.fbrpc.com

Austin Books & Comics:
http://www.austinbooks.com/index.html

STAPLE!
http://www.staple-austin.org