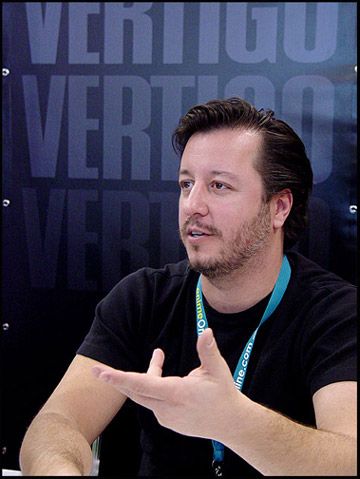 [photograph c.2007 Ryan Roman aka
bobo_dreams]

Let's face it, Comicons are exhausting and as the form becomes more popular and conventions add hours and expand their space, the more compromised our wealth of stamina becomes. No matter how mentally prepared and physically fit, humans weren't meant to endure such acutely qualified intensity. Your mind shuts down into safe mode and everything becomes a whirlwind of desensitizing data. Suffice it to say, whiskey ain't got nuthin' on Comicons. The high is paramount but the hangover is brutal.

With that in mind, New York Comicon, year two, went swell. And, unless NYCC goes the way of the Dodo Bird or I have a multi-media franchise to hawk, I no longer need attend San Diego Comicon where comic books proper are becoming less and less the draw with every succeeding year. Except for the ghetto [nee artists alley] upstairs, the NYCC aisles never slogged too badly with human Sleestacks. My experience was sound and I never had a problem getting in and out. I knew to bring water and snacks for when the french fry lights began to dim my brain.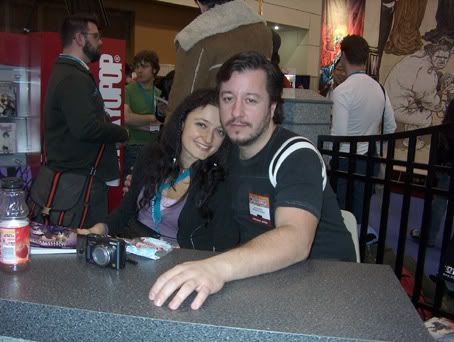 [Federica Manfredi and I, photographed by Joanna Estep aka
jou]

I hugged old friends, high-fived peers, met heroes [Jose Luis Garcia-Lopez], met a bunch of new editors and new artists and lots of new fans of my work and, more importantly, fans of
act_i_vate which makes me one proud papa. I enjoyed the couple of hours I spent signing and sketching at the Vertigo booth and the Vertigo panel was excitable, to say the least. It was good to poll the crowd and discover there are plenty of comix readers who are also fans of Jonathan Ames' books. It will only help insure the success of THE ALCOHOLIC, which I started drawing last week. I'm looking forward to Percy Carey's SENTENCES: the Autobiography of MF Grimm. I also sat in on one of Eric Wight's TokyoPop signing's with Nick Derington and Michael Cho for Eric's gorgeous MY DEAD GIRLFRIEND graphic novel, which I drew a pin-up for. I bought a copy of June Kim's 12 DAYS [TokyoPop] which has a morbidly romantic premise. My only other purchase was Gipi's GARAGE BAND from First Second Books. Both Vertigo and Scholastic Graphix took me out to dinner Friday and Saturday nights to Patsy's Italian restaurant and Chinatown Brassiere, respectfully. Joshua Dysart,
zegas, and I enjoyed an indulgent night cap with my Vertigo editor, Jonathan Vankin, at a snazzy joint called The Flatiron Lounge. It felt good to be a New York cartoonist.

My weekend regret was never getting the chance to meet PUBLIC ENEMY's Chuck D, and legendary Marvel Comics inker, Joe Sinnot. My weekend coup was when SBX and I met and talked to Alison Bechdel who's graphic novel, FUN HOME, changed the face of memoir comix last year. I didn't see nor hear my pal Heidi MacDonald, not once, and I didn't take one damned picture and, in that regard, NYCC is a hell of a lot like NYC.

I look forward to NYCC -- year three.