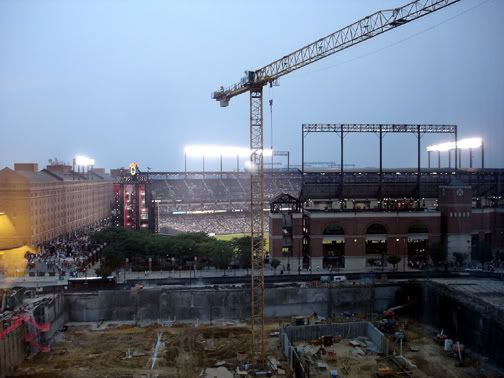 [my 9th floor view from the Marriot Hotel across the way from Camden Yards]

I wanted to post an official 'thank you' to Baltimore Comicon organizer, Marc Nathan, who is the most kind person. Who's love for the comix form is matched only by his profound generosity. He, along with his attentive staff [hi, Brad Tree!], made SBX and I feel warm, well fed, and welcome the entire weekend. Baltimore Comicon is steadily becoming my favorite comix show experience for its intimacy, locale, and romance for comix, where you can hang with your favorite mainstream comix artists and find old comic books sans Hollywood hawks hovering like black helicopters.

I took the cheap yet dreaded Chinese Bus to and from the event with SBX [while we caught up on the first season of HOUSE M.D.] alongside The Beat's Heidi MacDonald and [100 BULLETS] colorist Patricia Mulvihill. Once we arrived, Marc gave SBX and I free tickets to the Orioles vs Yankees game and we sat among the Marvel and DC illuminati while SBX chowed on crabcakes and we chatted it up with John Cassaday, Jimmy Palmiotti, John Lucas, Mark Waid, and AdHouse's Chris Pitzer.

During the show, I shared a hopping table with
dangoldman,
heartshapedkey,
paulmay,
chatterbox_dc, and my mentor's Howard Chaykin and Walter Simonson, alongside Jim Starlin [who's about to take his stab at Jack Kirby's NEW GODS by doing the unthinkable...]. I drew a bunch of sketches including one that benefited the CBLDF. I participated in a Vertigo panel with DC Sales VP, Bob Wayne, my editor Jonathan Vankin, and cartoonists Mike Hawthorne [great talent/great guy], Bill Willingham, Tony Harris [another great talent/great guy], and Chaykin. I inspired laughs from the audience when I spoke briefly about my upcoming graphic novel, THE ALCOHOLIC [with author/pal, Jonathan Ames], and when I admitted that my cover to AMERICAN SPLENDOR #2 was inspired by Steve Ditko's cover to AMAZING SPIDER-MAN #4. I don't think anyone believed me!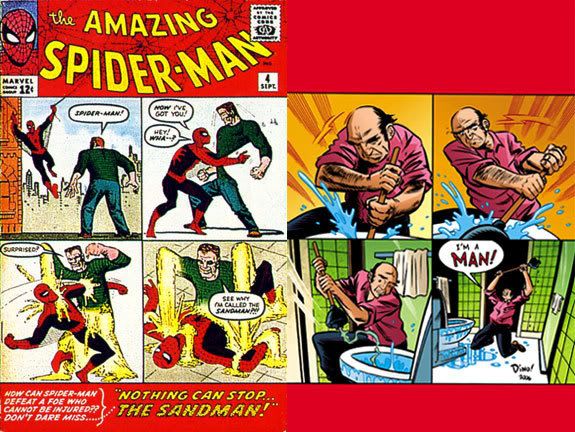 [SPIDER-MAN (c) 2006 Marvel Comics. AMERICAN SPLENDOR cover colored by Lee Loughridge]

Personal highlights include meeting childhood heroes: Ron Wilson [who drew many of my favorite MARVEL TWO-IN-ONE's], Keith Pollard [who illustrated my introduction to the FANTASTIC FOUR ~ #197], Michael Golden [who is arguably the most influential comix artist to genre-oriented comix since Jack Kirby], and Lou Ferrigno [television's INCREDIBLE HULK]! I talked shop with Ivan Brandon, Mike Avon Oeming, Paul Pope, Chris Oarr, Eric Powell, Mike Wieringo, and David Lloyd.

Baltimore Comicon has become a perennial event for me in my annual affair with the form. Thanks, once again, to Marc Nathan for making a show that celebrates comic books and not a poaching ground for other mediums.