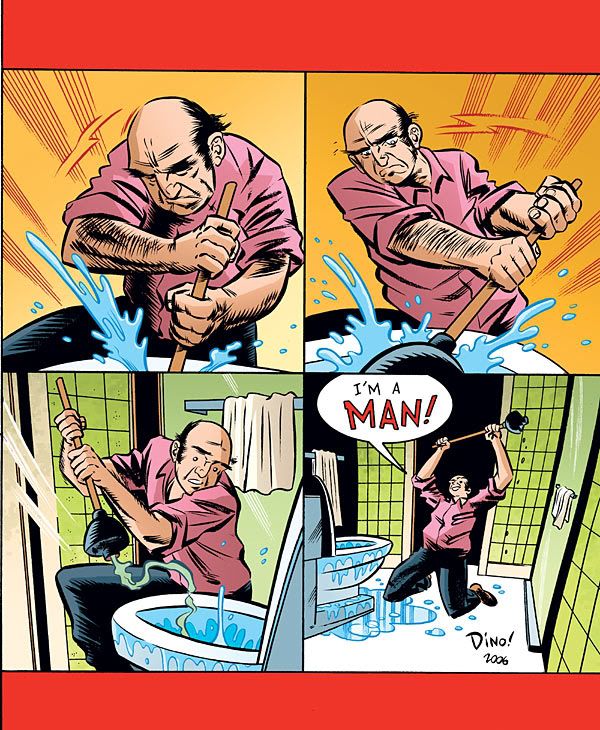 [my cover to AMERICAN SPLENDOR #2, colored by Lee Loughridge]

I flew via the ever reliable Jet Blue airlines and bunked with
dangoldman at the Omni hotel where I spent the majority of my piqued energies soaking my burnt out brain and brittle bones in the out door jacuzzi. Rather then steep in the spectacle that has gone from Comicon to Pop-Con, the destination hub of pop-culture cross-overs where mediums blur, the earth curves, and oxygen levels thin out to Himalayan proportions, I treated myself to the very expensive concept of a much needed hiatus, a coast away from my art table. When I wasn't taking mental health breaks, I met lots of new folks and gave my annual hug to those I only ever see in San Diego. I set up potential work with publishers and editors. I mixed and matched. I was at the Vertigo panel where they showed my cover to AMERICAN SPLENDOR #2 and I squeaked out a sound byte for my next graphic novel [with writer Jonathan Ames], THE ALCOHOLIC. I attended the Scholastic Graphix party and I shared inspired conversations at the Vertigo dinner with Douglas Rushkoff [writer of TESTAMENT] and Simon Oliver [writer of THE EXTERMINATORS]. I mixed it up with Hildy Mesnick, Tom Spurgeon, Jonathan Vankin, Howard Chaykin, Peter Gross, Ande Parks, Tony Moore, Joshua Dysart, Eddie Campbell, Mark Siegal, Gina Gagliano, Judith Hansen, Greg Ruth, Scott Morse, Jordan Crane, Chris Arrant, Matt Fraction, Steve Niles, Kevin McCarthy, Mark Waid, Chris Oarr, Jeff Newelt, Ian Brill, Andrew Helfer, Keith Dallas, and Patton Oswalt, among others. It wouldn't be a proper San Diego Comicon for me without spending quality time with my old school pals, Zach Chassler [with his wife Mina] and Terry Anderson. However, I hardly got to hang with home-girl, Heidi MacDonald who was video-blogging for The Beat. I enjoyed a surprise lunch with my uncle Bill and cousin Dave. I pimped
act_i_vate. I shook Brandon Routh's hand. I shook David Prowse's hand. Superman vs Darth Vader? DC Comics already did that with Darkseid.

I succumbed to the masses and drew sketches of Harvey Pekar, The Thing, Batman, Shazam, and The Penguin, for one hour on Saturday when an 8-year old boy knocked a full can of warm Coca-Cola into my open knapsack, permanently damaging my only purchase; the gorgeous, three volume set of LOST GIRLS [by Alan Moore and Melinda Gebbie], which Melinda personalized for me after telling me how much she dug THE QUITTER, dubbing me "the torso." With brown sugar water staining and peeling my prized possession, at age 39, I found Zen in my rage. Across the galaxy an alien teddy bear burst into neon flames and a little Martian cried but the 8-year old boy before me was no worse for wear. Otherwise, I kept my convention meandering's minimal at the only place I get to be a wide-eyed fan boy again.

I missed my mama who kept tabs with me via cell phone and watched Comicon live via satellite television from the comfort of her Catskill home [my, how comix hype has changed!]. And, I wished SBX could've snuck over from her trip to Italy but she was better off experiencing ancient architecture, fresh pasta, and fine wine with her family.

One night, I was walking home late from the Hyatt hotel bar [where everybody congregates at the end of their day] with my pal Elizabeth, and we noticed six baby ducks waddling in the main road. A few other folks saw this quacking group of feathers and beaks and we worried for their mortal safety as cars drove around them, nearly crushing them. So, I ran into the road and escorted the huddled group to a make-shift pond by another hotel for the ducks to enter and swim in. They were so adorable and I felt like a hero for a good ten minutes.