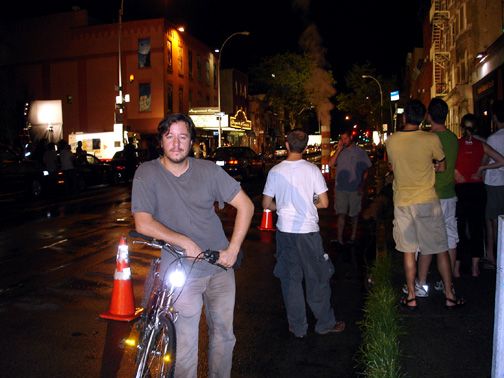 Slaving away solo at the art table, non-stop, managed to weaken my immune system, so much so, visiting the Halcottsville house last weekend insured me a severe head cold gifted by my dear SBX, and I've been coughing and hawking up sinus sludge and sneezing like a Looney Toon reject ever since. Despite physical set-backs, I've started another episode of IMMORTAL inbetween GOOSEBUMPS and AMERICAN SPLENDOR chores. So, look out for new BILLY DOGMA comix at
act_i_vate come soon!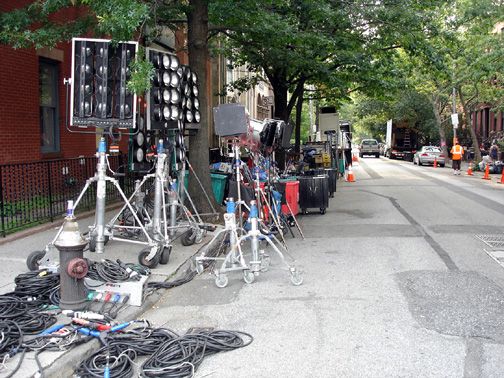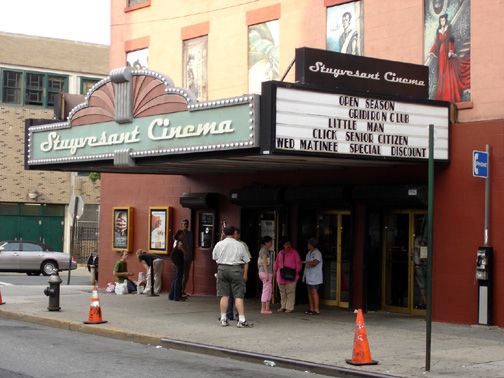 The two times I went out yesterday was to try and steal a sneak-peek of the SPIDER-MAN 3 shoot throwing down a few blocks from my place.
dangoldman was rocking new KELLY scripts and a nasty strip for CRACKED Magazine at my studio and convinced me to take a break to glance what Sam Raimi and Co. were doing in my neighborhood. Turns out, Hollywood had taken over my local theater, Cobble Hill Cinemas, and transformed it into Stuyvesant Cinema, along with fake movie titles. I took a snapshot mid-alteration and went back home.




@9:30pm, Alex Cox, co-proprietor of Rocketship, rang my cell phone and we rendezvoused on our bikes for the night shoot. The streets were packed with well behaved Brooklynites rubber-necking for red heads and web-shooters, while I rode my bike closer into the magic. A faux-yellow cab housing Mary Jane Watson aka Kirsten Dunst rode by us a few times and I managed to get in a wave to her. She was all smiles for the locals.




We hung out another half-hour or so while I grabbed two beef soft tacos and a root beer at Buddy's Burritos a few feet from the fray. My deadline bells started jingling but before I split back to the hot lit desk, I caught a good glimpse at Peter Parker aka Toby Maguire who'd just wrapped his lines of dialogue and was herded into a black tinted SUV. I turned to Alex and told him that, someday, I'd make a piece of modern fiction so popular that I, too, would need tinted car windows just so I could go comix shopping with the dignity of anonymity...

DON'T LAUGH!