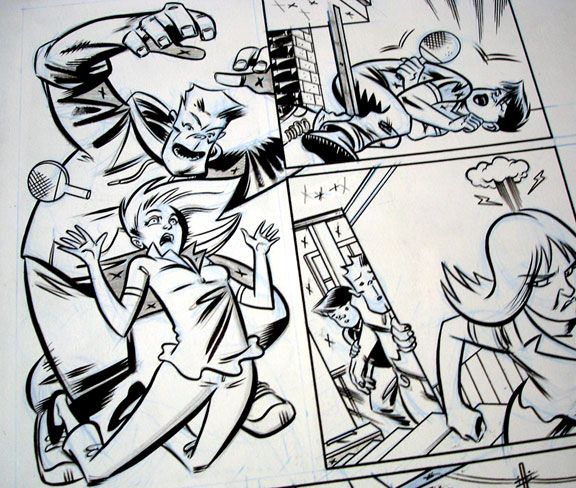 Beyond the occasional hype and weekly prompts for my comix strip IMMORTAL, I barely Blog life proper because I'm too anxious about deadlines. I'm currently adapting R. L. Stein's REVENGE OF THE LAWN GNOMES for Scholastic Graphix line of GOOSEBUMPS comix anthologies while juggling a new Harvey Pekar story for Vertigo's AMERICAN SPLENDOR #2. I just signed a contract to collaborate with legendary underground cartoonist, Jay Lynch, for TOON INTO READING, a new kids book series produced by NEW YORKER art director, Francoise Mouly, for RAW Jr. -- and, I need to nail all these projects before X-mas when I embark on THE ALCOHOLIC graphic novel with my pal/author, Jonathan Ames. As usual, I'm stressed and overextended and wonder will I get to indulge any of this summer's proposed BBQ's, beaches, and Catskills fare? Hell, I may be forced to skip San Diego Comicon so I can buy me some deadline time. Cry me a river? Cry me two.

ITEM: Publisher's Weekly just did a story about Scholastic Graphix adapting GOOSEBUMPS into graphic novel form: http://www.publishersweekly.com/article/CA6341169.html

ITEM: Norton Publishing just sent me [courtesy of Denis Kitchen, thanks!] the galley for WILL EISNER'S NEW YORK, the second beautiful tome in a series of three collecting Eisner's original graphic novel perennials. This is due out October and will make for a great Xmas gift!

ITEM: MoCCA, New York City's premiere art comix show, is this coming weekend. I'll most likely case the joint both days and help raise donations for MoCCA by drawing sketches for fans on Sunday afternoon. Plus, Friday night kicks off with a bang, celebrating Fantagraphics 30th Anniversary at Rocketship! Be there or be square: http://rocketshipstore.blogspot.com/2006/06/june-9th-mocca-kick-off-party-june.html

Finally, SBX and I went up to the Catskills this past weekend to make the first of many dents in the new house in Halcottsville, NY. An especially majestic moment occurred when we combined efforts to pull tiles off the kitchen floor with crowbars and elbow grease. But, before we split for the mountains during that heavy rain last Friday night, I was stunned into action by an accident on my street corner. Sitting at my art table I heard the sounds of rubber tires screeching to a halt and a loud BAM of metal crushing flesh. A pregnant pause later and the drill sergeant orders of a woman [one of my neighbors] screaming "Call 911!!!" over and over again sent Freon up my spine. Dressed in nothing but a pair of shorts, I peered out my kitchen window and saw other neighbors dialing their land lines and cell phones. So, I immediately pulled on my boots, grabbed a hooded sweatshirt and my digital camera, and ran down the block passed scared rubberneckers towards catastrophe.

Lying under a black plastic garbage bag was the crumpled body of a Chinese delivery man and his bicycle. Next to him was a black man holding a plastic lid over his bleeding head so as to block the rain. The grill of the black man's van was hanging on by a twisted thread of smashed headlight wires. The woman who had screamed for help was telling the semi-conscious victim to "Stop moving your head!" but he didn't understand English. I put a piece of cardboard under his head because he kept trying to scratch it. The pain from the gaping wound behind his scalp must have itched. More people collected as sirens from a fire truck came blasting from the distance. Soon, paramedics arrived with cops in tow and they took the poor guy away. Within minutes, the crowd dispersed and the rain washed the blood away almost making the accident an apparition.