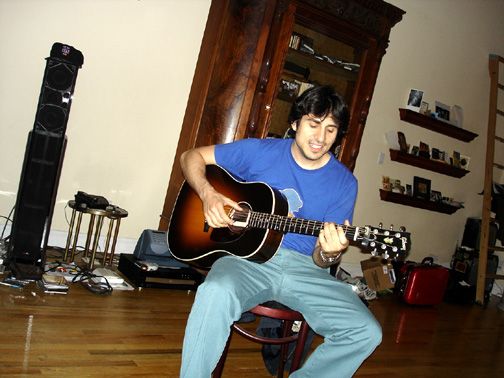 Last Saturday I hooked up with my old chum, Chris Orbach aka
bad_blue_axe, who I hadn't cracked wise with in over a decade. Like me,
bad_blue_axe is a native New Yorker who briefly went to SUNY Purchase but we didn't get to know each other well until my Nick & Eddie days waiting tables, prior to college, in the late '80s/early '90s. I think it was our mutual pal, Adam Trese, who re-introduced us at the Soho restaurant.


We got to know each other better late nights after work and it was
bad_blue_axe who told me my favorite story about actor/director Sylvestor Stallone having sex with a production assistant in his trailer while a disgruntled sound man taped the entire incident. A genius haiku of sorts that delivered the brilliantly staggered three tier punch line: "Work the shaft. Cradle the balls. Say the name." I later told this famous lore to my pal Chris Oarr who later relayed it to comix writer Garth Ennis, and a more perverted version of the controversial legend found its way into the PREACHER mythos, a near-sublime comic series published by Vertigo in the '90s.

Anyhow,
bad_blue_axe and I would stay up late nights roaming Soho and/or hanging out at the infamous THE FANTASTIKS theatre [the longest running showing in NYC], where he ran the box office. One night, I brought a video camera and we shot a hilarious, impromptu movie with another Nick & Eddie alum/actor cum playwright named Sam Catlin, about a sad flaccid crooner debuting his awful new song to his best friend who doesn't know how to tell him to quit. A little while later I was fired from Nick & Eddie for getting into a massive fight with a line cook and I soon moved out of Soho and into my [then] girlfriend's apartment in Alphabet City. For no good reason,
bad_blue_axe and I lost touch.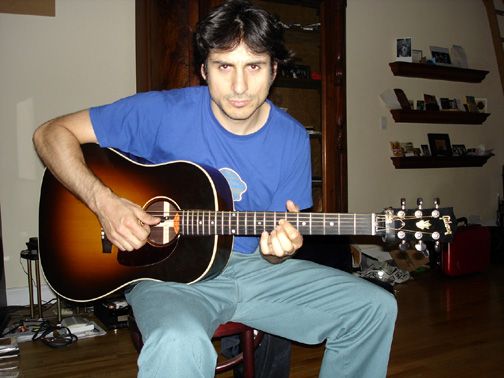 I forget exactly how we got back in touch, but our rainy day reunion was met at FRESHMEAT, a mini-comix expo for students held at The School of Visual Arts. Seeing
bad_blue_axe was like hugging a long lost brother. We scoped out the new sequential wares and I caught up with various comix pals. Shortly after a heavy Spanish meal, a few of us, including
red_letter_days, and
leborcham, rendezvoused at
bad_blue_axe's Chelsea loft and were treated to a couple of live songs that were beautiful and rich. Then, as boys will be boys, things got silly and
bad_blue_axe performed a sonic homage to my nether regions, supported by back-up singing and the perfectly timed barks of his dog, Sonny. I couldn't help but capture 36 seconds of this kooky cabaret.

"Dean's Ass" c.2006 Chris Orbach.
http://www.vimeo.com/clip:67561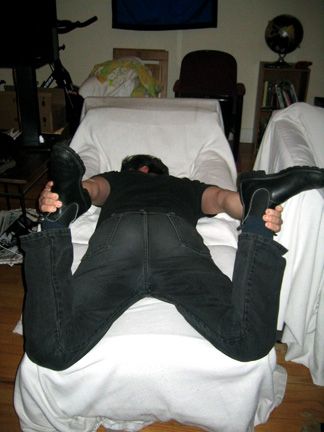 [My pose that inspired "Dean's Ass"]

A sensitive soul with a kind voice and a wicked sense of humor,
bad_blue_axe has always played the guitar singing his blues the likes of Nick Drake and Amy Correia. You can check out his band and tunes at: http://www.chrisorbach.com/

The rest of our night as wonderfully remembered by
leborcham at: http://leborcham.livejournal.com/22859.html