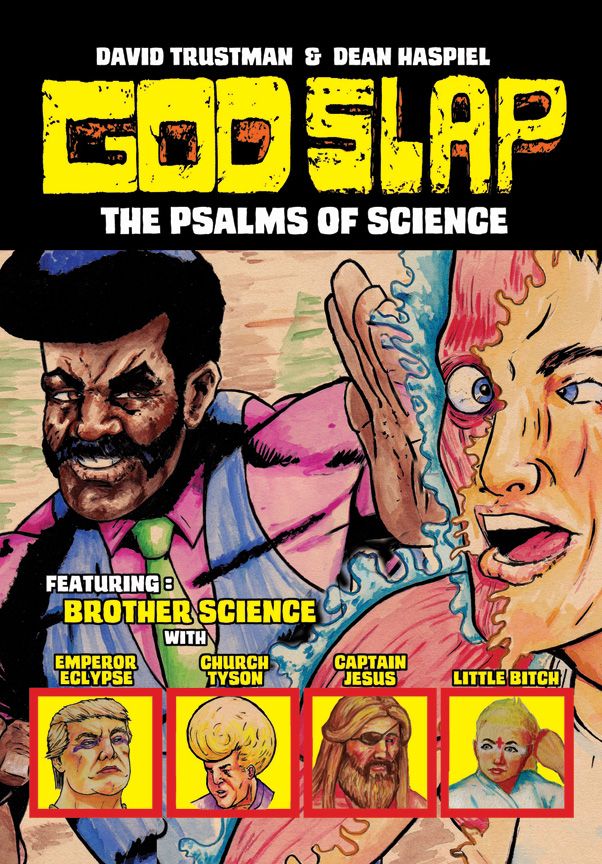 David Trustman and Dean Haspiel are debuting an exclusive, limited edition of GOD SLAP, their shock-culture, evangelical satire graphic novel at Baltimore Comicon 2017.
GOD SLAP is the post-apocalyptic story of an ex-convict who transforms into Brother Science, traveling the world to exorcise the Jesus out of mofo's with his evolutionary God-Slap. "The Psalms of Science" is a blasphemous tale of biblical proportions featuring Little Bitch, The Jesus Brothers, and Muhammad Ali, a misfit congregation of empathetic outliers dedicated to eradicating the earth of ignorance and systemic hate as perpetuated by the preaching of Church Tyson and Emperor Eclypse.
David Trustman is an internationally respected mnemonist, and creator of several independent comics such as Karma Springs, and The Rise. He is the artist and co-writer of The Memory Arts series that teaches the ancient art of memory in graphic form.
Emmy award winner, Dean Haspiel created Billy Dogma, The Red Hook, illustrated for HBO's "Bored To Death," was a Master Artist at the Atlantic Center for the Arts, is a Yaddo fellow, a playwright, and helped pioneer personal webcomics. Dino has written, drawn, and collaborated on many popular superhero comic books and graphic memoirs for Marvel, DC/Vertigo, Archie/etc.
Both David and Dean are regulars of Baltimore Comicon and they will be promoting GOD SLAP at their booth and at the panel, "The Power of Magic and the Magic of Memory." Learn about magic in comics, its roots in reality, and the magic of memory. Chris Miskiewicz (Thomas Alsop) will talk about the magical mythology of New York City, and Dean Haspiel (The Red Hook) will preview his upcoming webcomic War Cry, showing how transfiguration can deliver powerful moments in storytelling. Sarah Trustman (The Memory Arts) will discuss using comics to teach real-world magic and give a demonstration of the same memory techniques that appear so fantastic that using them got people burned as witches. And, David Trustman (The Rise) will discuss his controversial graphic novel God Slap and its modern take on religious magic.
http://www.godslapcomic.com/