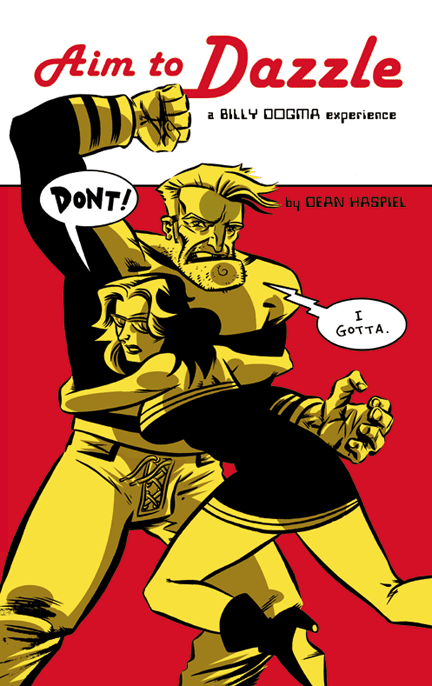 Aim To Dazzle is a comic book one-shot I produced in 2003 featuring Billy Dogma & Jane Legit, published by Alternative Comics.
14 years later, the cover art got some love from David Robertson at Broken Frontier. This is what David had to say:
"I like this cover's simplicity – limited colours, just the two figures, no background (apart from the red rage felt by Billy Dogma). It all works to tell a story and introduce the characters. The dialogue; Jane crying out, "Don't!" and Billy's retort, "I gotta" (no explanation mark there, giving it an interesting tone), made me immediately feel a connection to these vital, action-packed, sexy and romantic characters. As soon as I saw the cover I knew I wanted to read about these people. There's a strong Kirby feel. The cover acts like the best comics – hinting at so much more about the situation and people we can see than is there in the three words of dialogue."
Read the entire article here:
http://www.brokenfrontier.com/covers-album-david-robertson-jack-kirby-hate-peter-bagge-dean-haspiel-aim-dazzle/