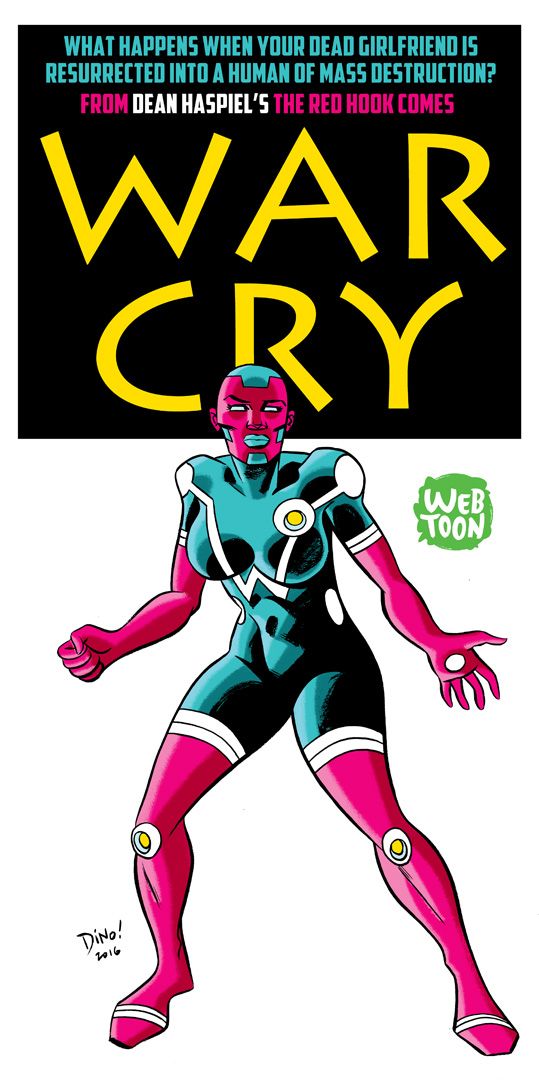 From the LINE Webtoons press release at Newsarama:
War Cry is a spin-off title to the critical hit The Red Hook. It will draw readers back into the Red Hook's adventure with the surprising return of another familiar face. Written and illustrated by Dean Haspiel, War Cry takes readers into the aftermath of the alien attack on earth that killed most of America's superheroes. Now an orphaned, teenager named Rajak has mysteriously become the recipient of all of the dead superheroes powers and escaped to New Brooklyn. When he shouts the words "War Cry," Rajak transforms into the perfect war goddess, who is a cosmic resurrection of Ava Blume, formerly known as The Possum and love interest of superhero The Red Hook.
"War Cry is complex; Romeo versus Juliet but with superpowers," said creator Dean Haspiel. "I'm thrilled to see the New Brooklyn universe develop as the characters story lines start to cross over."
Read the entire article here:
http://www.newsarama.com/32019-nyc-gets-a-new-hero-with-the-brooklynite.html