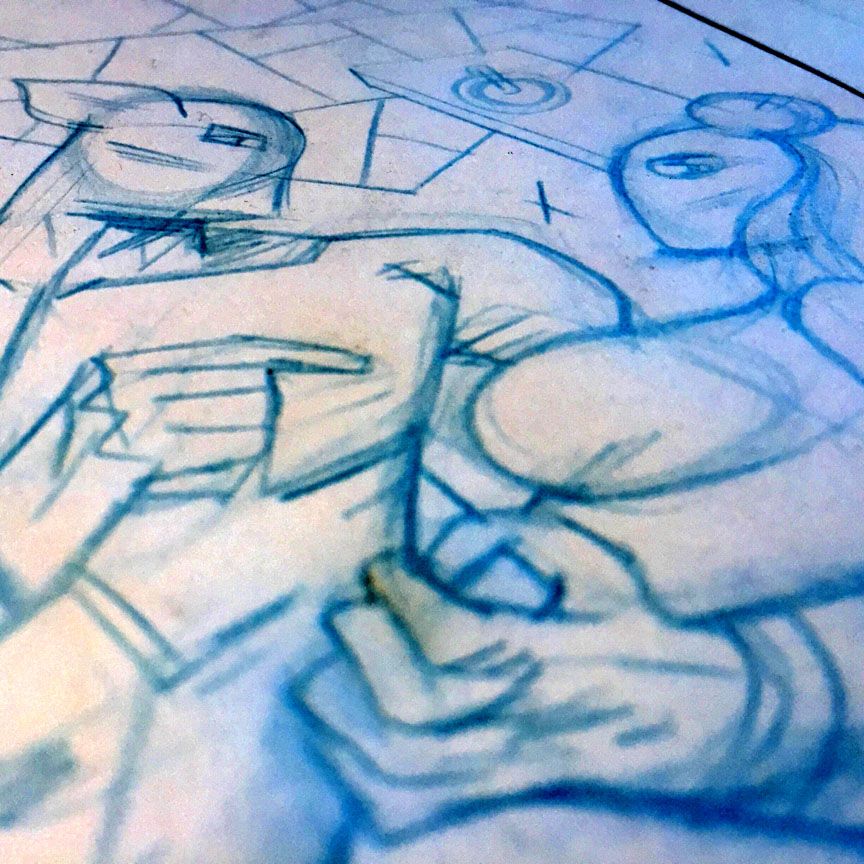 I'm a guest at Wizard World Austin, September 23-25, 2016, stationed at table A29. I will have copies of my graphic novels, BEEF WITH TOMATO, and FEAR, MY DEAR. Plus, rare copies of my exclusive THE WALKING DEAD cover. Ask me about my weekly webcomic series, THE RED HOOK, published for free at LINE Webtoons
http://www.webtoons.com/en/super-hero/the-red-hook/list?title_no=643
I'm available for commissions, and I will also be doing four panels and a comix reading performance throughout the convention (see details below).
Click here for Wizard World Austin:
http://wizardworld.com/comiccon/austin
FRIDAY SEPTEMBER 23:
7:00-7:45 PM THE CREATIVE MIND: TOP ARTISTS DRAW COMICS with X-MEN'S MICHAEL CHO, HOWARD THE DUCK'S VAL MAYERIK, THE RED HOOK'S DEAN HASPIEL & SPIDER-MAN'S STEVE GEIGER (SHOW STAGE)
Top comics artists talk about their careers, their craft, the comics business and whatever else might come up—and will show you some of their top-secret techniques as they draw live before your eyes! Join peerless pencilers Michael Cho (X-Men: First Class; Shoplifter), Val Mayerik (Howard the Duck co-creator; Magic: The Gathering), Dean Haspiel (The Red Hook; The Fox) and Steve Geiger (Spider-Man; The Hulk) as they pull back the curtain and tell you what it's really like to be a comics artist! Danny Fingeroth (How to Create Comics from Script to Print; Spider-Man) moderates.
SATURDAY SEPTEMBER 24:
1:00-1:45 PM WORDS INTO PICTURES: HOW TO WRITE COMICS with SPIDER-MAN'S TOM DeFALCO, THE RED HOOK'S DEAN HASPIEL, NO MERCY'S ALEX De CAMPI, DAREDEVIL'S CHARLES SOULE, HULK'S PAUL BENJAMIN and SPIDER-MAN'S DANNY FINGEROTH (ROOM 12)
Accomplished comics writers Tom DeFalco (Spider-Man; Thor), Dean Haspiel (The Red Hook; Beef With Tomato), Alex de Campi (Grindhouse; No Mercy), Charles Soule (Daredevil; Uncanny Inhumans), Paul Benjamin (The Hulk; Pantheon High) and Danny Fingeroth (How to Create Comics From Script to Print; Spider-Man) talk about how to put together a compelling comics story. Plus, they'll answer your questions about both the creative and business sides of the comics writing profession, including how to find an artist to work with (hint: a comics convention is the number one place!) and how to write exciting dialogue!
2:00-2:45PM NEW BROOKLYN VS OLD BROOKLYN: Dean Haspiel and friends perform slideshow excerpts from his New Brooklyn webcomic, THE RED HOOK, and balances it with an Old Brooklyn story from his graphic novel memoir, BEEF WITH TOMATO. (Creative Stage)
6:00-6:45PM THE GREATEST GRAPHIC NOVELS EVER TOLD: PERSEPOLIS, WATCHMEN, BATMAN, AND BEYOND (BALLROOM F)
Ironic superhero stories, coming-of-age tales, historical literature, modern drama, and everything in between fill graphic novels. What is a graphic novel, though, and what makes one great? Join authors Katrina Hill and Alex Langley (100 Greatest Graphic Novels: The Good, the Bad, the Epic) as they fight it out with Victor Dandridge (Vantage: Inhouse), Tom DeFalco (former Marvel editor-in-chief), Dean Haspiel (American Splendor; Batman), Clinton Hobart (Disney), and Dr. Travis Langley. Which ones are the best of the best?
SUNDAY SEPTEMBER 25:
12:00-12:45 PM CREATE-A-COMICS-STORY with SPIDER-MAN'S TOM DeFALCO, THE RED HOOK'S DEAN HASPIEL AND BEAUTY AND TANGLED'S CLINTON HOBART (ROOM 12)
Ever wonder what it would be like to collaborate on making comics with top professionals? In this fun-and-educational session, celebrated writer Tom DeFalco (Spider-Man; Fantastic Four), Emmy-winning artist Dean Haspiel (The Red Hook; Spider-Man) and renowned painter Clinton Hobart (Licensed Disney Fine Artist; Beauty and the Beast) create a new character and story before your eyes, incorporating audience members' ideas and suggestions! Come see—and join in—the creative process! The panel will be moderated by longtime Marvel writer and editor Danny Fingeroth (Spider-Man; How to Create Comics from Script to Print).