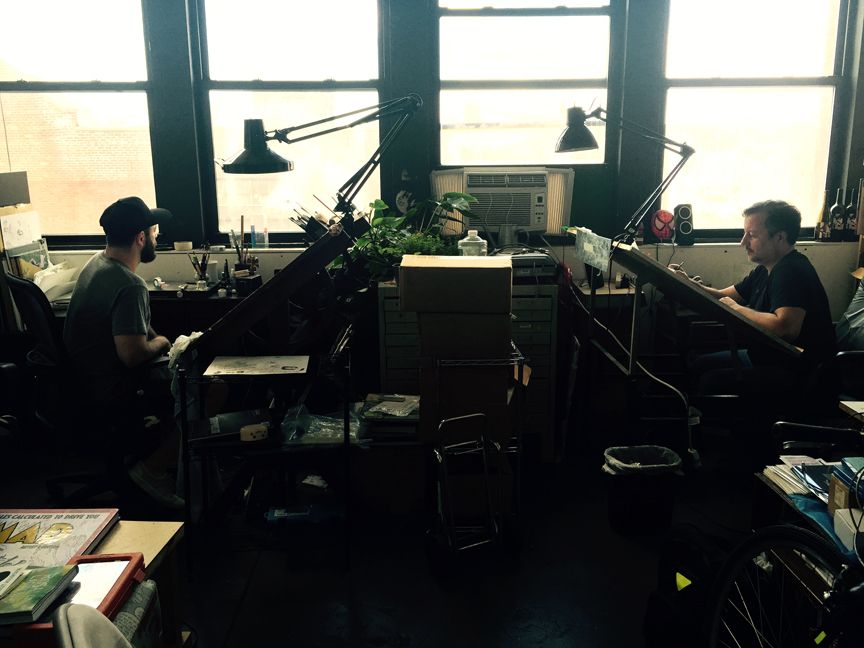 I spoke to DNAinfo reporter Leslie Albrecht about Hang Dai and other studios leaving our current space in Gowanus, Brooklyn.
Excerpt:
"Haspiel grew up in Manhattan and moved to Carroll Gardens nearly 20 years ago. His mother was deputy director of the New York State Art Council and he spent his childhood surrounded by artists who inspired him to pursue a creative career.
He says people sometimes tell him that being an artist is a "privilege" because "it's not a real job," but he said he grew up in a time when artists could make a living in New York and hoped to do the same. He's been successful, winning an Emmy in 2010, but still struggles to make ends meet, he said.
Now some of his colleagues are planning to move to Philadelphia or elsewhere, but Haspiel hopes to stay in New York.
He said the studio at 112 Second Ave. provided not only workspace but a real sense of family that he'll miss. Haspiel said he can work out of his apartment and interact with fellow artists online, but he prefers face-to-face interactions in a shared studio.
"I want to be around people because that's the energy, that's the unexpected," Haspiel said. "There's a tension, there's a conflict that makes you do things you wouldn't otherwise do in the safety net of your own home hiding behind a screen."
Read the entire article here:
https://www.dnainfo.com/new-york/20160907/gowanus/comics-artists-latest-victims-of-get-boot-from-gowanus-building