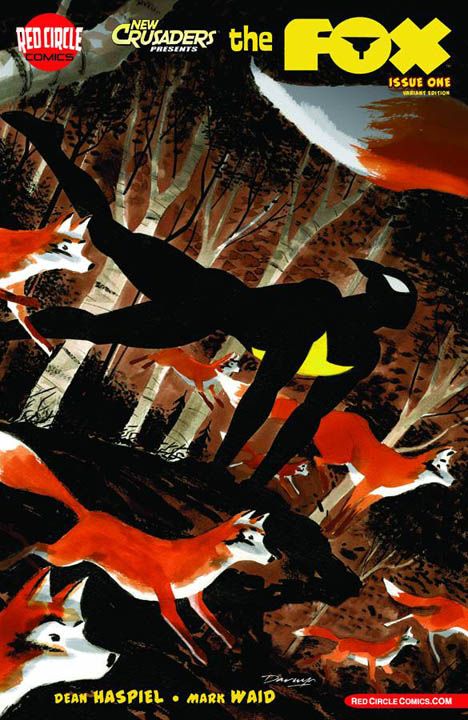 When mainstream comics no longer looked like that or could be like that, Darwyn Cooke proved them otherwise. Brave and bold. Classic and classy. Darwyn was a giant and his comics were timeless. I'll always appreciate The Fox cover he did for my term on the series and cherish that he reached out to tell me how much he dug what I did on CUBA: My Revolution. It was like being officially anointed by a comix god, the likes of Kirby, Kubert, Caniff, Eisner and Toth.
I wish I'd had time to elaborate more about Darwyn's generosity and talent. His work on CAT WOMAN, BATMAN, JONAH HEX, THE SPIRIT, and PARKER, to name some, are as perennial as any great comix work. The cover he provided for my buddy/studio mate, the late Seth Kushner & George Folz's THE ROMAN NOSE, was perfection:
http://www.bleedingcool.com/2015/04/22/kushner-and-folzs-roman-nose-gets-a-darwyn-cooke-cover/
THE NEW FRONTIER is my favorite work of Darwyn's. Superhero comics the way they should be. It was that epic story that charged me to plot and pitch DC Comics with my own exploration of those legendary DC Comics characters sans super powers (still pending).
"Men Of Tomorrow" (aka "Vision Quest") charts the early, soul-searching days of an alternative universe, Bruce Wayne and Clark Kent, two troubled young men, both of whom are running away from their respective homes by traveling the off-roads of America during the "summer of love," where they explore the relationship between wealth and happiness, as well as, myth and symbolism, and cross paths with other people like them; orphans, bastards, and illegal aliens [including members from the original JLA, Captain Marvel, Plastic Man, and other key cameos], and come to a better understanding of who they are and where they're supposed to go.
Essentially; Batman and Superman in SULLIVAN'S TRAVELS meets ON THE ROAD, inspired by Darwyn Cooke's THE NEW FRONTIER. I hope to be able to realize my concept someday.
You can read other poignant memorials from industry professionals here:
http://www.monkeysfightingrobots.com/remembering-darwyn-industry-pros-pay-tribute-to-a-legend/