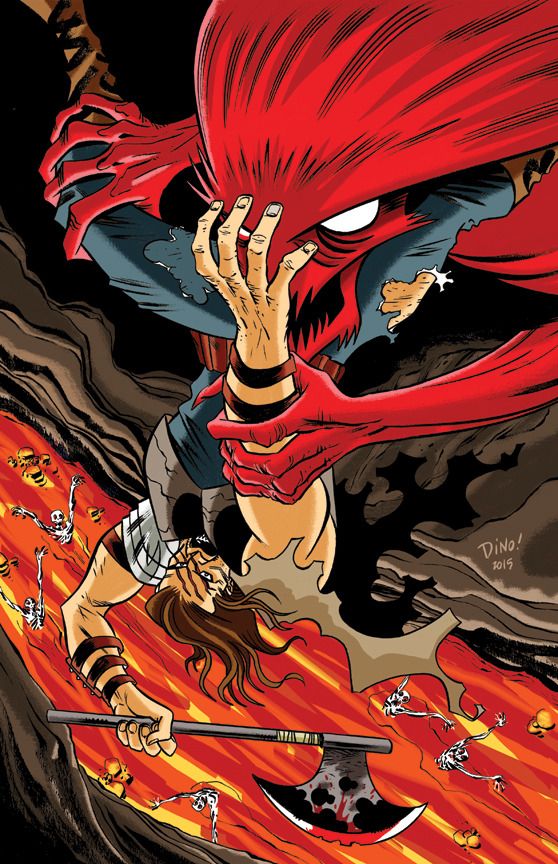 The editors at Valiant asked me to draw a variant cover for ETERNAL WARRIOR. Here is the official solicitation copy:
WRATH OF THE ETERNAL WARRIOR #9 ("LABYRINTH" – PART 3)
Written by ROBERT VENDITTI
Art by RAÚL ALLÉN
Cover A by RAÚL ALLÉN
Cover B by PERE PÉREZ
Cover C by TOMAS GIORELLO
Variant Cover by STEVE LIEBER
Variant Cover by DEAN HASPIEL
"LABYRINTH" delivers the killing blow! The darkest hour of the Eternal Warrior's long life has arrived with blood and torment. Behind every wall and around every corner of the Dying One's "LABYRINTH," new and sadistic ways to burn, tear, and break Gilad Anni Padda await. As the Eternal Warrior's greatest enemy inches closer to unlocking the secret of never-ending life, is all hope lost for Earth's immortal soldier? The monumental Eternal Warrior epic of the year delivers another crushing blow as New York Times best-selling writer Robert Venditti (BOOK OF DEATH) and visionary artist Raúl Allén (Hawkeye) enter the darkest corner of "LABYRINTH" yet!
http://www.bleedingcool.com/2016/04/21/faith-ongoing-and-shadowman-one-shot-lead-valiants-july-2016-solicitations/
Here is a sketch I did for another version of the cover: