Fanboys, Inc: BALTIMORE COMIC-CON: Flying High With Hang Dai – Panel Recap
: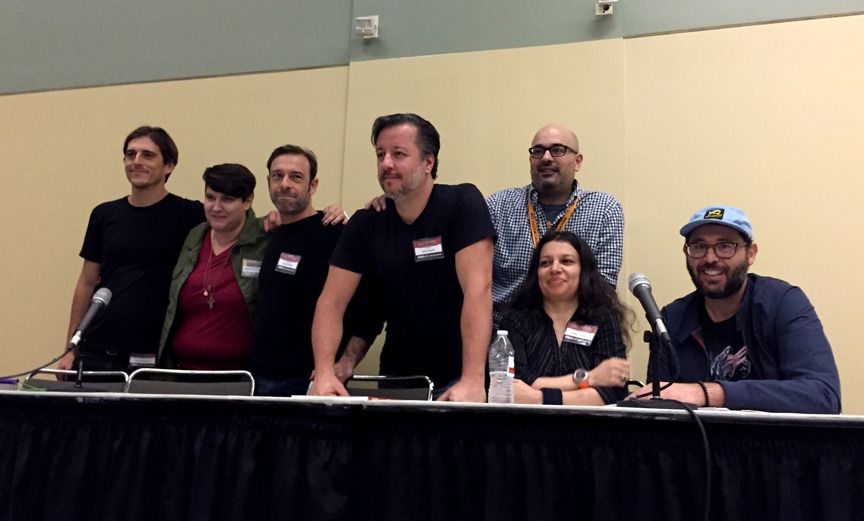 Jeff Ayers wrote a great report about our Hang Dai Studios panel during Baltimore Comic-con 2015 at Fanboys, Inc.
Here is an excerpt:
"The final "performance" piece was from Dean Haspiel, as he read from his new auto-bio book, Beef With Tomato. This book is a window into Haspiel's true being and nature, as it pertains to the city he resides in and resembles. It is as much a love letter to New York City and Brooklyn as it is a "heart on the sleeve" type edict from the one person qualified to put the words and imagery on the page. Haspiel has been giving himself to many different projects as of late, including The Fox with Mark Waid, but this piece is the one that really flexes all his creative muscles. Hearing him read one of the stories, "Buyer Beware", gave more life to the page than one might think it could contain. Hassle's booming and confident voice added the spice the character of himself needed, and his penchant from acute observation was front and center in this short tale of a lover's quarrel."
Read the entire article here:
http://fanboysinc.com/baltimore-comic-con-flying-high-with-hang-dai-panel-recap/#sthash.dSzCRfpa.UyFLAFIt.dpbs