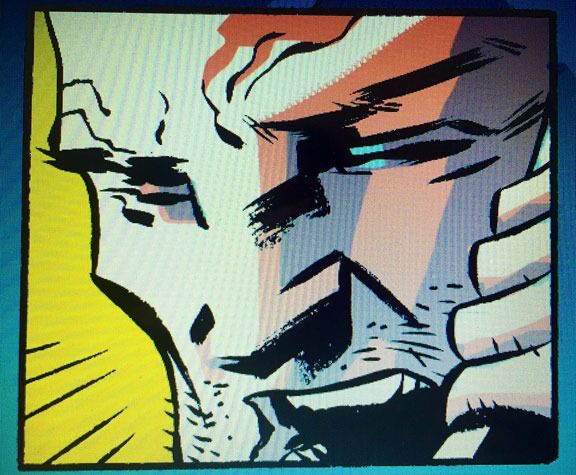 I will be a special guest at Wizard World Richmond this coming Friday, July 31st - Sunday, August 2nd, and I will be sitting at table B24. I will have copies of my new Billy Dogma magazine, HEART-SHAPED HOLE, and the exclusive THE WALKING DEAD variant cover I did, plus other stuff for sale. I will also be available for illustration commissions and sign any comix. Christopher Irving, author of Leaping Tall Buildings: The Origins of American Comics, and Dean Haspiel: The Early Years, will be a guest at my table, as will my mother, Barbara Haspiel. She and I will be helping judge the Wizard World Drink & Draw on Friday night (details at the show).
I'm also doing a couple of panels:
SATURDAY AUGUST 1 / 6:30 - 7:15 PM
HOW TO DRAW COMICS with THE FOX'S DEAN HASPIEL AND DEADPOOL'S MIKEY BABINSKI (ROOM E10CD)
Ever wonder how a penciler and inker work together to produce comics? Wonder no more! Accomplished comics penciler Dean Haspiel (The Fox; Billy Dogma) discusses his approach to sequential-art storytelling and shows you some of his work in pencil form. Then inker Mikey Babinski (Deadpool; Spider-Man) will ink some of Dean's work and explain how that adds to pencil art to create the finished comic that you see in print. Moderated by Danny Fingeroth (How to Create Comics From Script to Print; Darkhawk).
SUNDAY AUGUST 2 / 12:30 - 1:15PM
THE SERIOUS BUSINESS OF MAKING FUNNY COMICS with THE FOX'S DEAN HASPIEL, REN & STIMPY'S BOB CAMP, AND THE SIMPSONS' PHIL ORTIZ. (ROOM E10CD)
The most serious comics are almost always better when—like life itself—they're peppered with humor and absurdity. By the same token, the zaniest comics almost always have some serious messages. In this panel, master cartoonists Dean Haspiel (The Fox; American Splendor), Bob Camp (co-creator of Ren & Stimpy; Conan the Barbarian) and Phil Ortiz (The Simpsons TV series and comics) discuss the yin and yang of humor and drama in their work, and answer your questions about how to achieve the right balance for your comics. Moderated by Danny Fingeroth (Dazzler; How to Create Comics from Script to Print).
http://www.wizardworld.com/home-richmond.html