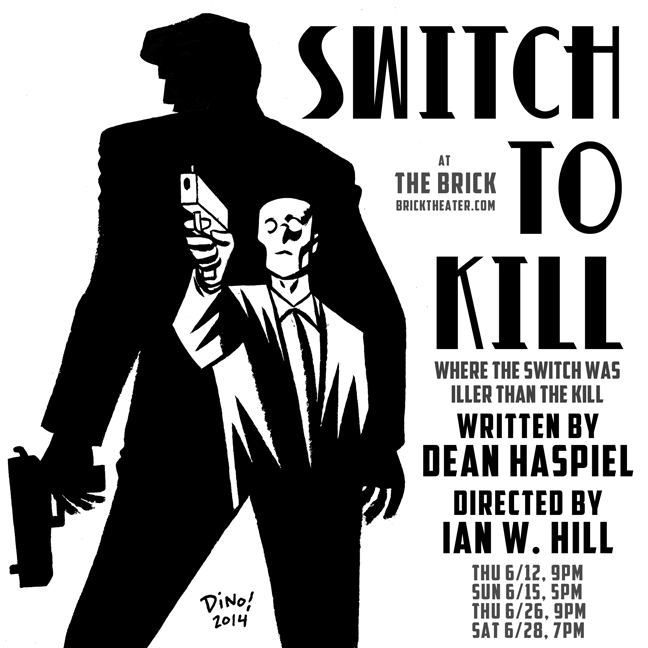 Hannah Means-Shannon interviewed me and director/designer Ian W. Hill about our play, SWITCH TO KILL, at Bleeding Cool.
Excerpts:
"When I first wrote Switch to Kill, I imagined my friend/actor, Sam Catlin playing Buck Dangerzone. Sam was my busboy and we got along famously. We would watch NYPD Blue together and shoot impromptu videos, and rehearse my script, late nights after working in the restaurant together. Sam later went on to write and direct and co-produce AMC's Breaking Bad. I wrote a character named Massacre Mel for my godmother, two-time Oscar award winning actress, Shelly Winters to play. I'm sorry she's not alive today to see this first production of Switch to Kill."
"One day I was staring at my home library and I discovered that approximately 70% of my movies and books involved guns. I was appalled. I felt ashamed and wondered "Why?" Besides boyhood BB rifles I pumped and shot at trees in the woods, I'd only ever held and fired a real shotgun once in a friend's student film. I didn't like having that kind of power in my hands. I respect our constitutional right to protect territory and save people from danger but I abhor what guns can do. Sure, I dug Dirty Harry's .44 Magnum and 10mm Uzi's from those 1970s action movies, but I don't think our old laws were considering the advancement of technology. Modern guns belong in science-fiction movies, and that's it. No person should have the ability to rip a human being in half with the subtle tap of a trigger. Part of my play, Switch to Kill, features a beta-bullet called "Stop Power," and it becomes a very important metaphor for the story. Anyway, despite my conflicting issues with guns, I realized I liked stories where characters are revealed via extreme situations. Lock strangers into a room and place a loaded gun in the middle of the floor and see what happens."
"Some of what inspired Switch to Kill, were a combination of Mike Nichols' adaptation of Edward Albee's Who's Afraid Of Virginia Woolf? and Quentin Tarantino's Reservoir Dogs. A kind of abstracted Abbot & Costello doing their legendary "Who's on first" skit but as written by Harold Pinter with guns in their hands. Summed up, the emotional feeling I wish to impart in Switch to Kill is reminiscent of a scene between Mickey Rourke and Eric Roberts in The Pope of Greenwich Village, where Roberts knocks on the door and starts screaming, "Charlie!!!They took my thumb!!!" Switch to Kill teeter-totters on the equator between noir and expressionism where words are like bullets and information becomes ammunition."
Read the entire interview here:
http://www.bleedingcool.com/2014/06/11/from-the-fox-to-fantastic-four-to-the-stage-talking-with-dean-haspiel-and-ian-w-hill-about-their-comicstheater-experiment/