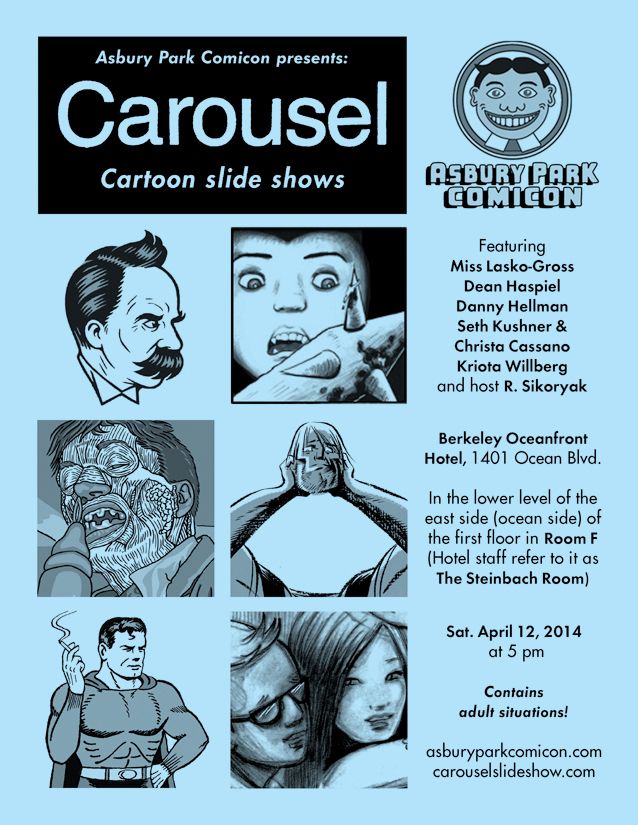 I will be reading an excerpt from my new graphic novel, FEAR, MY DEAR: A Billy Dogma Experience, with artist Christa Cassano, who will also be reading a chapter from SCHMUCK, a graphic novel written and produced by Seth Kushner, during R. Sikoryak's infamous CAROUSEL cartoon slide show at Asbury Park Comicon.
--Dino
Asbury Park Comicon presents:
CAROUSEL
Cartoon slide shows performed by their creators
Featuring
Miss Lasko-Gross
Dean Haspiel
Danny Hellman
Seth Kushner &
Christa Cassano
Kriota Willberg
and host R. Sikoryak
At the Asbury Park Comicon:
Berkeley Oceanfront Hotel1401 Ocean Blvd. Asbury Park, NJ
The Carousel is in the hotel, in the lower level of the east side (ocean side) of the first floor in Room F (Hotel staff refer to it as The Steinbach Room)
Sat. April 12, 2014
at 5 pm
Carousel contains adult situations!
More info:
http://asburyparkcomicon.com/
http://carouselslideshow.com/
https://www.facebook.com/events/625811590826895/